It takes just 10 minutes to prepare and just 10 minutes to cook air fryer prawn skewers - a speedy midweek meal.
Spiced with paprika and infused with garlic, red chilli and a drizzle of lime, these vibrant prawn skewers are ideal for making in the air fryer. Before you begin making these air fryer prawn skewers, you will need to ensure that you have soaked the wooden skewers in water for at least 30 minutes before using. This will stop them from burning in the air fryer.
Ingredients
165g raw king prawns
1 red pepper, deseeded and
chopped into squares
1 garlic clove, peeled and grated
1 red chilli, finely diced, plus extra to taste
1 tsp paprika
1 lime
olive oil spray
sea salt and freshly ground black pepper
To serve:
2 mini tortilla wraps
a bag of watercress
Method
In a large bowl, combine the prawns, red pepper, garlic, chilli and paprika. Juice half of the lime and add the juice to the bowl, then season with salt and pepper. Mix everything together, making sure to coat all the prawns and red pepper with the flavourings. If you like it a little spicier add a little more chilli – always adjust the ingredients to your preferred tastes. Leave to marinate in the fridge for at least an hour, or even overnight.
When you're ready to cook, slide your prawns and pepper pieces onto wooden skewers, alternating between the two. Spray the skewers with a little oil and place them into your air fryer. Cook at 180ºC for 8–10 minutes, until cooked through and browning. All air fryers tend to be a little different, so do always check during cooking and adjust the cooking time accordingly.
Serve the skewers on mini tortilla wraps with watercress salad. Squeeze the remaining lime half over the skewers for an added bite.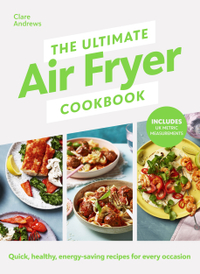 The Ultimate Air Fryer Cookbook by Clare Andrews (Penguin Michael Joseph, £20) – photography by Danielle Woods.
Top tips for making air fryer prawn skewers
Author and recipe writer, Clare Andrews, recommends that you marinate the prawns the night before; "If I'm being organized, I like to marinate my prawns the night before I'm planning to serve this, but it's not a problem at all to do it maybe an hour before if time doesn't permit – they will still be super flavorsome," says Clare.
An air fryer is a great investment for families - particularly those who are looking for a stress-free, energy-efficient way to cook dinner every day. Our collection of the best air fryers for families has a great range of models to suit families of four or more.
You might also like...
Recipe writer and cookbook author
Recipe writer and cookbook author, Clare Andrews specializes in air fryer recipes and has published The Ultimate Air Fryer Cookbook packed full of delicious, inspiring air fryer recipes to try in the comfort of your own home. Clare started developing her recipes and ideas on Instagram and after a lot of attraction during lockdown decided to join forces with the publishing company Penguin Michael Joseph. The cookbook has been voted The Sunday Times' No.2 Bestseller.