Serving four, this air fryer salmon pesto recipe is ideal for the whole family to enjoy as it's quick and healthy.
Top each soft, flaky salmon fillet with a homemade pesto of toasted pine nuts, fresh basil, Parmesan, and olive oil. The pesto gives the salmon oodles of flavor and taste. Serve with fresh greens such as kale or Tenderstem broccoli. This dish is a healthy meal packed with omega-3 fatty acids and is a speedy option ready in just 10 minutes in one of our best air fryers.
Ingredients
4 x 150–175-g salmon fillets
lemon wedges, to serve
For the pesto:
50 g toasted pine nuts
50 g fresh basil
50 g grated Parmesan or Pecorino
100 ml olive oil
Method
To make the pesto, blitz the pine nuts, basil and Parmesan to a paste in a food processor. Pour in the olive oil and process again.
Preheat the air-fryer to 160C/325F.
Top each salmon fillet with 2 tablespoons of the pesto. Add the salmon fillets to the preheated air-fryer and air-fry for 9 minutes. Check the internal temperature of the fish has reached at least 63C/145F using a meat thermometer – if not, cook for another few minutes.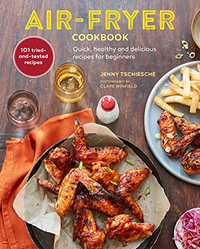 Air-Fryer Cookbook by Jenny Tschiesche, published by Ryland Peters & Small (£16.99) Photography by Clare Winfield © Ryland Peters & Small.
Top tips for making air fryer salmon with pesto
Cookbook author Jenny Tschiesche says; "Pesto is a wonderfully aromatic addition to these succulent salmon fillets. The cheese and pine nuts combined with basil and oil totally deliver on taste."
The pesto and method of cooking would work with other fillet of fish too including cod - just make sure you adjust air fryer cooking times accordingly.
You might also like...
Nutritionist and cookbook author
Jenny Tschiesche, also known as the Lunchbox Doctor, is a nutritionist, recipe writer, and cookbook author who has been providing nutrition workshops to schools, workplaces, and clubs for many years. Alongside this, she creates a writes her own recipes to inspire others to make the best food and drink to support their health. She has five cookbooks to her name including the popular Air-Fryer Cookbook.