This lemon and elderflower cake takes 20 minutes to prepare and only has four steps in the method.
We love a classic lemon drizzle cake but if you're looking for a simple flavour twist this elderflower version is lovely. The recipe uses elderflower cordial which is available from most supermarkets but if you've made your own, this is a great way to use it up. Prince Harry and Meghan Markle had this flavour cake at their wedding so if it's good enough for royalty, we're sure your loved ones will appreciate the effort you've made baking them this.
Ingredients
225g/8oz butter, softened
225g/8oz caster sugar
zest and juice 1 lemon
4 large eggs
225g/8oz self raising flour, sifted
100ml/4floz elderflower cordial
30ml/ 2 tbsp granulated sugar
Method
Heat the oven to 180C (160C fan, Gas 4). Grease a 20cm round, deep loose-based tin and line the base with a circle of baking parchment.
Put the butter, sugar and lemon zest in a large bowl. Use an electric whisk to beat until they are pale and fluffy. Gradually add the eggs, whisking well between additions and adding 2 tbsp of the flour with the last egg - this will prevent curdling.
Sift over the remaining flour, then gently fold in with a metal spoon or spatula. If the batter is a little stiff, loosen it with 2 tbsp hot water. Pour the mixture into the prepared tin, level the surface and bake for 45-50 minutes or until it is shrinking away from the sides of the tin. Cool in the tin for 5 mins.
In a small bowl combine the lemon juice and cordial. Use a fine skewer or small sharp knife to prick the cake all over. Pour over the syrup. Sprinkle over the granulated sugar and leave to cool completely. Remove from the tin and slice into wedges.
Top tips for making lemon and elderflower cake
To know when your cake is fully cooked read our tips below for what you should look for. We also have alternative topping suggestions and ideas for how you can let kids help bake this cake with you.
How to check if the cake is cooked?
A good way to check if your cake is cooked is to insert a fine skewer. Metal or wooden skewers are both fine. Once inserted into the centre of the cake there should be no raw batter on the skewer and there should only be fine crumbs of cake or nothing at all. Sometimes it is not preferable to insert a skewer as it ruins the appearance of the cake. However, in this recipe it makes no difference as you prick the cake for the syrup to soak in anyway.
Other ways to tell if a cake is cooked include seeing if it has risen and is golden all over. It should smell like cake and won't have a raw flour or egg smell. It will also shrink away from the sides of the tin slightly and should spring back when gently pressed with the palm of your hand.
Alternative cake topping ideas for lemon and elderflower cake
Instead of granulated sugar, which will offer a little crunch, you could dust the cake with icing sugar just before serving. You could also top the cake with some softly whipped cream and fresh raspberries or sliced strawberries.
Clotted cream would make an indulgent choice or you could make a thin icing glaze by combining icing sugar and water or lemon juice. If you're making the cake during elderflower season, you could also forage some small fresh elderflowers and decorate the top of the cake with them.
Can kids make this lemon and elderflower cake?
Yes! With a little adult supervision your children can easily help make this cake. Let them weigh out the ingredients and squeeze the juice from the lemon. If they are old enough to hold the electric hand mixer they can also combine the ingredients in a large bowl or hold onto your hand as you do this step.
Little ones can spoon the mixture into the prepared tin and level it into an even layer. They can also mix together the syrup ingredients and prick the cake once it has cooled a little. Children can decorate the top of the cake with granulated sugar or a thin icing if you prefer.
In this recipe you require elderflower cordial. If you haven't got a homemade supply and need to buy some, consider this one from Belvoir Fruit Farms.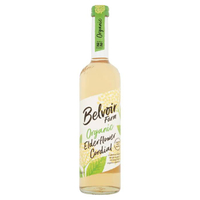 Belvoir Organic Elderflower Cordial 500ml - View at Ocado
You'll have leftover cordial once you make this recipe and it can be enjoyed with still or sparkling water. You can also make an easy cocktail by adding a dash of cordial to a glass of Prosecco or into your G&T.
Why not try our elderflower drizzle cake if you enjoy this flavour combination. You might also like our lemon and cranberry cake or if you're feeling adventurous try this lemon lavender cake.
This recipe is brought to you by Belvoir Fruit Farms