Our ice cream cupcakes are baked inside wafer cones and are topped with a simple cream cheese frosting.
This adorable cupcake recipe is perfect for children's parties but we know adults will be impressed too. You could bake the cakes and top with icing and then set up a topping station for people to finish their own ice cream cupcake. Include classics such as sprinkles, chopped nuts, a chocolate flake and even some fruity syrup or chocolate sauce to drizzle.
Ingredients
For the cupcakes:
12 flat-bottomed wafer ice cream cones, such as Askeys Cup Cones
125g unsalted butter, at room temperature
125g golden caster sugar
2 eggs
1tsp vanilla extract
100g self-raising flour
30g cocoa
5tbsp milk
For the frosting:
150g unsalted butter, at room temperature
180g tub cream cheese
400g icing sugar
Sprinkles and chocolate Flakes, to decorate (optional)
Method
Heat the oven to 190C (170C fan, Gas 5). Line a 12-hole muffin tin with the wafer ice cream cups.
Put the butter and sugar into a large bowl and cream until light and fluffy. It's best to use an electric hand mixer for this.
Slowly incorporate the eggs then mix in the vanilla. Sieve in the flour and cocoa. Fold until combined and if the batter is stiff mix in the milk a tablespoon at a time until you reach a dropping consistency.
Using an ice-cream scoop, divide the mixture between the wafer cones. Bake for 20 minutes. Once baked, cool completely on a wire rack.
Make the frosting by putting the butter, cream cheese and 200g icing sugar into a bowl and beat together until smooth. Add the rest of the icing sugar and beat until smooth.
Spoon the icing into a piping bag fitted with a star nozzle. Once the cupcakes are cool, pipe swirls of frosting on top. Decorate with sprinkles and half a chocolate Flake if using.
Top tips for making ice cream cupcakes
If you like, create a two-tone icing effect by colouring half the icing whichever colour you like. Spoon half of the coloured icing and half of the plain icing into the piping bag and squeeze until the colours begin to mix. Start piping onto the cupcakes. For more tips and tricks, continue reading below.
What do you use to scoop cupcake batter?
Using an ice cream scoop helps ensure each cupcake has approximately the same amount of batter and will result in a batch of evenly sized cupcakes. If you prefer, you can weigh the total batter and then calculate how much batter each individual cupcake should have.
You may find it easier to pipe the batter into the wafer cones but you risk over-working the cupcake batter and so the final cakes will not rise as much.
Why are my ice cream cone cupcakes soggy?
Once the cupcakes are baked they will release steam while they cool. This can make the wafer cones a little soggy. To reduce this, when the cupcakes are baked, carefully remove from the tin and piece small holes in the bottom of the cone. This will help the steam escape and help the cakes cool quicker. Place on a wire rack until cool and you're ready to ice.
Can you freeze ice cream cupcakes?
We do not recommend freezing the ice cream cupcakes as the wafer cone will become soft, soggy and unpleasant to eat.
We recommend using an ice cream scoop to portion the cupcake batter evenly between the wafer cones. We like this one from OXO as it has a swipe release to help push the ingredients out of the scoop.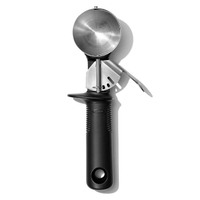 OXO Good Grips Classic Swipe Ice Cream Scoop - View at Amazon
This scoop is fitted with an easy to use lever which releases the ice cream from the scoop. All you have to do is squeeze the lever and it swipes around the scoop to push the ingredients out. The scoop is dishwasher safe and has a comfortable handle.
If this recipe has left you wanting more cupcake recipes, try our vanilla cupcake recipe next. Alternatively, those looking for something with a richer flavour might like our chocolate cupcake recipe. For a colourful bake you can't go wrong with our rainbow cupcakes.
Parenting advice, hot topics, best buys and family finance tips delivered straight to your inbox.