These heart-shaped lemon cookies take 10 minutes to cook and are under 100 calories per cookie.
A simple but delicious treat, you can't beat one of these lemon cookies with a cup of tea in the afternoon. Make them with kids or on your own for some therapeutic baking. They only take 10 minutes to bake and can be decorated the next day if you prefer.
Ingredients
125g unsalted butter, softened
125g caster sugar
1 large egg yolk
Finely grated rind of 1 unwaxed lemon
250g plain flour
1½tsp baking powder
To decorate:
1 sachet egg white powder
20ml (4tsp) freshly squeezed lemon juice
300g icing sugar
Silver balls like Dr. Oetker's silver balls, optional
Method
Line 3 large baking trays with baking parchment. Put the butter and caster sugar in a bowl and whisk until pale and creamy. Whisk in the egg yolk and lemon rind.
Sieve in the flour and baking powder and carefully mix together to make a firm dough. Knead until smooth.
Roll out the dough to a thickness no greater than ½cm (¼inch). Using a 6cm (2½inch) wide heart-shaped cutter stamp out approx. 40 cookies. Arrange on the prepared baking trays, prick lightly with a fork and chill for 30 minutes.
Heat the oven to 180C (160C fan, Gas 4). Bake the cookies for 10 minutes or until firm and lightly golden round the edges. Leave to cool on the baking trays for 10 minutes before transferring to a wire rack to cool completely.
To ice, make up the egg white powder using 30ml (2 tbsp) warm water and lemon juice as directed on the packet. Sift the icing sugar into a bowl and add the blended egg white mixture to make a smooth spreadable icing.
Spoon approx. 30ml (2 tbsp) of the icing into a small piping bag fitted with a small plain piping nozzle. Pipe a line approx. 1mm from the edge of all of the cookies.
Spoon approx. 5ml (1tsp) of the icing into the centre of one heart cookie and gently spread it to fill the centre.
Decorate with silver balls and allow to set for 1 hour before serving.
Top tips for making lemon cookies
Add a few drops of pink or red food colouring to the icing for a lovely Valentine's Day touch. You can also use any shape cutters you like. If you don't have cutters the least wasteful shapes to cut are squares, rectangles or triangles. Continue reading below for more tips and tricks.
Should I use egg white powder or egg white to make icing?
The benefit of using egg white powder instead of a fresh egg white is that it is cooked and therefore there are no risks associated. It is also less wasteful if you are making a recipe that doesn't use up the leftover egg yolk. As long as you buy British Lion eggs, they are safe for pregnant, elderly people and babies even when raw. The guidance was updated in 2017.
How do you make icing with fresh egg white?
Whisk the egg whites until frothy and then gradually add the icing sugar. Mix until thick then add the lemon juice. If you'd like a thinner consistency you can add some water or if you'd like it thicker just add more icing sugar.
What are lemon cookies made of?
Our lemon cookies are made with butter, sugar, egg yolk, lemon zest, flour and baking powder. They have a rich flavour and a delicious short texture which melts in the mouth as you chew.
For this recipe you need a heart-shaped cookie cutter. If you don't have a set we like this assortment of plastic cutters from KitchenCraft.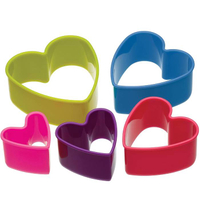 KitchenCraft Colourworks Set of 5 Plastic Heart Shaped Cookie Cutters - View at Amazon
These five cutters are a great addition to your baking kit. The largest cutter is 9cm and the smallest is 5cm. They can be used for cookies, jam tarts, mini pastries and icing too.
If you like this recipe you should try the Mary Berry lemon drizzle cake. It's an easy classic with lots of flavour. For more cookie inspiration try our easy chocolate chip cookies or these lemon shortbread.
Parenting advice, hot topics, best buys and family finance tips delivered straight to your inbox.