Make this lemon ice cream cake recipe a couple of weeks before your celebration or dinner party to take the stress out of entertaining.
This recipe is more like a cheesecake than a classic lemon drizzle cake as there is no oven cooking. It replicates the same flavours and is equally delicious. When you need an easy recipe but still want to impress friends or family this ice cream cake recipe is ideal. Not only is it simple to prepare, but you can make it ahead of time and store it in the freezer so you always have a dessert option to hand.
Ingredients
30g unsalted butter
8 digestive biscuits, crushed into crumbs
2 large eggs
150g caster sugar
300ml pot double cream
2 lemons – grated zest from 1 and juice from both
100g raspberries
Method
Melt the butter and stir into the crushed biscuits. Spread evenly over the base of the dish and lightly press down but don't compact too much.
Separate the eggs and whisk the whites until stiff. Add the sugar and whisk again until thick and glossy.
Whip the cream and fold in the egg yolks mixed with the lemon zest and juice. Fold the whites into the cream mixture.
Pour over the crumble base and put in the freezer. It will take 4-5 hours to freeze. Serve frozen but remove from the freezer around 10 minutes before so it's easy to scoop. Scatter over the raspberries and enjoy.
Top tips for making this lemon ice cream cake recipe
This is a superb recipe to make ahead and is easy for children to help make too. If you want to make the recipe even more indulgent we have some tasty additional ingredient suggestions below.
How can I make gluten free ice cream cake?
Instead of digestive biscuits use a gluten free alternative. Food writer Jessica Ransom recommends McVitie's Original Hobnobs Gluten Free. The other ingredients in this recipe are already free from gluten so it's a quick and easy adjustment that won't compromise the flavour or texture of the finished dessert either.
How can kids help make this lemon ice cream cake recipe?
Children will enjoy crushing the biscuits. You can put the biscuit in a small food bag and let them bash the biscuits with a rolling pin or crumble with their fingers instead. Kids can help with the separating of the egg white and yolk although younger children may need some more assistance as it can be a little fiddly.
If they are old enough and strong enough to hold a hand mixer they can whisk the egg whites and can also help mix everything together at the end with a wooden spoon or spatula. Children can spread the biscuit mixture into the tin and level it with a spoon. They can also transfer the creamy mixture to the tin.
How can I make this lemon ice cream cake more indulgent?
For an extra boost in flavour you could ripple some lemon curd through the creamy mixture or serve it with a little drizzle. You could also top the cake with some candied lemon slices or toasted nuts for some additional crunch. If you like vanilla, you could also add some extract or vanilla bean paste when you fold everything together.
Instead of making this as one large cake you could serve in individual portions. If you have a collection of colourful ramekins that you've kept from previous shop-bought desserts they would be ideal or you can invest in a set like this from Nisbets.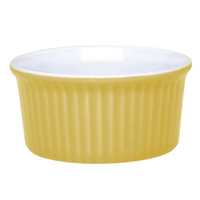 Olympia Pastel Ramekin Yellow 70ml (Pack of 12) - View at Nisbets
We love the pastel yellow colour of these ramekins and think they would compliment the lemony flavours of this ice cream cake. The ramekins are oven, microwave and dishwasher safe so you can clean them easily and reuse when making souffle or creme brulee.
You might also like our birthday ice cream cake which is decorated with pink wafers and can be served at any celebration. If you'd like some more frozen inspiration we have lots of ice cream recipes. For an easy bake you can take on a picnic or bring out in the afternoon for alongside tea, try this lemon pound cake.