Beef steak pie is an easy midweek meal the whole family will enjoy and it's perfect for batch cooking.
Serve this pie with mashed potatoes or for a lighter choice, choose steamed vegetables and a salad. You could swap 100ml of the beef stock for some ale or wine if you like but it will increase the calorie count. Each portion is 425 calories without sides.
Ingredients
500g lean beef fillet steak, cubed
2 onions, finely chopped
1 garlic clove, crushed
2 tsp chopped fresh thyme
600ml beef stock
2 tbsp plain flour
A little gravy browning (optional)
300g swede, peeled and diced
300g carrots, peeled and diced
4 sheets filo pastry
Freshly ground black pepper
Low-calorie oil spray
1 tbsp chopped fresh parsley to garnish
Method
Heat the oven to 190C (170C fan, Gas 5).
Heat a heavy-based, non-stick pan, and dry-fry the beef until it changes colour. Drain through a metal sieve to remove as much fat as possible, and wipe out the pan with kitchen paper. Put the beef aside for a moment.
Add the onions and garlic to the pan and dry-fry for 2-3 minutes until soft.
Stir in the thyme, then return the beef to the pan. Add 2 tbsp of beef stock and sprinkle the flour over. Mix well, cooking over a low heat for 1 minute, then gradually add the remaining stock. Add the swede and carrots, then simmer gently for 15 minutes to allow the mixture to thicken, stirring occasionally.
Stir in a little gravy browning for colour, if using, then transfer to an ovenproof dish.
Cover with layers of filo pastry, spraying lightly with oil spray in between each layer.
Season well with black pepper and cook in the oven for 20-25 minutes until golden brown. Sprinkle with chopped parsley and serve with a selection of fresh vegetables.
Top tips for making a beef steak pie
You can make the base to this pie the day before and when ready to cook, simply top with filo pastry and bake in the oven. For more crunch on the topping, loosely scrunch the filo pastry so it has a textured effect.
If you don't have a non-stick frying pan you can use a little cooking spray to cook the beef and onions in. It will increase the calorie count marginally but will ensure the meat and veg don't get stuck to your pan.
Continue reading for drinks pairing ideas and how to get ahead.
What wine should I serve with a beef steak pie?
Rosemary suggests a full-bodied red wine such as Cabernet Sauvignon. It will complement this hearty and robust dish wonderfully.
Can I freeze this beef steak pie?
It would be better to cook the filling like a casserole until the meat is tender. Then allow it to cool and freeze in portions. When you are ready to make the pies, defrost your beef filling and top with the filo pastry before finishing in the oven. Make sure the filling is piping hot before serving.
What is gravy browning?
It helps give gravies and sauces a deep, glossy colour. You can buy it as a liquid or powder but is not as commonly used as it once was. If you can't find it, you could use some gravy granules to thicken your sauce or a little marmite to add a deep glossy colour and umami hit. A splash or two of Worcestershire sauce is also a good substitution.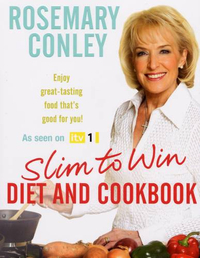 Slim to Win: Diet and Cookbook by Rosemary Conley (Cornerstone, £15.99) - View at Amazon
This book is a combination of diet tips and delicious recipes. Diet and fitness expert Rosemary Conley has tips on how to lose weight and still enjoy tasty homemade meals. There's even sweet recipes including upside-down cherry pudding and sticky chocolate pudding.
Once you've tried Rosemary's recipe, give the Hairy Bikers steak and ale pie a go. You might also like our chicken pie recipe or this turkey and mushroom pie.