Orange flapjacks have a subtle, delicious flavour and are under 200 calories per portion.
An affordable and easy way to upgrade any flapjack recipe is by adding the zest of an orange or lemon. The orange compliments and contrasts with the sweet, sticky oats and brings a delicious zingy flavour we think you'll love.
Ingredients
175g (6oz) butter
175g (6oz) soft light brown sugar
125g (4oz) golden syrup
350g (12oz) rolled oats
250g packet pitted dates, chopped
2 level tsp ground cinnamon
Finely zested rind of 1 orange
Method
Heat the oven to 180C (160C fan, Gas 4). Line and grease a baking tray, we used a shallow 26 x 16.5cm tin.
Put the butter, sugar and golden syrup into a pan, heat gently. Stir occasionally until the butter has melted.
Meanwhile, tip the oats into a bowl and stir in the dates, cinnamon and orange zest. Pour in the melted mixture and mix well.
Tip the mixture out into the lined tin and press it down to level the surface. Place the tin in the centre of the oven and bake it for about 25-30 minutes, or until the mixture is starting to brown at the edges.
Remove the tin from the oven and leave the flapjacks to cool. After 10 minutes you can gently mark the flapjacks into squares but do not remove from the tin and cut completely until the mixture is cold.
Top tips for making orange flapjacks
Before you make our orange flapjacks be sure to read our tips so you can avoid making any mistakes that will stop the flapjacks from sticking together. We also have advice on how to swap the dates for different flavour combinations plus info on how to freeze orange zest.
Why do my flapjacks always fall apart?
If you don't thoroughly mix the oats in the melted butter, sugar and syrup they won't stick together. If you are adding flavourings such as nuts, fruit or chocolate to the flapjacks, ensure they are cut or broken into small pieces, similar to the size of your oats. Otherwise it may be difficult to cut clean portions.
When you tip the mixture into the prepared tin it's important to tightly pack it in and press down firmly with the back of a spoon, a palette knife or even the palm of your hand.
Can you freeze orange zest?
Yes you can freeze most citrus zest. This is a great idea if you have whole fruit and you aren't using the zest straight away. Finely grate the zest and spread on a small baking tray lined with parchment paper.
Freeze for 30 minutes to 1 hour until solid then transfer to an airtight container or freezer bag and seal tightly. The zest will keep for a couple of months if stored correctly and can be used straight from the freezer.
What can I replace Medjool dates with?
In this flapjack recipe, you could swap dates for other dried fruit such as raisins, sultanas or apricots. You could also use chunks of roughly chopped chocolate if you like the flavour of chocolate and orange together. Alternatively you could leave the fruit out all together and use more oats instead.
If stored correctly these flapjacks will keep for up to one week. We recommend an airtight container or cake tin. Using a cake tin is more attractive and great if you're packing the flapjacks to take on a trip. If you don't have a set, consider upgrading to this set from Mason Cash.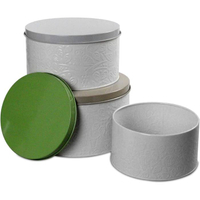 Mason Cash Forest Set of 3 Cake Tins - View at Amazon
For regular bakers, this chic trio of cake tins is a sensible investment. There are three different sizes that are perfect for storing biscuits, brownies, whole cakes, and of course, flapjacks. The three sizes neatly stack inside one another when not being used and come in an attractive selection of colours.
Chocolate flapjacks are perfect if you want a treat that's a little more indulgent. If you are trying to be healthier though, our fruit flapjack recipe is a great option. Plus, our granola bar recipe can be prepped in just 10 minutes.
Parenting advice, hot topics, best buys and family finance tips delivered straight to your inbox.