This simple white sauce recipe uses three ingredients and takes 15 minutes to make.
Once you've mastered making a white sauce it's easy to make small tweaks and additions and you'll have a number of delicious possibilities to try. Infusing the white sauce with onion, bay and finishing with nutmeg makes the topping for lasagne or add cheese and mustard for a homemade cheesy pasta. Scroll down to our tips for more delicious white sauce ideas.
Ingredients
50g butter
50g plain flour
600ml whole milk
Method
Melt the butter slowly in a saucepan. Stir in the flour to make a roux. Cook the paste for 2 minutes.
Gradually add in the cold milk, stirring until smooth. Cook over a medium heat, stirring, until thickened (it will take at least 5 minutes).
Season with salt and pepper then use as required.
Watch how to make white sauce
Top tips for making this white sauce recipe
When making a white sauce it's very important to cook out the paste, also known as a roux, for a couple of minutes. This gets rid of any raw flour taste. You should also add cold milk to a warm roux gradually to ensure that you don't have any lumps in the final sauce. For ideas on how to use and store your white sauce, continue reading below.
What are the main ingredients in a white sauce?
The only ingredients in a white sauce are butter, plain flour and milk. We like to use unsalted butter as it gives you greater control over the seasoning. Also, salted butter tends to have a high water content which can impact the ratio of liquid in your sauce, albeit very marginally.
What is the difference between bechamel and Mornay sauce?
Both sauces use a white sauce as the base but have additional ingredients which make them different and suitable for different recipes. Bechamel is often used when making lasagne and involves infusing the milk with onion, bay and often clove or mace. You then strain the milk and cook the recipe as above.
For Mornay sauce you add a pinch of cayenne and mustard powder as well as a handful or two of grated cheese, usually cheddar but you can experiment with others. The cheese should be stirred through a hot sauce, off the heat. Some recipes will recommend reducing the butter and flour quantities of the base white sauce because of the additional fat that will be added from the cheese. Mornay sauce is traditionally used for macaroni cheese and cauliflower cheese.
How to make a vegan white sauce
This classic white sauce can be easily adapted to suit a vegan diet by replacing the diary-based ingredients. Swap 600ml whole milk for 600ml unsweetened oat, pea, or soy milk. The 50g butter can be swapped for a 50g of vegan spread instead.
Can white sauce be frozen?
Once the sauce has completely cooled to room temperature spoon into a freezer bag. It's best to store in portion sizes as it's quicker to defrost. Freeze for up to 6 months. Defrost overnight in the fridge. You will need to reheat the sauce gently once defrosted on the hob. Whisk in some more butter or milk if the sauce looks a little split, it will soon come back together.
Can you use self-raising flour for white sauce?
It's best to avoid using self-raising flour because it has a raising agent in which will have an impact on the taste and texture of the sauce. It's better to use something coconut, almond, or whole wheat flour if you don't have access to plain flour.
You can also use cornflour but you make not need as much as it's best to mix cornflour with a little liquid to make a paste before adding.
Is white sauce gluten-free?
Substitute the plain flour in this recipe for gluten-free flour instead. You can also use cornflour which is naturally gluten-free.
When you pour the cold milk into the saucepan it's important to add it in a slow and steady stream. Mixing all the time. We find it best to pour the milk from a jug and a glass Pyrex jug is an excellent choice. You could also keep the cooked sauce in the jug then cover with cling film and microwave to reheat when you need it.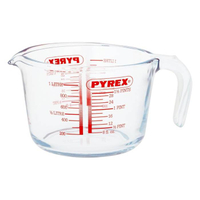 Pyrex Glass Measuring Jug - View at Amazon
The Pyrex glass jug is suitable for use in a microwave and is dishwasher safe. It can hold up to a litre of liquid and is a kitchen essential for any cook.
Once you've made our white sauce, you can add a grating of nutmeg and you'll be all set to make a lasagne. You can also tweak the ingredients a little for this fish pie or make our cheese sauce and use it for pasta or a delicious vegetable bake.
Parenting advice, hot topics, best buys and family finance tips delivered straight to your inbox.