Lola & Lykke Smart Electric Breast Pump Review
Read our Lola & Lykka Smart Electric Breast Pump review to find out if it's right for you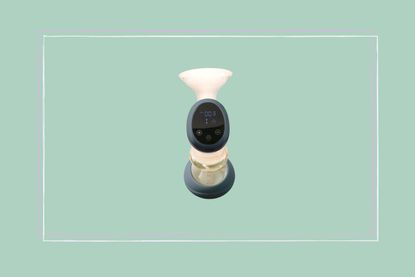 (Image credit: LOLLA & LYKKA)
'The Lola & Lykke Smart Electric Breast Pump is a light, wireless hands-free breast pump with a digital display and an easy-to-use touchscreen. We love how easy it is to track and record your pumping sessions, thanks to the handy memory button and timer function button, and the fact that you can attach a feeding teat to the milk storage bag is a total game-changer.'
Reasons to buy
+

Easy to use

+

Effective and convenient

+

The compatible bags with teat are game-changing
Reasons to avoid
-

Works best with the branded milk bags
Mum reviewer Katy - and baby Beatrice - tested out the Lola & Lykke Smart Electric Breast Pump for Goodto.
Easy-to-use, discreet, and effective - that's our mum tester's verdict, making this handheld electric model one of the best breast pumps you can buy. A standout feature is that you can express milk directly into sterile storage bags (supplied separately) to which you can attach a teat for feeding your baby, without having to decant the stored milk into a separate bottle.
'The pump-direct-to-storage bags option, and the ability to feed directly from these bags, reduces the equipment you need and cuts down on faff which is brilliant because life with a baby is busy enough,' says our parent tester, Katy. She found this breast pump easy to use, effective, and compact, as well as stylish and well-designed.
In fact, our tester was so impressed by this pump that she put it forward as a worthy contender for the best premium bresat pump. 'It is effective, quick, easy, and comfortable to use, providing a straightforward and convenient way to express, store, and then feed breastmilk to your baby,' Katy explains.
'I've recommended this pump to friends because it's so innovative and useful to be able to express directly into milk storage bags which then convert to bottles. As I'm exclusively breastfeeding and only giving my baby the occasional bottle of milk, finding time to pump is tricky, especially with the juggle of the baby and a toddler and general life admin. The seamless pump-to-storage-to-feeding design of the Lola & Lykka Smart Electric Breast Pump saves valuable time and effort.'
Design
This wireless rechargeable breast pump is easy to set up and use, with detailed and clear instructions that made it simple for our tester to get started on her pumping journey. It came in a sturdy compartmentalized box that's useful for safely storing all the parts in between uses.
'In addition to the box, which I feel is well worth keeping and using for storage, the pump comes with a discreetly branded drawstring bag to keep everything in, as well as a cap for the breast shield in case you take a break between pumping on each side,' says Katy.
'Up until this point, I have been exclusively breastfeeding Beatrice, so the Lola&Lykke Electric Breast Pump has given me an easy way to start to build a freezer stash of breastmilk. I've also been able to introduce Beatrice to the occasional bottle feed of expressed milk.'
In terms of design, Katy rates the anti-colic, slow-flow teat which helps to minimize the chances of baby Beatrice developing a bottle preference. 'At this point, I don't plan to move away from direct feeding for the majority of our feeds, so knowing she won't prefer the bottle gives me extra peace of mind,' Katy explains. 'So far it's still a learning curve for her and her daddy, but once she's into weaning we can start to give her expressed milk in a cup, as well as in food, if she doesn't really take to the bottle.'
Another selling point of the Lola & Lykka Smart Electric Breast Pump is how easy it is to clean. 'It consists of just 5 parts that are easy to assemble, use, and clean, with no tubing or wires to faff about with or get tangled in,' says Katy.
Comfort and features
The Lola & Lykka Smart Electric Breast PumpComprising is compact and smart-looking from the moment you unbox it. Inside the box is a USB-chargeable motor/control unit, a soft breast funnel, the connector, an anti-back flow valve, and bottle. Any parts which are in contact with breast milk are BPA-free. It's worth noting the bottle itself is slightly yellow-tinted rather than clear, which visually took a little getting used to for our tester. The pump is also compatible with standard baby bottles so you're not stuck with just the one it comes with.
'Once I'd charged the pump head via the supplied USB cable for two hours, and washed and sanitized the rest of the pump parts by boiling them I was ready to go,' Katy tells us. 'The pump head attaches to the rest via a simple but secure twist and fix mechanism. And then all I had to do was fit the soft funnel of the breast shield over my breast, hold it in place by cupping my hand around it beneath my boob, then turn the pump on. This took a couple of goes to get used to as it requires a slightly prolonged touch. However it quickly got to work.'
Billed as a silent pump, the motor unit is impressively quiet and discreet and uses a two-phase expression pattern. This starts out on a two-minute stimulation phase, mimicking a baby's initial sucking pattern to get your letdown going. Once that's complete the pump switches to expression mode automatically (though you can override it earlier with a touch if you want), producing slower, deeper suction. Katy found this very efficient as it meant she could turn it on, hold it in place and then pretty much forget about it while pumping. 'All you need to adjust is the level of suction power to suit your tolerance - there are six stimulation levels and nine for expression mode.'
'Like the previous electric pump I've tried, the advice is to turn the Lola&Lykke pump up until it becomes slightly uncomfortable, then reduce the power by one pip. Using the up and down adjust buttons is super easy, and the pump head digital display also shows which mode it's in, plus the pumping strength level, the time elapsed, and battery level for an at-a-glance update should you need it.'
The pump also has a memory function to allow you to review previous data easily. That's handy if you want to track output or keep tabs on how much you're pumping so as to avoid any unnecessary increase in your milk supply.
Using this pump is comfortable and easy. 'I've not experienced any nipple or breast soreness from it, although as a block feeder (only feeding from one boob each feed) when I've used it on the other super-full boob first thing in the morning I've found it (unsurprisingly) less effective than Beatrice at fully draining my breast!'
The pump automatically shuts off after 30 minutes, which Katy thinks it's helpful in reducing any temptation to over-pump to try to increase yield.
Once the pumping session is over, it's also an easy pump to disassemble and clean. 'There are only five parts in total - with the instructions directing you to wash everything except the motor in hot soapy water between each use, and to sanitize it by boiling all the milk-collecting parts for 10 minutes once a day,' explains Katy.
'If you use the pump to express directly into the milk bags (sold separately), sealing them off is a cinch as they come with caps, as well as measuring markers and space to write on the date and time. The bottle can then be stored in the fridge with the teat and cap on it - there's also a bottle stand for added security. For the price, it would be good if the bottle also came with a flat screw cap, as it seems a bit of a shame to only have the teat as a closure option.'
Value for money
Overall, the Lola&Lykke pump is an excellent choice for mums who are short on time for both pumping and the additional life admin that goes with it - cleaning and sterilising equipment, bagging expressed milk and organizing its storage. 'If you're looking for a quick and easy pumping experience, for example if you're planning to express at work or otherwise away from your baby, this pump is ideal for straightforward use on the go,' adds Katy.
The Lola&Lykke pump-compatible breast milk bags allow you to express directly into them for seamless storage, and the ability to feed directly from the bags with the included bottle teat is a real game-changer for convenience and ease of use. I also found the pump to be effective and comfortable to use, yielding good volumes of milk in even short (10-minute) pumping sessions.'
As a parenting specialist for more than 15 years, Heidi has written for most national newspapers and for a wide range of consumer magazines, including Mother & Baby where she was the Shopping Editor for six years, looking after regular consumer features including buying guides and gift roundups.