Maxi Cosi See Baby Monitor Review
This stylish Wi-Fi-enabled smart monitor senses when your baby wakes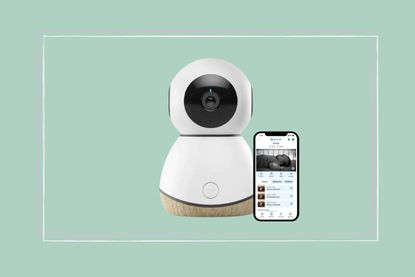 (Image credit: Maxi Cosi)
'A stylish mix of techy gadget and beautiful design, this Wi-Fi-enabled baby monitor is packed with features you'd expect in a top-of-the-range baby monitor and yet you'll get change from £100.'
Reasons to buy
+

Stylish design

+

Can be used when you are away from the house

+

Affordable

+

Talk back function
Reasons to avoid
-

Hard to set up

-

Using your phone means you can't see baby all the time

-

Requires data if you are out of wifi range
Design
Dimensions: H12.7 x W8.1 x D8.1cm | Power supply: USB
Looking for a monitor that lets you watch your baby via your smartphone or tablet - but don't want an ugly techy gadget in the house? Then this is, without doubt, one of the best baby monitors for you.
The Maxi Cosi See Baby Monitor boasts a range of high-end features including night vision mode and the option to pan, tilt and zoom the camera remotely. And yet it costs under £100.
How does it work? Easy. You use your smartphone or tablet to watch a live stream of HD footage from your baby's bedside. The data is fully encrypted for security.
The monitor can also alert you to changes in movement, sound, temperature, or humidity in your baby's room and there's the option to hook it up to other Connected Home products, should you wish.
'This is a surprisingly high-quality app-based monitor, so if you are happy about sharing your Wi-Fi data with the manufacturer, then this monitor is certainly worth considering,' says our parent reviewer, Anna. 'The picture quality is fantastic, both at night and during the day, and you can adjust the settings so that there are no indicator lights on to disturb your baby during sleep. The monitor is very discreet. You would not even know it is there.'
Comfort and features
We gave the Maxi Cosi See Baby monitor to one of our parent reviewers, Anna, and asked her to put it to the test with her baby, Henry. She described the build quality of this device as 'flawless' and points out that the stylish wood effect will blend well with all types of nursery décor.
Ideal for parents who consider themselves tech-savvy, this monitor will appeal to those who like minimalistic design. It's a good choice if you don't want a monitor that resembles a security camera.
With no parent unit, you have to open the app on your phone to see your baby. For this reason, our tester feels the Maxi Cosi See Baby monitor is better suited to parents of older babies who don't feel the need to check on their baby as much as during the newborn days. If you want to send a text or scroll social media, for example, you won't be able to keep an eye on your baby at the same time.
'On the other hand, this monitor is great if you want to use your phone to check in on your baby when you're out for Date Night,' adds Anna.
Setting this up is was a little challenging for our reviewer but eventually, once she skipped through the various WiFi notifications, the monitor connected itself and started working.
'On the downside, the USB lead is the micro USB type, like the one supplied with older model mobile phones, whereas it would be handy if it was USB- C but the lead is a good length, at least,' says Anna.
'There are obvious invitations to purchase cloud storage but as this is not a CCTV camera you can just ignore these and use live stream. If you really want to you can capture movements on an SD Card but again this is just because it uses the same technology as a CCTV camera and is not needed here.'
Value for money
The Maxi Cosi Baby See monitor is an affordably priced option for a smart baby monitor with so many extra features. At that level, it's a good choice if your budget is limited. However, it's not the easiest baby monitor to operate. 'It doesn't come with comprehensive instructions and it's not the simplest to use,' explains Anna. 'I found I had to mess around a lot with the settings to get it to work perfectly.'
Overall, this is a good choice if you want a smart baby monitor and have an excellent WiFi connection. 'It's not a simple plug-in-and-turn-on option - you need some tech knowhow,' cautions Anna.
'The biggest issue with this monitor is that your phone becomes the baby monitor, taking me away from being able to use my phone as I would like to in my precious downtime,' she adds. 'It's a great gadget but personally, I would prefer a baby monitor with a dedicated parent screen that does not use my home WiFi network.'
As a parenting specialist for more than 15 years, Heidi has written for most national newspapers and for a wide range of consumer magazines, including Mother & Baby where she was the Shopping Editor for six years, looking after regular consumer features including buying guides and gift roundups.