COSORI Lite 3.8L Smart air fryer review
An affordable, easy to use air fryer, perfect for couples or small families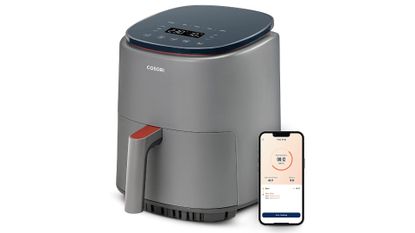 (Image credit: Amazon)
This compact air fryer is a little gem. It's affordable, looks great and is super easy to use. With seven pre-set cooking functions, it's a versatile option for smaller households looking for fuss-free and healthier cooking. It can even be connected to an app and controlled by your smartphone - although even without this functionality, it's an impressive product. Available in two stylish colourways, it's exclusive to Amazon, so it's easily available too.
Reasons to buy
+

Compact and stylish

+

Affordable, yet powerful

+

User-friendly control panel

+

Grey and red colour palette is a nice alternative to black

+

Suitable for couples

+

Range of pre-set cooking options

+

Basket and tray are dishwasher safe
Reasons to avoid
-

Louder than other air fryers I've tried

-

Too small for larger families

-

WiFi connectivity was a bit unnecessary for me

-

Only available from Amazon
Our money editor Sarah Handley reviews the COSORI Lite 3.8L Smart air fryer.
I love the ease and convenience of an air fryer, not to mention the health and energy-saving benefits. Due to their huge spike in popularity, especially during the cost of living crisis, there are so many options to choose from it can be difficult to know where to start looking.
If you're looking to invest in one, we've been testing the best air fryers for families and giving you our honest feedback to help you choose the right option for your home. It's also worth checking out what you can't cook in an air fryer as well as how much an air fryer costs to run to get the most out of it.
Here's how the COSORI Lite smart air fryer fared in the testing process and what makes it one of the best air fryers for families.
Available exclusively from Amazon
Design
Capacity: 3.8L | Dimensions: H32.5, W27.5, D37.6cm| Wattage: 1,500W | Colour: Truffle Grey (also available in White Peach)
This air fryer is neat and compact, and fit well on my worktop without taking up too much space. I found it surprisingly lightweight, so it'll be easy to move around if you don't want to leave it on display.
Unlike other air fryers I have used, this one has the digital display on the top of the unit. This meant that I needed to be up close to the air fryer in order to see how much time was left when cooking (which I didn't mind). But this design feature is likely intentional given the WIFI connectivity of this air fryer which means you can monitor cooking from your smartphone (more on that later). The control panel is easy to read and simple to use and I found the buttons to be really responsive.
I tested the Truffle Grey colour of this air fryer, which I felt was a really refreshing change to black. The main body is a matt grey, which I found didn't show up fingerprints at all, the control panel is a dark blue colour (which also managed to keep smudgy fingerprints at pay) and there are pops of deep red on the handle and around the control panel. It's a stylish addition to any kitchen.
For those who want something completely different, it's also available in white with peach accents.
It has a decent 3.8L capacity which would be suitable for cooking about three portions, so is perfect for couples and small families, but those with larger families will likely need something a little larger and maybe even a dual tray model instead.
Comfort and features
This air fryer is really easy to use, but also comes with a really easy-to-understand instruction manual. Setting up is simple, and the instructions even talk you through a test run to help you get to grips with using the control panel, which I thought was a really nice touch.
There's a handy pre-heat setting which runs at 205°C for four minutes. If that feels too hot, you can reduce the temperature manually using the arrows on the control panel and the time will adjust accordingly. The first time I used the air fryer, I used the standard pre-heat feature and noticed a bit of an odour, but by the time I was ready to cook the odour was gone.
Once the time is up, this air fryer has a loud enough beep that you can hear it in another room.
There are five other pre-set cooking options for chicken, fries, bacon, steak and veggies, although I would say to be careful with the pre-set functions - I've been burned before (pardon the pun) where the time seems a little too long, so always check the cooking process half way through and use your judgement. There is also a Shake feature which will sound a beep and pause the cooking time so you can shake the contents (this works well for things like fries or chicken nuggets) before replacing the basket and allowing cooking to resume.
You can also get the cooking time and temperature manually, which I did when cooking some chicken goujons. They came out perfectly - crispy on the outside and piping hot in the centre, after just 18 minutes (they would have taken 25 minutes in a conventional oven).
The basket handle is comfortable to use, and its easy to remove and return the basket into position. You also get a crisper plate that can easily be slotted into the basket before cooking.
I really loved that the basket and tray could both be cleaned in the dishwasher, although always a good idea to wait for any oil or fat that may collect in the bottom to cool and then scoop it out with some kitchen roll for disposal.
This air fryer can also be connected to WiFi so you can monitor or control it via an app (although for safety reasons, you control all the air fryer's functions via the app, apart from starting the cooking process). Some people might love this feature, as well as the in-app recipes and voice control functionality (via Google Assistant), but for me, it felt a little unnecessary.
Value for money
With an RRP of £99.99, I think this air fryer is great value for money. It's easy to use, cooks well and has a decent variety of cooking functions for the price. I know I wouldn't use the app-control feature, but I still feel that this air fryer is worth the money even without it.
It looks good, is light enough to move around easily and a major plus point for me was that the basket and crisper tray were both dishwasher friendly. It was the perfect size when I was cooking for two, and I'd say you could cook enough for three people, but for larger families, as much as I enjoyed this air fryer, sadly, I think it would just be too small.
For anyone nervous about using an air fryer for the first time, the instruction manual and quick start guide included with this air fryer were really easy to understand so it's perfect for first-time air fryers. The quick start guide also shares a super handy hack for adapting oven recipes to something more air-fryer friendly. It says to lower the temperature by 10°C and/or reduce the cooking time by 20%. I found this really useful, although I still use my own judgement as to when something is cook and check food throughout cooking.
If you have more questions about using an air fryer, you might also be interested in some other articles that explain can you put foil in an air fryer and how to clean an air fryer. You might also like the best air fryer cookbooks for meal time inspiration.
Sarah is Goodto.com's Money Editor. After segueing into the world of personal finance from the Homes sector, and acting as launch editor of Goodto's sister brand TheMoneyEdit.com, Sarah now focuses on family finance. She is passionate about cutting through confusing jargon to help people make sound financial decisions, avoid overspending and set themselves and their families up for a financially-stable future.