We tested the Ickle Bubba Radial 360 Rotating car seat and this feature made our tester's life so much easier
The Ickle Bubba Radial 360 rotating car seat is 'a breeze' to rotate and made our tester's life easier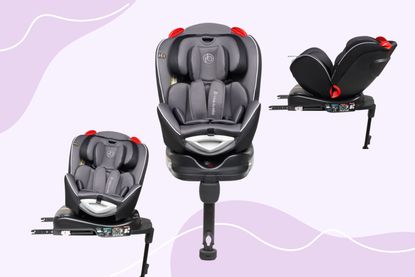 (Image credit: Future)
Reasons to buy
+

Integrated base rotates 360º

+

Easy and intuitive to use

+

Brilliant value for money
Reasons to avoid
-

Available in one color

-

Rear-facing until 15 months only

-

Harness is a little fiddly to buckle

-
The Ickle Bubba Radial 360 Rotating car seat came top in our consumer test so we've named it the best convertible car seat you can buy - read our review to find out why...
The Radial 360 Rotating Car Seat is an affordable car seat from baby brand Ickle Bubba. It converts from a rear-facing baby car seat to a forward-facing toddler car seat, but that's not all - it also rotates a full 360º for quick and easy transitions in and out of the car.
It's no surprise that the best convertible car seats have grown in popularity over recent years - who doesn't love a multifunctional bit of baby kit that grows 'with' your child? Back when my kids were babies, there was no escaping the fact that you had to buy a rear-facing car seat for your baby, followed by a forward-facing car seat for your toddler once they had outgrown the height or weight limits of the baby seat. Reader, it was expensive.
Nowadays, convertible car seats have changed all that. If you choose this type of car seat, you can install it rear-facing for your baby and then turn it around (or 'convert' it) once your little one is the appropriate age to move into a forward-facing seat. Gone are the days of buying a baby seat and having to replace it with another hefty purchase once your tiny newborn has become a strapping toddler.
In a nutshell
The Ickle Bubba Radial Rotating Car Seat is a brilliant value convertible car seat that can be used rear-facing until your baby is 15 months old and then forward-facing up to seven years old. It also rotates 360º so popping your baby in and out of the car is a doddle. Buy it if you're looking for an affordable car seat suitable from birth to toddlerhood - and beyond - from a reliable brand.
Goodto asked parent reviewer and mum Katy Islip to put the Ickle Bubba Radial 360 Rotating car seat to the test with her baby daughter Beatrice, who was 17 weeks old at the time. Katy told us she was 'impressed' by how easy she found it to install, adjust, and use this car seat. 'It grows with your child via the gradual removal of seat padding and other components,' she adds.
As its name suggests, the standout feature of the Ickle Bubba Radial 360 Rotating Car Seat is the fact that it rotates 360º, making it much easier to pop your child in and out of the car compared to using a car seat that's fixed in place.
If you've ever tried to wrestle a squirming, reluctant toddler into a car seat that's fixed in place, you'll know exactly what I mean. (Welly-boot to the face, anyone?) Ditto if you've contorted yourself whilst trying to extract a snoozing newborn from a rear-facing car seat without waking them. No chance. A rotating car seat, in contrast, makes these moments easier and less stressful for all involved.
As well as rotating for easier access, the Radial 360 car seat can also be reclined for the comfort and safety of your baby. That's a major plus point because travelling in a car seat in an upright position for a long period of time can put babies at risk of breathing difficulties.
Price & availability
What most impressed our tester about this car seat is how affordable it is. Katy told us she was 'blown away' by the fact that it offers such fantastic value for money, considering the Radial 360 lasts from birth up to around seven years old.
'If you like value for money then this seat offers it in bucket loads because - barring accident or damage - it will last your child from birth right up to around the age of seven,' Katy explains.
'Over the seven or so years that it should last your child, it amounts to less than £30 per year of use! That's excellent value, as most 360º rotating seats are more expensive.'
Overall, our tester told us she would recommend this Ickle Bubba 360 Radial Rotating Car Seat to anyone considering a 360º rotating car seat because of the way it can 'grow' with your child and be used for much longer than many other rotating can seats can.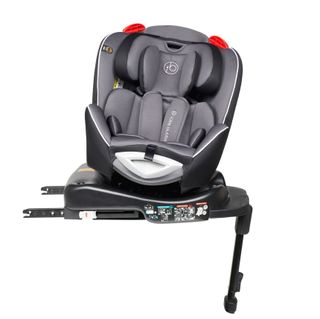 Design & features
Weighs: 11.5kg | Age range: From birth to seven years old

The Ickle Bubba Radial 360 seat is available in an understated grey and black colourway which looks stylish, but it's possibly not the seat for you if you're looking for something in this season's on-trend colours. Ultimately, of course, car seats are all about safety and comfort, not colour. And it's comfortable for little ones, thanks to its built-in headrest and padded straps.
Design features of note include the visual indicators to ensure correct installation - if only all car seats had this - and an anti-rebound leg which helps to make installing this car seat very straightforward. If you're strapped for time and often in a rush, these are reassuring extras.
Katy found the seat to be aesthetically pleasing, as well as simple to fit and use. 'It's smart and attractive, with tonal fabric coverings and red contrast details to help you see where the seatbelt fittings go once you're using it for an older child,' she explains. 'The seat is also well-padded and appears to be very comfortable - Beatrice seemed to be generally content and even fell asleep in it easily on longer car journeys'. (Note: babies often fall asleep while travelling but it's important to take them out of the car seat as soon as you reach your destination because a car seat is not a safe place for a baby to sleep for a long period of time.)
Some car seats are a challenge to install but not this one. 'Fitting the Radial car seat into our car was a simple process, and I especially found it easy to deploy the Isofix connectors as the two-step buttons are easy to push,' our tester told us. 'I also felt confident that the seat was fixed and secure once pushed into place,' Katy adds.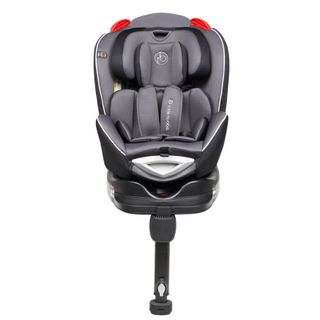 When it comes to getting babies, toddlers, and older kids in and out of the car as easily as possible, parents need all the help they can get - and Katy found that this car seat's features made life easier for her.
'The adjustment handles are all easy to use one-handed to get the correct fit and the newborn head padding was simple to pop in and out as we adjusted the fit - Beatrice is a long baby and quite big for her age, so we didn't need all the padding from the start,' she explains. 'The padding looks to be simple to remove when she's big enough to move up the stages offered by this seat.'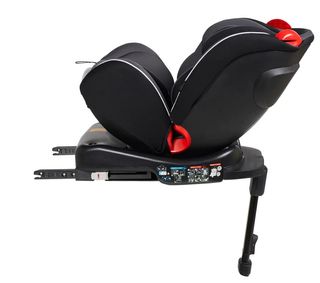 How we tested
Transported a 17-week-old baby in a standard family car using this seat, installed via ISOFIX anchor points according to manufacturer's guidelines.
Used the seat for a minimum of two weeks for everyday transportation, which included driving everywhere from the supermarket to the doctor's surgery.
Tested the seat rotation functionality, in particular, to see how easy it is to place the baby in and out of the car compared to a fixed seat.
Things you wouldn't find on the box
To put this car seat to the test, Katy used it as her main means of transporting her daughter for at least two weeks, using it daily.
When it came to reclining the car seat, she found this easy and intuitive to do. 'Once she was in the seat, it was easy to adjust the recline to suit Bea as there are three settings, including a 38º angle for newborns,' she says. 'At the moment she's still in this lowest setting but the handle for adjusting the angle is easy to deploy, being situated under the front of the seat.'
The mechanism to release the child from the seat is also easy to use, according to our tester. 'It requires enough force for me to be confident that little hands won't be able to spring it by accident once Bea is older,' explains Katy. 'And the backing on the strap padding that helps keep them in place also gives me confidence that she won't be easily able to shrug them off.'
Car seat harnesses can be maddening to operate which can be a real challenge when someone else is caring for your child and trying to get to grips with an unfamiliar harness. But, our reviewer tells us, the release button for retrieving the harness is 'a doddle to use' - and not just by our tester. 'It's also handily indicated by an embroidered marking so it's even easy to give instructions to anyone unfamiliar with the seat (thanks Mum!) on how to fish Bea out when I am busy disembarking her big sister,' she tells us.
How easy is it to rotate the seat? 'It's a breeze, as the handle for this is super-handily located at the front of the base,' adds Katy. 'So even when the seat is rearward-facing, you don't have to go scrabbling about to find the lever to turn the seat round to get your baby in or out. This has definitely made it super easy for us to use this seat and is a big plus point in terms of design.'
As for cleaning the Ickle Bubba Radial Rotating Car Seat, our reviewer reports that washable covers mean you should be able to keep it looking good during the years of use it will provide.
Who's it best for?
Because it's suitable from birth to seven years old, this car seat is brilliant value for money - and all the more so when you factor in that it rotates 360º and makes getting your child in and out of the car so easy.
If we really had to pinpoint something that lets it down, it's the lack of different colours to choose from but that's a very minor complaint about what is, overall, a very impressive car seat offering.
Our tester would happily buy this seat and recommends it to parents looking for an affordable but reliable convertible car seat. 'While we've only used this seat so far in the newborn/0+ mode, it has been easy to fit, adjust, and use,' Katy concludes. 'I felt confident that it offered good protection for Beatrice and she's been comfortable and happy in it too.'
Need an alternative?
After testing, we chose this as the best convertible car seat overall because it's affordably priced but packed with useful features, including a 360º rotating base, yet it feels very much like a top-of-the-range car seat. If you've got more to spend, we think the Silver Cross Motion All Size 360 (£355, John Lewis) car seat is the best convertible car seat in the premium price category.
Looking for more? Discover our range of buying guides covering everything from the best prams to the best baby monitors.