KitchenAid Stand Mixer review: Design Series 4.7L Blossom Artisan
A contemporary stand mixer designed by KitchenAid with a lush thyme-green finish, unique hammered copper mixing bowl and must-have stainless steel attachments...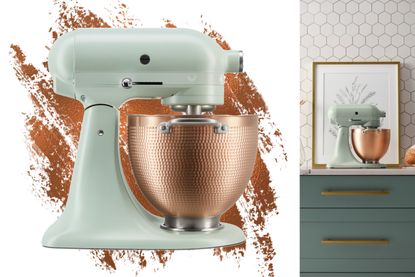 (Image credit: Future / KitchenAid)
The KitchenAid Design Series 4.7L Blossom Artisan is a sleek, modern 2022 KitchenAid stand mixer perfect for avid bakers and professionals looking to up their kitchen appliance status. It's an efficient, durable, easy-to-use machine that takes the stress out of baking. The bold thyme-green and polished copper colour palette make this model an eye-catching machine that will certainly take pride of place on the kitchen counter.
Reasons to buy
+

Beautifully designed with a sleek, stylish finish

+

Sturdy, durable made from die-cast metal

+

Various attachments including whisk, dough hook, flat beater, pastry beater and scraper - all dishwasher safe

+

Easy to set up and to use straight away

+

Various speeds and settings when mixing

+

Powerful yet elegant

+

4.7L bowl
Reasons to avoid
-

Expensive

-

Heavy to move - so would need a good amount of kitchen counter space to display it

-

Only available in one colour palette
Why you can trust GoodTo Our expert reviewers spend hours testing and comparing products and services so you can choose the best for you. Find out more about how we test.
If you're looking to invest in a KitchenAid stand mixer, we put the KitchenAid Mixer Design Series 4.7L Blossom Artisan 5KSM180LEBLB to the test, and here's how we got on.
Since 1955, the American kitchen appliance brand, KitchenAid has become iconic for its high-quality, efficient, and durable kitchen appliances. KitchenAid is a well-established brand known by almost every home baker which brings sophistication and simplicity with each appliance, particularly its collection of stand mixers - from Mini to Classic to Artisan
The KitchenAid Mixer Design Series 4.7L Blossom Artisan (opens in new tab) is the perfect tilt-head stand mixer for those looking to invest in a long-lasting machine that will not only whisk cake batter to perfection but will do it for many years to come - and in style too.
Alongside the eye-catching, thyme-green mixer body and the unique hammered copper bowl, this stand mixer features various attachments including a stainless steel wire whisk, pastry beater, dough hook, flat beater, and scraper. All attachments are easy to add to the mixer body and remove with a simple twist action.
The KitchenAid Mixer Design Series 4.7L Blossom Artisan 5KSM180LEBLB also comes with a 5-year guarantee for peace of mind - particularly when investing in such an expensive kitchen appliance.
Design
Height: 360mm | Depth: 370mm | Width: 240mm | Weight: 11.97kg | Colour: Thyme-green / Copper
Before you even begin to use this showstopping stand mixer you are drawn to the bold thyme-green colour on the mixer body as well as the hammered-effect copper mixing bowl and polished stainless steel knobs, handles, and attachments.
"It sounds bizarre referring to a kitchen appliance as 'beautiful' but the colour, the striking copper bowl, the unique look of this machine alongside all the stainless steel trimmings and curvaceous edges, its certainly a looker," says Senior Content Editor, Jessica Dady. "I have always wanted a KitchenAid and to have this impressive, eye-catching stand mixer sitting on my counter side feels like such a privilege."
The KitchenAid Mixer Design Series 4.7L Blossom Artisan is a sturdy machine with a lot of weight behind it to keep it firmly in one place when using as well as plenty of grip at the bottom of the machine too. The contemporary copper bowl is lined with food-safe stainless steel and is best hand-washed when it comes to cleaning. KitchenAid recommends letting the copper bowl age over time or shining it with polish to keep up the look.
"As soon as I opened the box I wanted to start baking - anything, everything - be it cakes, bread, the lot. Securely packaged, the Blossom Artisan stand mixer included all the attachments, all carefully protected, and polished," adds Jessica. "The stand mixer body is so heavy so getting it out of the box was a task and it ended up with my husband lifting and me shimming the box from underneath so keep in mind when removing - bend your knees!"
All of the included attachments - from whisk to dough hook - are designed to maximise bowl coverage and ensure the mixing is achieved to perfection. All are made from stainless steel and are dishwasher safe.
Comfort and features
As well as looking at the part, the KitchenAid Mixer Design Series 4.7L Blossom Artisan 5KSM180LEBLB certainly ticks all the boxes when it comes to usage. It's a powerful machine, that efficiently whisks cake mix, whips cream, or beats cookie dough - you name it - in a matter of seconds.
"I didn't realise how efficient a KitchenAid stand mixer truly is. I started with a simple chocolate cake mix to put the machine to the test and the mixture for a three-tiered chocolate cake was whisked in seconds," says Jessica. "And it hardly made any noise - for such a large machine, it was very quiet even when I cranked it up to the fastest mode to really test out the noise level. Usually, the kids would have their hands over their ears by that point but not this time around."
Setting the stand mixer up to use is rather straightforward. The tilt-head mechanism on the machine allows you to lift the head of the machine (where the beater or whisk is attached) up and away from the bowl. You can then remove the bowl easily.
The head of the mixer body has two leavers on either side - one of which is to unlock the machine head so you can move it up or down, and also click it back into place when ready to use. The other leaver controls the speed of the attachment you've chosen to use varying from 1 for a gentle stir, to 6 for beating and creaming and up to 10 for fast whipping.
The attachments are easy to fix in place. Each attachment has a groove that cleverly slots onto the head of the machine and then with a rotation of the wrist, you have locked the attachment into place. To remove, it is the same maneuver but in reverse. It is best to remove all attachments when the head of the machine is up in the air, away from the bowl and the machine is unplugged. It also mentions this as a health and safety feature in the included KitchenAid stand mixer guide.
According to KitchenAid, the KitchenAid stand mixer was the first home mixer to have 'planetary action', which means that the shaft of the mixer rotates in one direction, while the attachment rotates in the other, giving a fast, thorough mix. Impressively the beater is said to spiral at least 59 touchpoints around the bowl.
"The 4.7L copper bowl was big enough for a three-tiered chocolate cake mix to be whipped up in with plenty, and I mean plenty, of space for more cake mixture. It's a much larger bowl than I imagined but is perfect for bulk baking. According to KitchenAid, the bowl has the capacity to knead up to 2kg of dough at one time, 1L of whipped cream, and 9 dozen cookies in one batch - if that's not an excuse for me to make 9 dozen cookies tonight, I don't know what is!" says Jessica.
Value for money
One of the biggest hurdles to overcome with KitchenAid kitchen appliances is that they unfortunately come at a great cost. With high-quality, durable, long-lasting, stunningly designed appliances you wouldn't expect anything less, and the KitchenAid Design Series 4.7L Blossom Artisan tilt-mixer is no exception.
"It's certainly a tough one when it comes to value for money. I know hands down that this stand mixer is going to last me a long time. I'm an avid baker, I love baking more than just cakes, and I'd love to take my skills to the next level, and having an efficient model like a KitchenAid stand mixer is going to help me do just that," comments Senior Content Editor, Jessica.
The KitchenAid stand mixer - be it Mini, Classic, or Artisan is an investment. Whether it's an amateur baker embracing their hobby and passion or a professional looking for a durable machine that won't fail them, KitchenAid is a brand that certainly ticks all the boxes when it comes to quality.
"This KitchenAid Design Series 4.7L Blossom Artisan mixer is going to take pride of place on my kitchen counter and it will not be removed for anyone or anything," adds Jessica.
Jessica Dady is Senior Content Editor at Goodto.com and has over 10 years of experience as a digital journalist, specialising in all things food, recipes, and SEO. From the best food hampers to cookbooks, from the best cake stands to baking sets, Jessica has a wealth of knowledge when it comes to must-have food products. A passionate baker, she spends much of her time creating celebration cakes for friends and family - particularly for her two lucky children.