Alison Hammond reveals her motivation to continue her weight loss journey after shedding two stone
She's been spurred on by a fellow TV star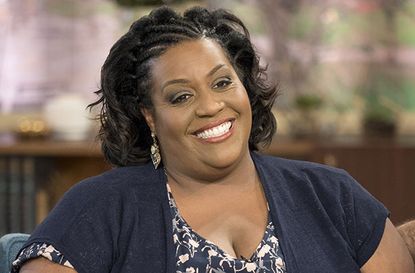 (Image credit: Ken McKay/ITV/REX/Shutterstock)
Alison Hammond has opened up about her inspiration to continue her weight loss journey after losing two stone on ITV's Sugar Free Farm.
Speaking to Closer magazine, she said that she was motivated by TV star Lisa Riley's weight loss, after the former Emmerdale actress shed an incredible 11 stone.
'Lisa is an inspiration,' she said of pal and fellow celeb. 'I spoke to her recently and she is phenomenal. She's in a happy place and has managed to cut out everything bad.'
'There is nothing bad she puts in her mouth whatsoever. She was a role model for me and I watched her on Strictly Come Dancing before I went on the show.'
Last year, Alison opened up about her time at the farm, including breaking her sugar addiction and her weight loss progress.
The bubbly presenter chatted to Phil and Holly about how her struggle to combat her love for sweet treats had been extremely difficult, after it was revealed on Sugar Free Farm that she consumes an average of 666 chocolate bars a year.
A clip from the programme was shown, in which Alison admits, 'chocolate is like my crack cocaine. I love it, I can't do without it,' before breaking down in tears.
'I get a real big buzz when I eat sweet food,' she continued. 'I get a physical reaction and just feel happy - and then I want another one.
'No one wants to be super-obese, I tell you, but what I can say is I'm addicted. I feel there's another Alison inside, dying to come out.'
Image: KenMcKay/ITV/Rex/Shutterstock Alison shared the sofa with BGT duo Stavros Flatley, who also took part in Sugar Free Farm
She then revealed that her addiction has become so extreme that her 11-year-old son has had to intervene, saying: 'My son sometimes hides my chocolate from me.'
The star is making progress after joining Gemma Collins and Joe Pasquale on Sugar Free Farm, and she's lost two stone already.
'I've totally changed shape, and my clothes are fitting a lot nicer now,' she told Best magazine.
'I've lost two stone since I filmed Sugar Free Farm. OK, so I might not have shed ten stone, which is the amount I need to lose but, for me, it's not so much about the weight loss: it's more about feeling better in myself, and I'm definitely feeling a good deal happier now.'
Prior to her weight loss, Alison spoke out about her health concerns, after admitting that she'd hit more than 20 stone.
Mum of one Alison shared her fears in an interview with Bella magazine, saying, 'my poor body might not be able to cope for much longer so I have to help it out by taking weight off.'
However, instead of a quick fix or drastic measures she says she'll be making small changes to her diet and lifestyle to see the weight comes off in a controlled and healthier way.
The TV star admitted that she's always struggled with losing weight, saying: 'It's the one thing in my life that I feel like I can't achieve.
'When you get really big like me, you don't see any light at the end of the tunnel.
'I need to do it in small stages. If I just try and live healthily and drink lots of water, the weight loss will come. If I lose one or two stone it's not going to be obvious to anybody but I'll feel better in myself.'
Speaking about her ultimate goal, Alison said that she'd love to lose nearly half of her weight, saying, 'I'm 20-something stone. I'd love to weigh 12 stone, that's the ideal weight for my height - I'm 5ft 9in - but if I got to 15 stone and around a size 14 to 16 I'd be over the moon.'
Having recently enrolled in a fitness club in Ibiza to try and lose weight Alison says she thinks she's finally been given the push that she needs. She enthusiastically explained: 'I would [go back] because actually talk to you about food and why you eat and about emotional eating.
'For someone as big as me it's really tough because it's like I'm carrying a man on my back with my weight.'
Rosie is an experienced food and drinks journalist who has spent over a decade writing about restaurants, cookery, and foodie products. Previously Content Editor at Goodto.com and Digital Food Editor on Woman&Home, Rosie is well used to covering everything from food news through to taste tests. Now, as well as heading up the team at SquareMeal - the UK's leading guide to restaurants and bars - she also runs a wedding floristry business in Scotland called Lavender and Rose.