Amazon's £5 beauty products with amazing reviews
Beauty fans are raving about these products on Amazon, and they're all under a fiver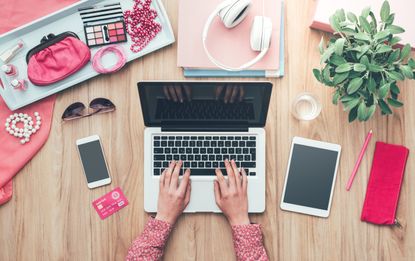 Question: What's better than treating yourself to a new beauty product?
Treating yourself to a new beauty product that has thousands of rave reviews on Amazon and costs £5 or less, that's what!
There's nothing like a true beauty bargain to get us all excited, and these products are not just cheap and cheerful, they also brilliant at their jobs and worthy of a place on any dressing table, regardless of price.
Read on to discover Amazon's best beauty buys that cost less than a bottle of wine from the supermarket. Although we're not suggesting you have to choose between the two…
Aveeno Daily Moisturising Lotion, £4.91
SHOP NOW, £4.99 AT Amazon.co.uk (opens in new tab)
This classic multi-purpose moisturiser is known in beauty circles to be particularly good on extremely dry, irritated or eczema prone skin thanks to it's soothing colloidal oatmeal formula. However, judging by the thousands of breathless Amazon reviews, it's not just those with skin conditions who have fallen in love with this product.
"This leaves my skin feeling so soft and soothed - I can't see myself ever using anything else. Plus you get a huge amount of product, which is great. Very impressed," writes Lily.
While Babe1, in a review titled "Wow!!" wrote, "I have tried so many high end hand creams - promising the world, but nothing has compared to this. Have returned to Amazon to buy the pump bottles to have by kitchen and bathroom sinks."
Maybelline Lash Sensational Mascara, £5.05
OK, we cheated, this is 75p over budget but so worth the teeny-tiny overspend. This mascara is inky black and gives serious fluttery length without drying out of going clumpy. No wonder fans are raving about it on Amazon, with Ashlyn Alexandria Stackhouse saying, "It gives me the most voluminous, dark, thick and elongated lashes in just one layer!"
Caz agrees that its "an amazing dupe for my Lancôme Hypnose mascara - and a fraction of the cost." While Forest goes one step further, saying "Best Mascara I've Owned! And I've tried A LOT of mascaras, including one that cost £20+. I'm mad about makeup so you can trust me on that! Would recommend absolutely 100%. If you're even thinking about getting it, do it! Love love love!"
Eyelure Dybrow Eyebrow Dye Kit, £5
SHOP NOW, £5 at Amazon (opens in new tab)
We all know shaped, styled and tinted eyebrows are A Thing , but you might not be aware that you needn't spend £30 in the salon for some lasting brow definition action. DIY tinting may sound intimidating, but as 1,315 Amazon users found out, this kit couldn't be easier.
"Easy to use - don't be afraid!," writes Georgina. "I have in the past paid to have my brows tinted, or used make up every day which is a faff in the morning when I'm rushing to get to work. At first use I only put it on for half the recommended 10 mins as I was afraid I'd look like Morticia. I ended up doing them again the week later! Just follow the instructions and it works out just fine and is so easy. I do it about once a month. There are 12 uses in the pack, so it works out at around £1 a time which is an absolute bargain. I would never again pay someone to tint my brows"
And the five star reviews keep on coming, with Louise calling them "Every woman's must have, I can't rate this product high enough." And Ms Simplydebs saying, "This stuff is incredible. I have been paying 7 pounds every 3 weeks at a salon. This is the easiest thing ever to do it took me10 min start to finish. I left it on 5 full mins and it was perfect a lovely mid brown."
CCS Foot Care Cream, £4.99
SHOP NOW, £4.99 at Amazon (opens in new tab)
Foot care isn't the sexiest subject, but then again neither are cracked heels or hard gnarly hooves so it's worth showing a bit of love to the area now and then. This grafter of a cream doesn't just moisturise hard skin, it also contains lactic acid, a liquid exfoliant that breaks down and shifts old skin cells to tackle the root of the problem. Clearly it's doing all he right things, as the user reviews are off the charts positive, with E.Lindsley writing, "Have been using CCS cream for 3 years now - it really is a MUST HAVE for your feet! It's easy to apply and massage in and instantly makes your feet feel softer. The cream is not thick and gloopy, like some, and soaks into the skin as opposed to just sitting on top of the skin."
Suzanne Brown writes, "Have used a quite few foot creams in my time and this beats them all. It does the job perfectly - no more hard skin or calluses! It also keeps cuticles soft and attractive. It's pleasant to use, smells divine like a high end scented lotion. Does not stain socks/sheets etc. The price is excellent compared to lesser products. Go for it!"
MyLee 100% Pure Acetone Superior Quality Nail Polish Remover, £4.99
SHOP NOW, £4.99 at Amazon (opens in new tab)
There are some beauty products we just want to know we can rely on, and nail polish remover is one of them. We've probably all experienced the mess and frustration of a substandard formula, not to mention the damage they can do to nails, but this MyLee Remover is raking in five star reviews across the board.
"Excellent acetone! Very strong without the potent odour! It removes gel and glitter effortlessly. I used to use ordinary nail polish remover to do clean up when doing nail art. But this is so much better!" writes Anne Mariner.
Many users recommend it as an alternative to professional gel polish removal, often a costly and time consuming process. "I absolutely hate having my gel varnish removed at the salon, and especially hate having to pay £10 a time for the scratchy privilege so thought I'd buy this and give it a go myself," writes Pebbles, "I drench some cotton wool with the solution and wrap it onto my fingers with tinfoil. After a few minutes the gel varnish is soft and starting to peel away. Works a charm. Definitely recommend." Judith P agrees, "Needed a way to remove my gel nails and this worked a treat!"
Nizoral Anti Dandruff Shampoo, £5
Dandruff: it happens to the best, cleanest and vainest of us. Luckily this treatment shampoo is not only ultra effective, but you can pick it up discreetly on Amazon so there's no need to pop into the local pharmacy and inevitably bump into someone who you'd rather didn't know about your flaky scalp. Win-win.
"Superb shampoo, highly recommended," says Chris Willoughby, "When I first bought my dandruff was terrible and nothing was clearing it so tried this shampoo as came highly recommended and it works. I have been using it ever since and the dandruff is 100% cleared up now."
While Mr D writes, "This stuff is absolutely amazing , I had dandruff for years , also dry skin on face at times. This completely cleared it up in one week , Make sure you leave it on for the full 5 mins , I only use it every other week now. A big thumbs up and i cant recommend this stuff enough."
As a Beauty Editor,
Fiona
Mckim has tried more products than she's had hot dinners and nothing makes her happier than raving about a brilliant beauty find in woman&home magazine, womanandhome.com or her Instagram grid (
@fionamckim
(opens in new tab)
if you like lipstick and cute shih-tzus)
Fiona
joined team W&H as Assistant Beauty Editor in 2013, working under industry legend Jo GB, who taught her everything she needed to know about sorting the good stuff from the fluff (clue: learn about ingredients and employ extreme cynicism). In a previous life
Fiona
studied Journalism back home in bonnie Scotland, honed her skills as a features writer and prior to that had a brief and terrifying stint on the showbiz gossip pages of a tabloid newspaper. She describes herself as a skincare fanatic and can't resist adding an extra step to her evening routine if it's all the rage in Asia, loves fragrance with a passion, has fun with make-up but never turns down the chance to test a new hair tool. Basically, she loves it all. When not slathering herself in self tan or squinting at a tiny ingredients list on a moisturiser you'll probably find
Fiona
enjoying something to do with food - cooking it, eating it, cajoling her friends into trekking across London to try the latest street food pop-up. Come to think of it, the hot dinners and beauty products are probably about even.