Healthiest chocolate bars: The best and worst chocolate for your diet
Whilst reaching for a chocolate bar might not be as healthy as opting for a piece of fruit, when we fancy a treat there are still some healthy chocolate bar choices we could be making. But which chocolate bar is the healthiest?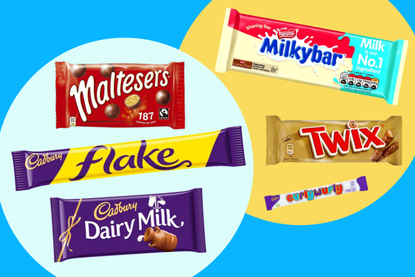 (Image credit: Future)
We've taken a look at the nation's favourite treats and revealed which is the healthiest chocolate bar.
Everyone deserves a treat once in a while, but if you're trying to stick to a balanced diet then you might be keen to find out which are the healthy snack options out of your favourite tasty treats. But it's not always easy, because even the healthiest biscuits and sweets out there can contain hidden sugar. And with research from the British Heart Foundation reporting that us Brits consume an average of 7,560 chocolate bars in a lifetime, it seems like chocolate is a popular option. Whether it's a nutty Snickers, an indulgent Mars or a deliciously minty Aero, we all have our favourites - but is there such thing as a healthy chocolate bar?
Registered nutritionist Jenna Hope recommends opting for dark chocolate when you want a sweet treat. She says, "Dark chocolate is a healthier option than milk chocolate, as the higher cocoa content means there's less sugar in the bar. Additionally, dark chocolate contains more polyphenols than milk chocolate, and these are plant compounds which have been associated with improved brain function and gut health too." Jenna adds, "Typically dark chocolate is also higher in fibre and protein than milk chocolate too. But do be aware that dark chocolate is often slightly higher in fats than milk chocolate - although this is often more preferable to consuming the higher intakes of sugar which are present in milk chocolate."
With this in mind, we've taken a look at some of the nation's favourite chocolate bars and ranked them from best to worst for your diet. So next time you're looking for a low-calorie chocolate bar, you know which to reach for!
Healthiest chocolate bars, at a glance
Milky Way
Curley Wurly
Kinder Bueno
Milky Bar
Smarties
Unhealthiest chocolate bars, at a glance
Whispa Gold
Toberlone
Twix
Lion Bar
Yorkie
Healthiest chocolate bars ranked from best to worst:
1. Milky Way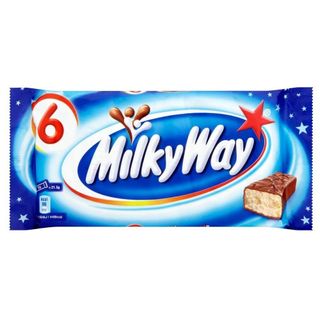 Calories: 98
Fat: 3.5g
The Milky Way bar was revealed as the 24th most popular chocolate bar in the UK in a list published by insight agency Perspectus Global in 2022. And good news for its fans, it's one of the healthiest sweets on the list.
Not only do both pieces in each pack amount to less than 100 calories, they contain almost half as much fat as any other chocolate bar - and we just can't argue with that.
2. Curly Wurly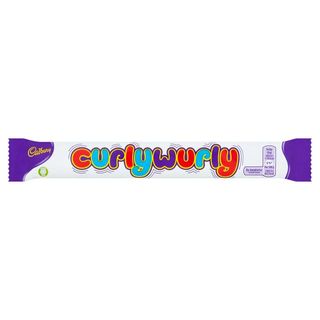 Calories: 115
Fat: 4g
Aside from a Milky Way, the Curly Wuly is possibly the best chocolate bar you can have as a snack, with just 4g of fat and 115 calories. It's number 29 on the list of most popular bars too, so this is great news for chocolate lovers.
3. Kinder Bueno
Calories: 123
Fat: 8g
Coming in a close third is the iconic Kinder Bueno bar as one of the healthiest chocolate bars you can have as a snack of after lunch treat. It's delicious chocolate coating comes up trumps as there's less than 10g of fat in each bar.
4. Milkybar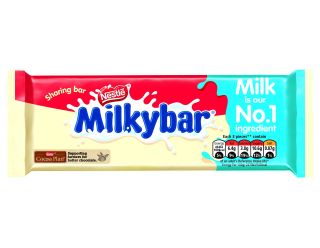 Calories: 137
Fat: 7.9g
These white chocolate bars are generally marketed at kids, but with a low calorie and fat content they make a great adult snack too. At just over 130 calories they're one of the lowest calorie chocolate bars on our list - and because white chocolate is sweeter, you don't need so much.
White chocolate fans will also be pleased to know that Milkybar buttons are only 88 calories - even better!
5. Smarties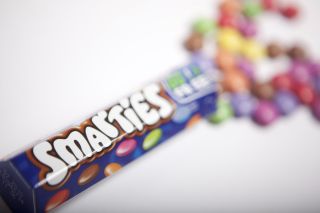 Calories: 178
Fat: 6.8g
Despite once having a bad reputation for inducing hyperactivity in young children, Smarties are now made with natural dyes to create the range of colours they're so well-known for. At less than 200 calories a tube, they're not a bad treat and can easily be shared between kids if you're worried about over-indulging.
6. Mint Kit Kat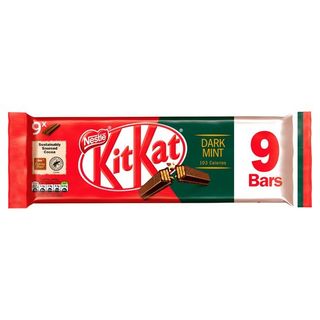 Calories: 160
Fat: 9g
Unlike the original version, the mint Kit Kat is only 160 calories, making it healthier than many chocolate bars on our list. However, it's got almost 10g of fat - so if you're counting calories then this is the one to go for, but if you're looking to cut down on your fat content, this is certainly one to avoid.
7. Lindt Bar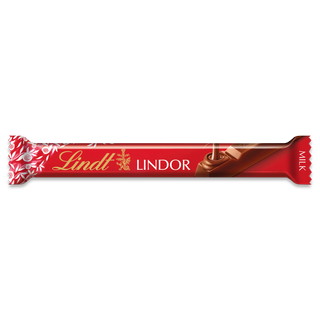 Calories: 160
Fat: 9g
Much like the mint Kit Kat, the Lindt chocolate bar is low in calories but high in fat, so be sure to look out for this when you're browsing the treat aisle next time. It ranks 11th on Perspectus Global's list of the most popular chocolates in Britain, and is healthiest out of the top 15.
8. Maltesers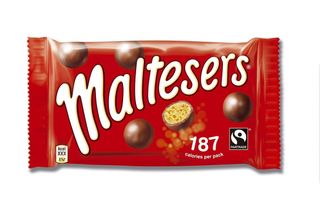 Calories: 187
Fat: 9.2g
We've all seen the Maltesers adverts where they claim to be 'the lighter way to enjoy chocolate'. Well, they just might be on to something, because the small chocolate balls with a malt honeycomb centre are lower in calories than many of their chocolate counterparts.
9. Cadbury Crunchie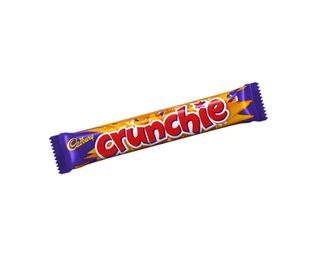 Calories: 187
Fat: 6.9g
Coming in as the 8th most popular chocolate bar, the unique yellow honeycomb centre of a Crunchie is what makes them so popular - and it's not as bad for you as you might think, either. There's a white chocolate Crunchie available to buy in South Africa and a caramel version being sold in some shops in the UK too - yum!
10. Flake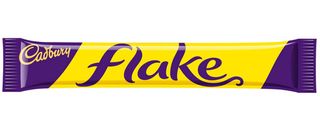 Calories: 171
Fat: 9.8g
Cadbury Flakes were first developed in 1920 and are made from thin layers of chocolate that literally crumble away when you bite into them. They've taken the bronze medal in the list of most popular chocolate bars and at 171 calories they're not a bad snack - but the dark version would be better if we could only get our hands on it!
11. Minstrels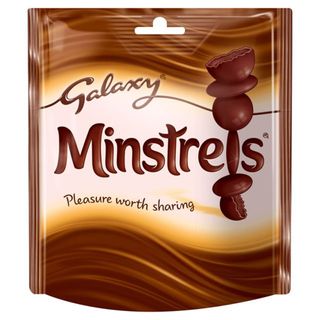 Calories: 212
Fat: 9.3g
Galaxy Minstrels are made up of chocolate buttons with a hard glazed shell. A whole packet is relatively low in calories, and actually contains the same amount of fat as a bag of Maltesers, which are often presumed to be healthier.
12. Mars
Calories: 225
Fat: 8.1g
Coming in at number 14 on the list of most popular chocolate bars is Mars. With 225 calories and nearly 10g of fat, a Mars a day won't be too kind to your health. Why not go for snack-size Mars bars rather than the regular 51g version to keep your calories under control.
13. Toffee Crisp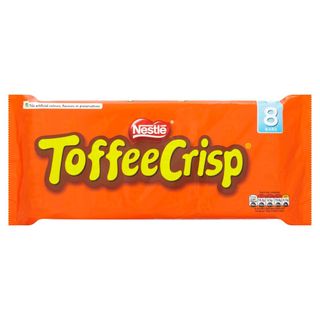 Calories: 227
Fat: 12g
Toffee Crisps sit at number 22 on the list of popular chocolate bars, thanks to their combination of puffed rice and soft toffee wrapped in milk chocolate. Despite having less calories than some other chocolate bars, the fat content is pretty high.
14. Cadbury Dairy Milk