Healthy cereal: Expert advice reveals the best and worst cereals for your diet
Looking for a healthy cereal to keep you full through the morning? Take a look at these, ranked from best to worst with expert advice.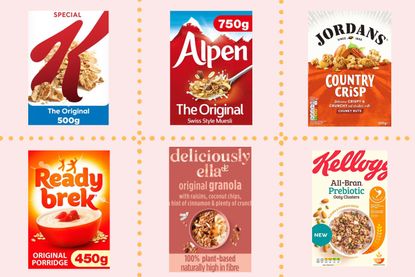 (Image credit: Future)
Finding a healthy cereal for breakfast isn't as easy as it sounds - some of the most popular brands are filled with hidden sugars and other additives.
Over the years, the health myths around breakfast foods have been debunked: Experts have weighed in on healthy cereal bars and whether Greek yoghurt is good for you, and they've debated the positives and negatives around low-calorie breakfasts to start the day. As a parent, eating a healthy breakfast can be an important factor in setting yourself up for a busy day looking after the kids, but you probably also want to know which options are going to give your children the nutrients they needs for a growing body.
So rest assured that there's nothing wrong with a simple bowl of cereal on those busy mornings before the school run, but know that some options are far better for your diet than others. "When we've spent several hours fasting through the night, our blood sugar is likely to be low on waking," explains Liz Cooper, nutritional advisor at Bio-Kult. "So it's important to eat a breakfast that's not going to cause a spike in our blood sugar level, as this could result in a slump by mid-morning and could potentially have us reaching for sweet snacks or caffeine to give us the energy boost we'll no doubt need."
With this in mind, we've taken a look at some of the nation's favourite breakfast cereals and ranked them according to their nutritional value, to help you find the healthiest cereal for your family.
What is the healthiest cereal?
A healthy cereal should contain the right balance of ingredients to maintain healthy blood sugar levels, Liz says. "This requires sufficient amounts of protein, healthy fat and fibre, which all further help towards supplying us with nutrients vital for functions such as hormone production, growth and repair and immune function."
Nutritional advisor Liz recommends bircher muesli and granola, as they are "free from added sugar and high sugar dried fruit. In fact, making your own granola is even better and often much more cost effective". Other healthy breakfast ideas include porridge, omelettes and smoothies.
How we tested
To find the healthiest cereal, we've ranked 25 different options from best to worst. All the cereals we've included are popular products and available in most supermarkets across the UK, so they're easy to add on to your weekly shop.
To make our findings fair, we analysed the fat, saturated fat, sugar, salt content and calories for 100g portions of each cereal - instead of the individual recommended serving size for adults or children - and haven't included milk.
A 100ml serving of milk has the following nutritional content:
Whole milk: 66 calories, 4.7g carbohydrate, 3.5g protein, 3.7g fat
Semi-skimmed milk: 50 calories, 4.8g carbohydrate, 3.6g protein, 1.8g fat
Skimmed milk: 35 calories, 5g carbohydrate, 3.6g protein, 0.1g fat
Healthy cereals from best to worst, at a glance
Best cereal overall: Weetabix
Best cereal for sugar content: Nestle Bitesize Shredded Wheat
Best cereal for saturated fat content: Kellogg's Cornflakes
Worst cereal overall: Honey Monster Puffs
Worst cereal for sugar content: Kellogg's Crunchy Nut Cornflakes
Worst cereal for saturated fat content: Honey Monster Puffs
Which are the healthiest cereals? Healthy cereals ranked from best to worst: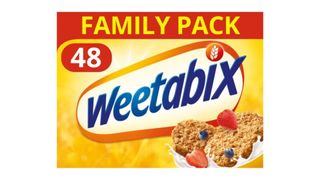 1. Weetabix
Best healthy cereal overall
Specifications
Calories: 362
Fat: 2g
Saturated fat: 0.6g
Sugar: 4.2g
Salt: 0.28g
Suggested serving size: 20g (2 biscuits)