Catherine Tyldesley on how she lost TWO STONE after the birth of baby Alfie
The Corrie star is back to her pre-pregnancy weight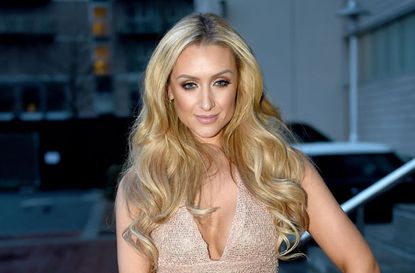 Corrie star Catherine Tyldesley, who plays Eva Price in the soap, has revealed how she lost her baby weight after setting out to lose a staggering two stone.
Catherine, 32, welcomed her son Alfie back in March 2015 with then-fiancé, now husband, personal trainer Tom Pitfield, and worked hard to get back to her pre-pregnancy weight. Rather than embarking on a fad diet and unachievable exercise regime, the star was very careful about how she lost weight, after yo-yo dieting in the past.
Speaking to Fit & Well magazine, she reveals that she's slimmed down using a combination of weight training, boxing and hill sprints with Alfie in his buggy - although she adds 'I've kept my curves, and I love being curvy!'
'Having a six-pack doesn't concern me, that's not what I'm aiming for. My journey with health and fitness is about living as long as I can, being healthy and strong and feeling confident about myself.'
Exercise
The soap star participates in regular gym sessions, revealing to Fit & Well magazine that she's a huge fan of weight training, and has noticed the biggest difference in her back and stomach.
'I never used to wear backless outfits - I felt I looked a little bit podgy. But now I'm happy to wear backless things - It's really boosted my confidence.'
She's a keen boxer, and says it's a great accompaniment to her weight-based workouts, as well as a fab stress buster. 'I actually find boxing really therapeutic - I can get everything out of my system!' she tells Fit & Well.
'It's a brilliant way of relieving stress and a great all-over workout - you engage and tone everything as you do it. What I didn't realise was how much you use your legs - you have to be very nifty on your feet.'
Catherine with her fiancé Tom Pitfield and their son Alfie, who was born on 18th March this year.
In an earlier interview with the mag, she added, 'I feel stronger than ever and I was leg pressing 30 stone the other day! I've gone from 22 per cent body fat after having Alfie to 13.7.'
Catherine aims to be in the gym up to four times a week, but doesn't always manage it, telling OK! Magazine: 'At the moment I'm so busy with work it's two times a week, but ideally it'd be four. A 45-minute routine is mainly weight training with High Intensity Interval Training at the end of the session.
Diet
Catherine previously told Fit & Well magazine at the time of losing her baby weight: 'I did every faddy diet under the sun. The grapefruit diet, the cabbage soup diet, weight loss shakes - I tried them all.
'Although I eventually lost 4st, I didn't feel healthy and I kept yo-yoing.'
She since discovered a healthier approach to dieting and losing weight, and her secret was surprisingly refreshing. 'I did it all by eating sensibly and working out. I still have a few pounds to go, but I'm getting there.'
Catherine's love of healthy eating and regular gym sessions saw her drop from a size 14, after having son Alfie, to a toned size 10. She's a big fan of eating clean, revealing: 'Basically, I think if it runs, swims or grows in the earth you can eat it. I don't have any junk or processed food.
'The way I eat is quite Mediterranan, with lots of fish, vegetables and olive oil.'
Catherine's Instagram is full of ideas for healthy, delicious meals
Rather than cutting out carbs altogether like many others when they're trying to lose weight, the mum of one revealed how she incorporates carbohydrates into her healthy diet. 'I don't exclude any food groups. You don't have to cut out carbs, it's just a question of choosing the right ones.
'I have quinoa instead of rice and sweet potato instead of normal potatoes.'
In her interview with OK! Magazine Catherine describes her typical breakfast as being a protein-packed affair. 'I always start the day with protein so normally salmon or an omelette', she said.
Guilty pleasures
When it came to the guilty pleasures section we were almost hoping Catherine would describe something a little bit bad, just to make us feel better, but no - sticking to her committed ways she told OK! Magazine that her guilty pleasures are 'Pizza or chocolate.' Fair enough you think, until she describes how she gets her fix. Catherine adds, 'I have dairy-free or dark chocolate if it's just a couple of squares.
'For pizza, I use a gluten-free base and use lactose-free cheese. It's very rock 'n' roll in our house!'
It's clear that Catherine's approach is working, the star looks incredible!
Parenting advice, hot topics, best buys and family finance tips delivered straight to your inbox.