Chris Martin opens up about 'year of depression' following split from Gwyneth
The star says he 'still wakes up down a lot of days'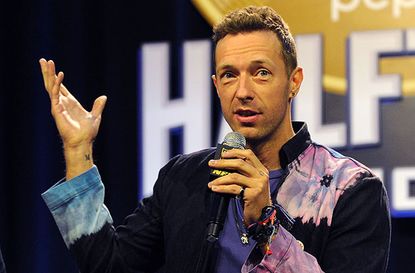 Chris Martin has spoken out about his 'year of depression' following his break up with Gwyneth Paltrow, in a recent interview with The Sunday Times.
Gwyneth and Chris' separation is notorious for their labeling of it, where they called it 'conscious uncoupling'. Despite the news of their divorce coming two years ago, the pair are reportedly yet to finalise the separation.
The couple were famously private about their relationship and family life but in a recent interview with The Sunday Times, Chris Martin joined other celebrities who have opened up about their battles with mental health in the past few weeks, speaking about his own struggles. Along with Sarah Lancashire and Fearne Cotton, Chris Martin's comments signal a change in attitudes towards depression, making it a more widely discussed condition.
Dad to Apple, 11, and Moses, nine, Chris tells The Sunday Times that he thinks you can come at divorce from two angles. He says, 'You can come at it very aggressively and blame and blame. Or you can put yourself in the garage, so to speak. Take yourself apart and clean off the bits. Reassemble'.
Following his split Chris says, 'It took me a year to get it. A year of depression and all that.'
Chris apparently struggled with his time in the spotlight, as the interview reveals singer/songwriter Chris found it 'extremely confusing' and 'deeply disturbing'.
Fellow Coldplay collaborator Phil Harvey is also quoted in the interview, speaking about his concerns for his friend's mental health following his split from Gwyneth. 'Chris had a really bleak period,' says Phil. 'He was in pain and struggling to see the light at the end of the tunnel. We were all worried about him — the band, his family.'
He goes on to explain, 'When someone's really, really low and on their own a lot, as a friend, your mind goes to the worst-case scenario. That period didn't last forever, but there was a time when we were all regularly checking in on him, just trying to make sure he wasn't on his own.'
According to his friend Phil, Chris feels things strongly as his Coldplay bandmate explains, 'When Chris feels good, he feels really good. And when he feels bad, he feels really bad.'
Chris then goes on to say, 'I still wake up down a lot of days. But now I feel like I've been given the tools to turn it around.'
Rosie is an experienced food and drinks journalist who has spent over a decade writing about restaurants, cookery, and foodie products. Previously Content Editor at Goodto.com and Digital Food Editor on Woman&Home, Rosie is well used to covering everything from food news through to taste tests. Now, as well as heading up the team at SquareMeal - the UK's leading guide to restaurants and bars - she also runs a wedding floristry business in Scotland called Lavender and Rose.