Christmas nail art
Embrace some Christmas glamour by getting festive at your fingertips! Check out our Christmas nail art ideas you can try at home tonight.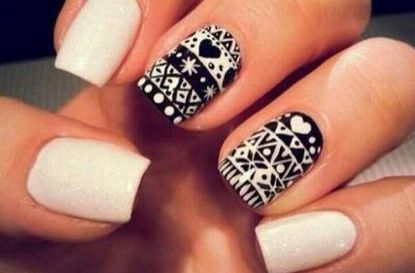 (Image credit: Pinterest Stephanie Hernandez)
Embrace some Christmas glamour by getting festive at your fingertips! Check out our Christmas nail art ideas you can try at home tonight.
We can't think of a better way to embrace some Christmas glamour than with these Christmas nail art ideas! Whether you're heading to a Christmas party and need a little holiday sparkle, want to get festive for your Christmas work do, or thinking of ways to glam up for the big day itself, we have lots of ideas of how you can get festive at your fingertips right here!
And the best thing is, you don't need to be a professional manicurist to achieve these Christmas nails. A little bit of practice makes party-ready perfect - you'll have ho-ho hot nails to go in no time!
Are you going to be giving your nails a Christmas makeover this year? Let us know in the comment box below!
Fairisle
Wow! These Christmas nails are beautiful, although we're not sure our clumsy hands would be able to handle that intricate pattern, maybe we'll just do the one nail....
Picture: pinterest.com/Stephanie Hernandez
Decadence
There's nothing like a bit of luxury at Christmas time, and these black and gold nails will add some high glamour to any party outfit.
Picture: pinterest.com/KimR
Snowy sparkles
One of our favourites! So pretty and delicate, these nails look like there's a little snowstorm happening over them. Tip: make sure you use a top coat to hold the glitter in place.
Picture: pinterest.com/Sarah D
Tree-tastic!
Sweet! A pretty little Christmas tree on an accent nail, and so easy to create the little baubles - carefully add little drops of nail varnish to your nail in different sizes.
Picture: pinterest.com/chic-dresses.com
The Grinch!
Aw! One of our favourite Christmas characters, on your nails! The naughty little Grinch may have hated Christmas, but we reckon he'd love this take on a self portrait.
Picture: pinterest.com/Leigh Miller
Little gems
There's nothing like a glossy red manicure at Christmas, but doing something as simple as adding a few white gems to an accent nail makes them stand out from the rest. The good news is you could add these gems on to an existing manicure, we love!
Picture: pinterest.com/Alyssa Parrish
Christmas cheer
We love these red and gold tipped nails, they've got to be the most unusual Christmas nails we've seen, but they're so easy to acheive. We love the tiny jewel at the tip of each nail. Oh and we also love Quality Street.
Picture: www.biosculpture.co.uk
Snowflake chic
Sparkly nail varnish is the quickest and easiest way to achieve a festive nail, but simply adding a pretty snowflake onto an accent nail means you can add a personal touch.
Picture: pinterest.com/Lynsey Waterson
Santa's tum!
We love this take on Santa's coat - a simple layer of red, streak of black and his little silver belt buckle, so cute!
Picture: pinterest.com/Glass Slipper Glamour
Christmas crazy!
They're all here! Santa Claus, Rudolph, Mr Snowman, candy stripes, christmas lights, even a Christmas pud! Well it is hard to decide which nail design to choose isn't it? Why not have them all?
Picture: pinterest.com/diydress.co.uk
Cheeky reindeers
How cute are these little fellas?! We love the peeping reindeers on these nails, especially Rudolph's red sparkly nose! The kids are bound to love mum's reindeer nails too...
Picture: pinterest.com/nailsbysaraho.blogspot.com
Candy cane
Candy cane nails that look good enough to eat! Ok, well maybe not quite, but we'll definitely be giving these cute striped nails a go at home. They're so glamorous!
Picture: pinterest.com/lisagraham
A neon Christmas
Whoever said that Christmas nails needed to be red, gold and green? Breaking with tradition and painting your nails an eye-catching shade of hot pink with a festive pattern is a great way to feel instantly Christmassy!
Picture: pinterest.com/emmarankin
Elf
One of our absolute favourite Christmas films has to be Elf, and we can't help but think these nails are Elf-inspired! Remember to paint some clear varnish onto your nails first for some extra shine.
Picture: pinterest.com/paulamalham
Elegant accent
We love the simplicity of these nails - understated but elegant! What's more, they're super easy to try at home too. All you need is some festive red and some glittery gold, and you're all set!
Picture: pinterest.com/vanessalangton
Christmas lights
Isn't this a brilliant idea!? We love the theme of the lights going over each of the nails, and you could be really creative with this too. Either leave nails plain with a black lead and coloured lights, or add the silver for extra Christmas sparkle.
Picture: pinterest.com/wendyrose
Red and whites
Is it just us, or do these nails remind you of a Christmas jumper too? The red and white patterns are really effective and they're simple to do! Wait for the red to dry and then get creative with the white - the thinner the brush you can find, the easier it will be.
Picture: pinterest.com/laurenmcrae
Ho ho ho!
Well it doesn't get much more festive than Father Christmas fingertips does it? This cheery chap isn't hard to paint on either, just make sure you wait for each layer of varnish to dry properly before painting the next.
Picture: pinterest.com/stylishtrendy.com
Silver snowman
How pretty are these nails? The silver is really eye-catching and glamorous too! We love the attention to detail, from the snowman's carrot nose to the subtle snowflakes on the other nails.
Picture: pinterest.com/gillianparker
Rudolph reds
Here he is again. This time he's snuck onto an accent nail! This is a great idea if you don't want characters on all your nails and just a subtle cheeky twist. You can have some real fun with his face too!
Picture: pinterest.com/fashiondivadesign.com
Where to next?
- Beauty products to help you sleep