Kids stocking filler ideas: 21 new ideas for Christmas stockings that cost £10 and under
Kids stocking filler ideas to give you ten more minutes in bed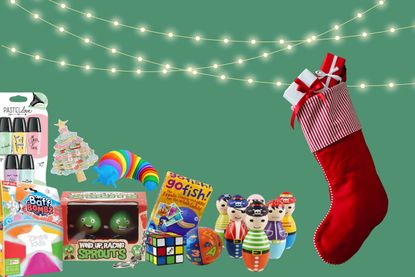 (Image credit: Future)
Kids stocking filler ideas are always welcome, especially if they come in under £5 or £10.
A Christmas stocking can be more than a Christmas tradition, like matching family Christmas pjs or Christmas bedding, it's also a bold and strategic parenting move. It can help you to eke out a few more hours in bed before the carnage begins, and you move on to opening the top Christmas toys under the tree.
Goodto's consumer editor and mum-of-three, Heidi Scrimgeour (opens in new tab) agrees: "Stockings are strategic. I think of a stocking - and its contents - as my last-ditch attempt at five more minutes in bed. The best kind of stocking filler is reusable, educational or entertaining." So, we've scoured the virtual shelves for the best and most original, time-consuming stocking filler toys. Only settling for choices that stand out for play potential, value for money and how many more minutes you get in bed on Christmas morning.
Kids stocking filler ideas
Kids stocking filler ideas under £5
---
---
---
---
---
---
---
Other ideas for less than £5
Stocking costs can spiral really rapidly, especially if "Santa" is making stockings for the whole family, so don't forget to add the traditional edibles; chocolate coins, an orange (or the chocolate version, for the fruit-averse), and individual favourite snacks.
Kids stocking filler ideas under £8
---
---
---
---
---
---
Other ideas for less than £8
Don't underestimate the excitement that Christmas wrapping paper can add to anything! Adding necessary items alongside the fun, frivolous and edible gifts is a great way to fill stockings without a huge expense. We recommend buying toiletries; a fancy toothbrush, favourite bubble bath, or a face mask will be appreciated- and if not, blame Santa!
Kids stocking filler ideas - £10 and under
---
---
---
---
---
---
---
---
Other ideas for less than £10
The magic of Santa is that he knows what size everyone is, so can also bring socks, tights, gloves, and slippers. Not keen on including wearables? Stationery is also a great thing to include in a stocking; notepads, fun-themed pens, pencil cases, or any item that may need replacing after a hard first-term of school- the great thing is that Father Christmas knows that too.
---
Related Features:
Stephanie Lowe is Family Editor at GoodTo covering all things parenting, pregnancy and more. She has over 13 years' experience as a digital journalist with a wealth of knowledge and experience when it comes to all things family and lifestyle. Stephanie lives in Kent with her husband and son, Ted. With his love of choo-choos, Hey Duggee and finger painting he keeps her on her toes.