Kids stocking filler ideas: New ideas for Christmas stocking that cost £10 and under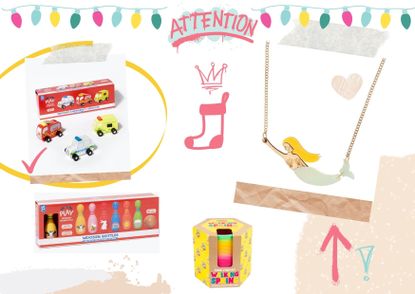 GoodTo newsletter
Sign up to the GoodTo Newsletter. You can unsubscribe at any time. For more information about how to do this, and how we hold your data, please see our privacy policy
Thank you for signing up to . You will receive a verification email shortly.
There was a problem. Please refresh the page and try again.
Kids stocking filler ideas are always welcome, especially if they come in under £5 or £10.
A Christmas stocking can be more than a Christmas tradition (opens in new tab), like matching family Christmas pjs (opens in new tab) or Christmas bedding (opens in new tab), it's also a bold and strategic parenting move.
It can help you to eke out a few more hours in bed before the carnage begins, and you move on to opening the top Christmas toys (opens in new tab) under the tree.
We've scoured the virtual shelves for the best and most original, time-consuming stocking filler toys. Only settling for choices that stand out for play potential, value for money and how many more minutes you get in bed on Christmas morning.
Kids stocking filler ideas under £5
1. Large star bath bomb
Age: 3+
What is it? A star-shaped bath bomb that promises to create a colourful fizzing bath adventure and change the colour of your water and gives of a delicious strawberry scent.
Why we love it: Anything that will help get the kids in the bath and stay in it for more than 12 minutes is a winner for us. Plus these are marketed as skin safe, drain safe, easy clean and stain free as well as being biodegradable and vegan friendly.
"My kids LOVE bath bombs, they treat it like a mini science experiment every time. They're always utterly mesmerised." Mum-of-two, Louise D
VIEW AT AMAZON | £4.50 (opens in new tab)
2. The Shopping Game
Age: 3+
What is it? A learning and playing game. There are 40 pieces, each player picks a shopping list and trolley card. You place all the food facing down and each player takes turns to flip over one card at a time. If the card matches your shopping list, you pop it in your trolley cart. The winner is the first player to find all the items on their shopping list and add them to their trolley.
Why we love it: It's educational and fun too. Plus, when they bring their stocking in to you, encourage them to start a game and hopefully this will give you a little more shut eye before the present onslaught.
"My three-year old and five-year old love this game. They take it one step further and arrange the food squares facing up into aisles then use their fingers to walk up and down looking, talking about what they're having for dinner. It's great for imagination" Mum-of-three, Kiran P
VIEW AT MATALAN | £3 (opens in new tab)
3. Walking Spring
Age: 3+
What is it? A brilliantly bright rainbow spring. Super stretchy and fun, juggle it from hand to hand, set it at the top of the stairs and watch it walk to the bottom, or 'yo-yo' it the floor and see if it comes back. Enjoy the fabulous rainbow design as your stairs are filled with colour one after another!
Why we love it: It has a strong retro 90s vibe which we're here for. Do you remember the original Slinky? More than 300 million Slinkys have been sold across the world since its launch 60 years ago! But they were only every in original silver. This rainbow walking spring is much more colourful.
"The best thing about this kids stocking filler? It doesn't require batteries, which we never have enough of on Christmas day, ever." Dad-of-two, Raj S
VIEW AT TESCO | £3 (opens in new tab)
4. Lego Marvel mini figures
Age: 5+
What is it? A Limited Edition nod to the Marvel characters. An ideal gift for superheroes fans! Each pack has one of these twelve cool characters. The finely crafted, highly detailed LEGO minifigures comes in a sealed 'mystery' bag with 1 or more accessory elements, plus a collector's overview leaflet. This will put a smile on anyone's face.
Why we love it: These mini figures make the perfect kids stocking filler. They take up no space - they're so tiny - but pack a punch in the 'wow-look-what-I-got!' department on Christmas morning.
"My daughter loves anything to do with Marvel. I'm sure I can devise a game from my bed with my eyes closed on Christmas morning." Mum-of-one Steph J
VIEW AT WH Smith | £3.49 (opens in new tab)
5. Heroes & Villains trivia cards
Age: 12+
What is it? The superheroes theme is going strong. Let your kids battle out their hero and villain knowledge to see who reigns supreme. Featuring 50 cards and 100 questions, it makes for a great trivia game over the Christmas period.
Why we love it: Again, a game you can play laying down with your eyes shut, eking out as much time as you can before being upright for the day. And the great thing about these is they're the gift that keeps on giving. Chuck them in your handbag and take anywhere. Your kids will challenge anyone and everyone throughout, not just Christmas, but the year.
"I am so buying these. I can just see the score board up on the fridge now!" Mum-of-triplets, Clare J
VIEW AT MATALAN | £3.50 (opens in new tab)
6. LOL SURPRISE Art Club Secret Surprise Nails
Age: 5+
What is it? An Art Club Nail Set with two secret surprises in hidden in the box! In the box you get, Peelable Nail Polish, Nail Sticker Sheet and a ring.
Why we love it: It's a mess-free version of what your kids will soon want for real i.e. actual 'stain-the-dining-room-table nail polish'. Simply peel sticker off nail and wash with warm soapy water.
"My son loves having his nails done, and will take any colour going! This is a great and super easy stocking filler for him." Mum-of-four, Shauna K
VIEW AT BOOTS | £3.50 (opens in new tab)
7. Wonder Trumps
Age: 8+
What is it? Wonder Trumps is the game that compares everything to everything else! Have you ever wondered which is more expensive, a bullet train or a space telescope? Well now you can find out the answer to this, and many other conundrums in this fantastic game! With 54 playing cards, all with their own unique attributes, this is by far the most complete Trumps game around!
Why we love it: Because it hits us with nostalgia. It takes us back to a simpler time, playing it with our friends and siblings, no matter what the subject matter the thrill of trumping someone was almost as good as watching Pat Sharp on Fun House!
"Another great buy to try and convince my kids to let me lay still for another 10 minutes on Christmas morning" Dad-of three, Lee S
VIEW AT THE RANGE | £3.99 (opens in new tab)
Kids stocking filler ideas under £8
1. Dino torch and projector
Age: 3+
What is it? This dinosaur-themed projector provides 24 colour images to help illuminate any dark room. Your kids simply aims the torch at a blank surface and it creates a temporary light display. This awesome prehistoric presentation not only impresses but is also educational (if you happen to know your dinosaurs, of course).
Why we love it: For starters this comes with the batteries, so big high five there. And, as a dark room is best for it, you'll hopefully have a little more time in bed on Christmas morning while your little ones project all over the room.
"My girls will love this! And, putting in the projector slides will help with their fine motor skills too, it's win-win." - Mum-of-twins, Lisa F-C
VIEW AT AMAZON | £7.99 (opens in new tab)
2. STABILO BOSS Mini Pastel Highlighters
Age: teens
What is it? A pack of five cool mini highlighters in a range of five pastel shades make a functional and fabulous kids stocking filler. Useful and cool, decorated with illustrations by German artist Hannah Rabenstein.
Why we love it: A great buy for any teens who may be going into exam years and need to be highlighting all those revision notes - these will brighten them right up!
"My daughter keeps stealing my highlighters from my desk at home, this will hopefully put a stop to that, plus look how pretty they are!" Mum-of-one, Keisha H
VIEW AT WH SMITH | £5.99 (opens in new tab)
3. World's smallest View Master
Age: 8+
What is it? It's a tiny classic and 100% functional miniature which fits perfectly as a kids stocking filler. And, it comes with a teeny full colour image wheel to click through. And there's a World's Smallest range to collect.
Why we love it: All the retro 80s vibes. The very first View Master was invented in 1939, and has remained a favourite toy and collectable ever since. it's a classic that be enjoyed at the Christmas dinner table and all year round, without taking up much space.
"My kids love anything in miniature so this is sure to go down a storm!" Dad-of-two, Leo T
VIEW AT AMAZON | £5.99 (opens in new tab)
4. Wind Up Sprouts
Age: 3+
What is it? Two wind-up racing sprouts. Have a giggle watching these dash across the Christmas dinner table. Race friends and family and become the sprout racing champ!
Why we love it: These are your classic kids stocking filler! Plus you can use it to decide who has to do the dishes after Christmas dinner - winner gets the sofa.
"Anything to do with competition and my kids are there. Plus the winding up is good for fine motor skills." Mum-of-five, Lisa H
VIEW AT TESCO | £5 (opens in new tab)
5. Monsoon hair clips
Age: 3+
What is it? Adorable Christmas character-themed hair clips make a fabulous stocking filler. Your little one can take their pick from a snowman, reindeer, or Christmas pudding characters.
Why we love it: You can never find a hair clip when you need to, so having a few extra lying around the house is always a bonus. A Christmas hair clip in July is both OK and understandable.
"These are perfect stocking fillers, my two love playing hairdressers. These will buy me another 10 minutes in bed easily." Mum-of-two, Coty J
VIEW AT MONSOON | £6.50 (opens in new tab)
6. Rainbow Fidget popper
Age: 3+
What is it? A bright rainbow popper. A popper is a good anxiety stress reliever, believed to calm anxious behaviour. Sensory fidget poppers can calm us by providing something external to focus on. The repetitive motion of popping and clicking can boost concentration and productivity because of their calming effect
Why we love it: It's kind of like bubble wrap but looks really cool. Fidget poppers were initially designed as a sensory and tactile experience to help children - and adults - who may need help focusing. That's occasionally us, so this may well be the winning stocking filler.
"I've seen these everywhere. But mine have specifically asked for a rainbow one. SOLD!" Mum-of-three, Carly G
VIEW AT THE ENTERTAINER | £5 (opens in new tab)
Kids stocking filler ideas - £10 and under
1. Sass & Belle Queen Bee Trinket Dish
Age: teens
What is it? This cute porcelain trinket dish has 'Queen Bee' emblazoned on it and a buzzing bee addition. Perfect stocking filler to keep in the bathroom or on your bedside table to leave your jewellery in. Designed by Sass & Belle, who specialise in on-trend gifts.
Why we love it: It's a quirky and funny gift for the 'Queen Bee' in your life. Plus, if they don't want it it's perfect for your earrings.
"I think I want this for me, forget my 14-year-old" Mum-of-one, Lisa T
VIEW AT WH SMITH | £8.50 (opens in new tab)
2. 'Proud of You' pocket token
Age: 5+
What is it? A beautiful little token to let someone you love know how proud you are of them. This solid pewter star token - about the same size as a £2 coin - comes stamped with "so proud of you" on it. And it makes us teary just looking at it.
Why we love it: Sometimes, when life gets busy, parents don't always say what they're thinking. Being able to leave that thought and feeling with your child is the best. They can carry it around with them and give it a squeeze any time they need it.
"This is the perfect 'just because' kids stocking filler. I think it'll help loads when my big one goes away on a school trip next year too." - Mum-of-four, Louisa J
VIEW AT NOT ON THE HIGH STREET | £8 (opens in new tab)
3. Lego Spiderman
Age: 7+
What is it? A hands-on treat for young superheroes, this is the alternative Spider-Man, Miles Morales. No, us neither. Every day's a school day. It's buildable mech, with movable limbs and electro-web to 'zap' his enemies. It also includes a Miles Morales minifigure and several webs: an extra-long one, plus smaller webs that attach to the mech's limbs.
Why we love it: It looks like it may take some time to put together. Time that weary parents can spend drinking tea and/or napping.
"Oh wow. My son will LOVE this! Anything Spiderman and he's all over it." Mu m-of-one, Jan W
VIEW AT ARGOS | £9 (opens in new tab)
4. Wooden Emergency Toys
Age: 2+
What is it? This wooden emergency vehicles set makes a great stocking filler and encourages role play, and boosts your little one's imagination. The classic play set promotes both independent play and provides the opportunity for inventive play.
Why we love it: Wooden passive toys are great, they tend to be more durable, biodegradable and may even be made with sustainable wood. Plus they don't need batteries!
"I have a toddler who is going to love singing NEE NAW at the top of his voice come Christmas morning." Mum-of-three, Elise R
VIEW AT MATALAN | £8 (opens in new tab)
5. Mermaid Necklace
Age: 8+
What is it? Little mermaids are so beautiful and magical. This mermaid pendant crafted from etched wood and acrylic, has a fabulous shimmering gold tone chain. You're little pre-teen will feel so grown up with this kitsch pendant.
Why we love it: Meri Meri is an eclectic brand who create some amazing pieces, it's a great introduction into your child finding their own style early on.
"I want to give my 9-year-old a taste of jewellery and how to look after it, this is a perfect stocking filler to do just that." Mum-of-one, Sophie T
VIEW AT MERI MERI | £10 (opens in new tab)
6. Personalised Paper Panes Kit
Age: 8+
What is it? A classic jet fighter, a futuristic jet fighter, a supersonic jet and a stealth plane. These are the four amazing easy-to-fold designs you get in each kit. You can have your little ones name printed on it too. They really make a fantastic and nostalgic gift and a great gift for creative children.
Why we love it: The nostalgia mostly. It's great passing down stories of how you learned to fold a paper aeroplane, or the top tips you had for making it go faster. Making paper aeroplanes never goes out of fashion.
"The best stocking filler! I can see this keeping ALL ages in my house entertained." Mum-of-four, Sandra C
VIEW AT NOT ON THE HIGH STREET | £10 (opens in new tab)
7. Wooden Skittles
Age: 3+
What is it? Six beautifully designed wooden skittles ready for a kids stocking filler knock down fun! This set includes six skittles and one wooden ball, perfect for both indoor and outdoor fun.
Why we love it: Little ones will learn all about cause and effect with this set. And it will help develop hand-eye coordination. Pick up the ball, take aim and knock down the skittles. Encourage them to set these up as soon as they get them out of their stocking - should give you at least 15 minutes to slowly wake upon Christmas morning.
"Skittles are such a great go-to for all ages! All of mine still love playing with them and the eldest is 6!" Mum-of-three, Michelle B
VIEW AT MATALAN | £10 (opens in new tab)
8. 5 Piece Kids' Christmas Baking Set
Age: 3+
What is it? A baking set as a kids stocking filler? Why not. The packaging is practically perfect for it. Slots right in. These child-friendly utensils include a rolling pin, whisk, Santa spatula and two cookie cutters in the shape of a snowman and a Christmas tree. Happy baking!
Why we love it: Every singly item in this kit is dishwasher safe, which is music to tired parents' ears over the festive period, and indeed any day ending in a y.
"Skittles are such a great go-to for all ages! All of mine still love playing with them and the eldest is 6!" Mum-of-three, Michelle B
VIEW AT M&S | £1 (opens in new tab)
Stephanie Lowe is Family Editor at GoodTo covering all things parenting, pregnancy and more. She has over 13 years' experience as a digital journalist with a wealth of knowledge and experience when it comes to all things family and lifestyle. Stephanie lives in Kent with her husband and son, Ted. With his love of choo-choos, Hey Duggee and finger painting he keeps her on her toes.