'There's no need to be embarrassed' Mum urges women to get lumps checked out after being diagnosed with cancer of the vulva
'You'll get over your embarrassment. If you don't, it could kill you'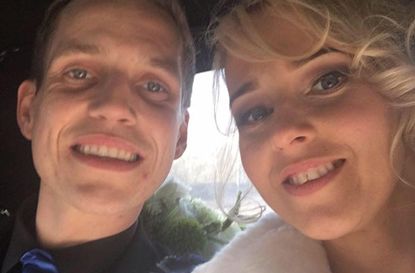 GoodTo newsletter
Sign up to the GoodTo Newsletter. You can unsubscribe at any time. For more information about how to do this, and how we hold your data, please see our privacy policy
Thank you for signing up to . You will receive a verification email shortly.
There was a problem. Please refresh the page and try again.
A mum has spoken out about her experience with cancer to urge other women in the same situation to visit their doctor.
Fiona Bathgate, 28, found an intimate lump when she was in the shower, but put off getting it checked for six months because she was embarrassed to speak to a healthcare professional.
However, when she did eventually seek advice, she was diagnosed with cancer of the vulva - a condition that is extremely rare in someone her age.
'Because of where my lump was, I felt embarrassed and didn't want people to know,' Fiona, who has two sons, Lloyd, now four, and Connor, three, admits.
'It's silly, because I hadn't done anything wrong – doctors said they couldn't give a reason as to why I'd developed cancer.'
https://www.facebook.com/photo.php?fbid=636903699691535&set=a.125296964185547.16769.100001157334331&type=3&theater
'It's no one's fault and there's no need to be embarrassed. I know that now. If anyone else in a similar position feels a lump, I'd urge them to get it checked out.'
'You'll get over your embarrassment. If you don't, it could kill you – it's that simple.'
The Daily Record reports that only about 1200 cases of vulva cancer are diagnosed in the UK each year – and only 15 per cent are women under 50.
The news of Fiona's cancer came just days before her hen do, as she was due to wed husband Shawn in March 2016.
'I was panicking but I didn't want my friends or family to know, she told the paper. 'All I could think was, "We'll need to cancel the wedding", "What if I die?", "How will my boys cope without me?"'
'You can think some pretty dark thoughts when you're diagnosed with cancer. It was absolutely awful. On the outside, though, I tried to be as positive as possible. I didn't want my friends and family to know how I was really feeling.'
https://www.facebook.com/photo.php?fbid=1148780385170528&set=ecnf.100001157334331&type=3&theater
Fiona underwent surgery and was initially given the all-clear, before being told the cancer had spread to her lymph nodes, for which she had have another operation. However, over Christmas 2015, she was told she was now cancer-free, and felt she could go ahead with her big day without an 'awful black cloud' hanging over her.
'I felt like the luckiest woman alive,' she reveals. 'I know I'd been incredibly unlucky to get cancer in my 20s but to get the all-clear was like getting a second chance at life.'
She's now also undertaking Cancer Research's Race for Life (opens in new tab) challenge to raise money and awareness of illnesses like her own.
'There's an event to suit everyone – it's not about pounding the pavements or racing to the finish line, it's about coming together to beat cancer sooner,' she concludes.
'It will be emotional but it will also be fun. It's all about proving that I won't let cancer beat me.'