Can you exercise with Covid? What doctors recommend
Here's what you need to know as positive cases rise again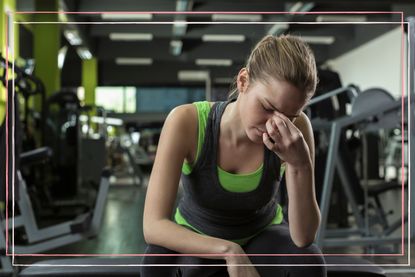 (Image credit: Future)
Can you exercise with Covid? If you're testing positive for the virus and really feeling it then a workout will likely be the furthest thing from your mind. But for others wondering if it's safe to still work out while recovering, here's what the medical experts say.
Gone are the days of lockdown, lateral flow tests and the social distancing we followed in the peak of the pandemic. Since the government introduced their living with Covid plan back in February 2022, the UK has seen a slow return to normal. But whilst restrictions have gone, Covid-19 hasn't and this winter the country has seen a rise in cases, as confirmed and increasingly monitored by the Office of National Statistics.
Though no longer dominating news, many of us likely know someone who is currently positive or may be battling the virus ourselves. Much like questions around if you can go to work with Covid and if your kid can go to school with Covid, there's other uncertainty about what it means for hobbies such as exercise. Whilst a home workout complete with all your own fitness equipment may be allowed, "you may also find that you cannot do the level of exercise that you usually do," says GP Dr Giuseppe Aragona. He shares current medical guidance around exercising with Covid, alongside some other facts and figures you need to know.
Can you exercise with Covid?
While there is nothing to stop you working out at home with Covid-19, GP Dr Giuseppe Aragona says it's not advisable. While you might not be experiencing symptoms at the moment, exercise could exacerbate the condition and make you feel worse.
"It is physically possible to partake in exercise with Covid and there is minimal risk with this. Some people may be asymptomatic and not affected at all. However, they should remain aware that this is a virus that does attack the respiratory system. Doing exercise could potentially leave you feeling out of breath or feeling tired much quicker than usual," Dr Aragona, a general practitioner and online doctor for PrescriptionDoctor.com, told GoodtoKnow.
He also emphasises the importance of rest when you've tested positive for Covid. Even if you're feeling physically fine. "Ultimately everyone will experience Covid differently. However, Covid attacks the same areas of the body and so even if you're fighting fit with zero symptoms, chances are doing exercise will cause you to feel tired and worse than when you started. Your body really needs rest as it is trying to fight this illness."
Tips for exercising with Covid:
If you do want to try exercising while at home and isolating, our expert advises taking it slow and - most importantly - listening to your body. He says, "It is completely up to you whether you partake in exercise whilst having Covid. You know your body. You will be able to tell how bad your symptoms are and how you feel."
But he adds, "It is probably advised to not to do any high impact, strenuous exercise. This could actually have adverse effects and you may end up feeling worse than when you started."
"I would recommend that you postpone exercise if you are experiencing "below the neck" symptoms such as a cough, an upset stomach, chest congestion or breathing issues. Covid is a respiratory illness. Even if you feel fine, doing exercise could affect your breathing as you are still Covid positive," he says.
"A fever is your body's way of telling you to slow down. It's super important to listen to your body. If you are suffering with a fever or some more of the major symptoms of Covid such as fatigue, body aches or breathlessness, then it's best to rest for a few days until symptoms subside. Then you can ease back into slow impact exercise."
So while a HIIT workout is off the table for the time being, a gentle session on an exercise bike or yoga in the living room is absolutely fine.
Under government guidance on self-isolation, it's also completely fine to go into your back garden (if you have one) when testing positive for Covid-19. So if you're looking to exercise for a change of scenery and get some fresh air, this is another option. However, this should be a private garden that's shared only with other members of your household. If they are not positive for Covid-19 as well, go into the garden alone to avoid potential transmission.
Why are people exercising with Covid?
People choose to exercise with Covid-19 because of the benefits that it has for our mental and physical health.
During lockdown, when we were stuck inside for so many hours, many people chose home workouts as a way to kill time during the day and somewhat keep to their normal routine. Research from June 2020 found that 58% of those who didn't do much exercise pre-pandemic were working out more during this time, with 36% of people who exercised a lot pre-pandemic also working out more. While 41% of people reported exercising just as much as they were before the lockdown. And that's even with the lack of access to gyms and other sporting activities.
Lee Chambers, environmental psychologist and wellbeing consultant, says that the desire to keep exercising is completely normal. "Exercise is one of the best ways to keep us healthy. Even if we test positive for Covid, there are a number of reasons we may still look to continue exercising.
"Firstly, exercise is a choice. Individuals who value training put a high weight on the freedom to do so. Especially when we have restrictions on what we can to do."
"Secondly, if we are asymptomatic, we are likely to continue with our routine. [We'll] be less concerned about exercise being an issue to our health. There is also the anxiety of wanting to return to exercise. Exercise can boost our immunity, making it appealing to recover more rapidly."
What can you do instead?
But Dr Aragona's warning in mind, Lee says there are also other things you can do instead of exercising - such as prioritising sleep and a good diet.
"Look at working on flexibility and balance. You can utilise the time to research what may be beneficial when you can get back into your routine. Ensure you are consistent with your sleep with a good sleep schedule. Aim to eat well most of the time, and you will get many of the same benefits. And don't neglect to train your mind. Trying new activities and utilising self-care to ensure you recover and continue to flourish."
He adds, "As much as exercise is a positive in our lives, it is a stressor on our bodies. The benefits of exercise are numerous. But [if we can] we should look to other activities that boost our mood, stimulate our mind and provide resilience to stress."
For many people who've come to rely on exercise, not being able to get out for exercise may be difficult. But ultimately, whether you're showing symptoms or not, it's important to take it easy. Listen to your body when it comes to what you do and don't want to do during isolation.
Dr Giuseppe is a retired GP who oversees our online content and assists our team in ensuring that all the information we present online is accurate and safe. He graduated from the University of Messina, Italy, in 1991 with a medical and surgery degree. He has extensive experience of working as a GP in the city of Brescia, Italy, as well as providing care in a specialist private cancer clinic, and in obstetrics and gynaecology. Dr Giuseppe is multilingual and speaks English, Italian and Spanish. At Prescription Doctor, Dr Giuseppe Aragona lends his extensive medical experience to ensure that the content on our website is accurate and up-to-date.
Lee Chambers is a British psychologist, entrepreneur and radio host. He is the founder of PhenomGames and Essentialise Workplace Wellbeing. He has been interviewed by Vogue, The Guardian and Newsweek, and is known for analyzing the psychological aspects of the workplaces, wellbeing and colour.
Video of the week:
Grace Walsh is a Features Writer for Goodto.com, covering breaking news health stories during the Covid-19 pandemic as well as lifestyle and entertainment topics. She has worked in media since graduating from the University of Warwick in 2019 with a degree in Classical Civilisation and a year spent abroad in Italy. It was here that Grace caught the bug for journalism, after becoming involved in the university's student newspaper and radio station.