Suffering with heartburn? Your questions about easing your stomach pain answered
For many people, it's really easy to cure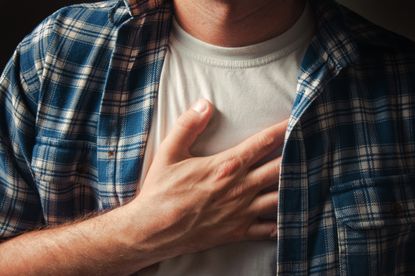 Do you have a burning in your chest or throat, or an acidic taste in your mouth? You could have heartburn.
The good news is that there might be a cure for heartburn. So if you are suffering, take a look at our advice to help you ease your suffering.
Your questions about heartburn - answered:
Q. I think I've got heartburn. Why?
A. You're not alone. Heartburn is very common. It's a symptom of acid reflux, which is when the valve at the top of the stomach relaxes, allowing stomach acid to travel up the oesophagus (food pipe). This causes the burning sensation and other unpleasant symptoms.
MORE: 3 delicious recipes that could help you avoid heartburn
Q. What causes heartburn?
A. Being overweight, smoking, stress and pregnancy, or taking medicines - such as anti-inflammatory painkillers like ibuprofen - can cause heartburn, as can certain types of food and drink. Fatty, spicy, citrusy foods; acidic produce such as tomatoes and onions; dairy (including chocolate) and drinks such as alcohol, coffee and tea also increase your chances, but while these are the main culprits it can vary from person to person.
Q. What can I do to ease the symptoms?
A. Over-the-counter remedies such as Rennie can ease the symptoms of heartburn fast. Rennie tablets contain two antacids; calcium carbonate and magnesium carbonate, which neutralise excess stomach acid, turning it into water and other natural substances for quick relief. Widely available, Rennie products can be bought in supermarkets, pharmacies and online.
Q. But I don't like taking pills
A. You don't have to – Rennie tablets are chewable, and come in a variety of flavours, including Rennie Peppermint, Spearmint and Orange Flavour, as well as mint flavoured Liquid Heartburn Relief. There's even a Sugar-Free tablet for those who need to watch their sugar intake.
Q. How do I prevent heartburn?
A. The best way to avoid heartburn is to take care of yourself. Making simple lifestyle changes will lessen your chances of developing this painful ailment. Don't rush your food, eat smaller meals so you don't get too full, stay hydrated, avoid triggers that stimulate stomach acid such as alcohol and spices, and wear loose fitting clothes so your stomach isn't restricted. If your heartburn is worse at night, try not to eat four hours before bedtime and sleep with your head slightly raised. If you smoke quitting can help, as can losing weight.
Q. I'm pregnant and have awful heartburn! Can I take antacids?
A. Hormonal changes during pregnancy and the pressure of the growing baby on the stomach can cause many women to experience symptoms during one or all of their trimesters. The good news is that, when used as directed and as advised by a doctor or pharmacist, all Rennie products can be taken in pregnancy and during breastfeeding.
However, if you are pregnant, medicines can affect the unborn baby. Always talk to your doctor or pharmacist before taking any medicine during pregnancy.
Q. I've followed the advice and still have heartburn
A. If lifestyle changes don't make a difference, if you find that over-the-counter remedies aren't easing your symptoms, or you get heartburn regularly for 3-4 weeks, then the NHS recommends you see your GP as you may have a condition such as a hiatus hernia or gastroesophageal reflux disease (GERD), which will require further treatment.
This is a promotional feature with Rennie.
Follow the link to find out more about how Rennie products can help ease the symptoms of heartburn.
Freelance Lifestyle Writer
Debra Waters is an experienced online editor and lifestyle writer with a focus on health, wellbeing, beauty, food and parenting. She currently writes for Goodto and Woman&Home, and print publications Woman, Woman's Own and Woman's Weekly. Previously, Debra was digital food editor at delicious magazine and MSN. She's written for M&S Food, Great British Chefs, loveFOOD, What to Expect, Everyday Health and Time Out, and has had articles published in The Telegraph and The Big Issue.