Watch Joe Wicks lockdown workouts: Where and how to watch The Body Coach's PE sessions for children
Fancy getting a second round of Joe Wicks lockdown workouts? Here's what the Body Coach is up to during the second lockdown...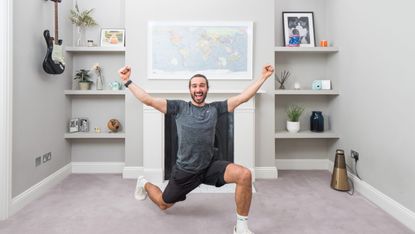 (Image credit: BBC Children in Need/Comic Relie)
Joe Wicks, AKA The Body Coach, is doing his bit to help the nation's children (and adults, let's be honest) stay fit and healthy during lockdown.
Joe Wicks (opens in new tab), aka The Body Coach (opens in new tab), used to be best known for his Lean in 15 recipes (opens in new tab) (such as the delicious Joe Wicks' chicken pie (opens in new tab) or turkey burger (opens in new tab) recipe) but when the UK first went into lockdown back in March 2020, the former personal trainer started broadcasting workouts to the public every day on his YouTube channel.
Now that the UK is faced with yet another lockdown in January 2021, Joe is coming back to help keep adults and children alike fit and healthy with his easy to follow workouts yet again.
During the first lockdown, where most of the world were under restrictions, Joe Wicks lockdown workouts became a roaring success and families from literally all over the world tuned in. They shared pictures and videos of themselves following along with the workouts - with Joe himself revealing that well over a million people were tuning in to his workouts by the end of the lockdown.
So if you want to join in the new Joe Wicks lockdown workouts for 2021, where should you go?
When is Joe Wicks on in January 2021?
Joe has confirmed that he'll be streaming his workouts live on his YouTube channel again every Monday, Wednesday and Friday at 9am (UK time). Just like last time, they'll be child friendly and easy to follow.
Joe confirmed that he was returning with his workouts for kids via an Instagram post on Monday night, after another national lockdown was confirmed by the Prime Minister.
His post explained: 'They will be 20 minutes long and designed for children. Please please share this with as many families as you can and let your schools know so they can notify the parents ASAP and we can get as many young children taking part.
'This is so important for our children's emotional and mental health 🙏🏼🌍 Lots of love Joe 😀'
Where to watch Joe Wicks' kids P.E workout
Just like last time, all Joe's videos will be on his YouTube account where he has also shared all the live streams of his first round of lockdown workouts.
The Wake Up With Joe series started on November 9th 2020 and the Body Coach revealed that it will continue for as long as people need it to while the new lockdown restrictions are in place. His most recent one aired on December 4th 2020.
https://www.youtube.com/watch?v=mZs-mtDmEt8&ab_channel=TheBodyCoachTV
How long are Joe Wicks lockdown workouts?
These new Joe Wicks lockdown workouts, Wake Up With Joe, are almost 20 minutes long.
There's currently two already uploaded, for Monday November 9 and Wednesday November 11 but we know that in the next couple of weeks, there will be loads more - starting on January 11th 2021.
Read more: The best Joe Wicks' cookbooks for 2021
What sort of exercises will you be doing with Joe Wicks' P.E workouts?
The Joe Wicks lockdown workout sessions are fun and simple, so that anyone can easily follow along - with moves that aren't technically confusing but will provide a brilliant workout for both adults and kids.
In his first Wake Up With Joe lockdown video, Joe started with some stretching before going into some super moves like squats and lunges.
He offered viewers the chance to adapt their lockdown to their own needs, by adding weights or doing it fast, so everyone can get the most from these quick burst sessions.
Best Joe Wicks lockdown workouts
Here's our pick of the best Joe Wicks lockdown workouts for kids so far...
https://www.youtube.com/watch?v=23Eya6X_3rs
https://www.youtube.com/watch?v=NJ7evRLFXV8&t=552s
Last summer, Joe was joined by his adorable two children (Indie and Marley) during the workouts. This video from Friday June 12 shows multi-tasking to a whole new level, as Joe squats with his youngest in his arms and toddler, Indie joins for a run around. Oh and as it's Fancy Dress Friday, Joe's dressed as kangaroo!
https://www.youtube.com/watch?v=2iDqBO34ieA
In early May, Joe broke his arm while out and about on his bike. After surgery, he realised that he wouldn't be able to take the following day's HIIT workout class. So as Joe puts it, "in sickness and in health" his wife, Rosie joined him for the session to help demonstrate.
https://www.youtube.com/watch?v=ybn_SO990go&list=PLyCLoPd4VxBudCnXPQCehUq4iBnmPTKZm
A workout special! In April, Joe kicked off one Monday morning with something a little different. This Workout Wheel of Fortune was used by "Joe Twix" - the game show host - dressed in a full suit, to decide on the workouts everyone would be doing that day.
https://www.youtube.com/watch?v=Z42mwuX_Xj8&list=PLyCLoPd4VxBuHn84_as427AwkVpahrqti&index=4
Another special feature! At the end of April, Joe used a coin-toss to decide what workouts everyone would be doing in the session that morning. He also spoke about wanting to "do as much as [he] can" to help get people up and moving during the lockdown, announcing that he'd filmed more of his Joe Wicks workout for seniors.
https://www.youtube.com/watch?v=Rz0go1pTda8
The first ever Joe Wicks kids workout workout! The very first video of the series has now racked up over six million views and since the video first launched, Joe has launched into the spotlight of media attention. He's been offered a book deal and fans have even been calling for him to knighted, since he's raised well over £200,000 for the NHS.
Great work Joe!
Amy is Senior Digital Writer across Woman & Home, GoodTo and Woman, writing about everything from celebrity news to health, fashion and beauty features. When she isn't obsessing over the latest dress drop from Marks & Spencer, you'll most likely find Amy out running, or with a cup of tea in hand ready to dive into a gripping new Netflix series.