Laura Norton reveals how she lost three stone in three years (without going on a diet!)
You can apply the soap star's secrets to your own weight loss plans!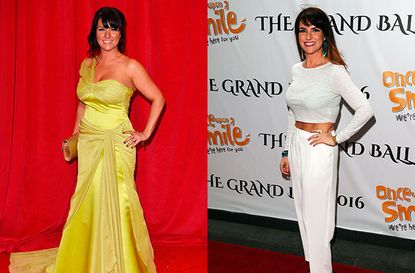 Emmerdale actress Laura Norton has been steadily losing weight over the last three years, and now the brunette bombshell has revealed how she's lost an amazing three stone with a new healthier lifestyle.
Laura, who's played Kerry Wyatt in the ITV soap since 2012, has lost 42 pounds since she took on her new role in the Dales almost four years ago.
The 32-year-old soap star has confessed that the main change that kick started her gradual weight loss wasn't a strict diet (opens in new tab) but instead involved ditching one habit in particular - something she's since confessed to being 'completely addicted' to.
Here we reveal how some simple changes led to her three stone weight loss, and how you can try Laura's secrets for yourself!
Ditch the fizzy drinks
We all know that fizzy drinks are bad for maintaining a healthy weight because they're packed full of sugar, and even diet versions have natural sweeteners and chemicals that are bad for our bodies.
Laura admits that the biggest change she has made since joining the Emmerdale cast was ditching coke, saying; 'I stopped drinking coke. I was completely addicted to it. I was waking up in the middle of the night craving coke.'
Even without making other changes this allowed Laura to drop a stone in weight; 'Once I stopped, I lost a stone very quickly.'
Change your environment
Previously Laura had been living in Leeds city centre, living a sociable lifestyle that saw her eating and drinking in restaurants a lot. Recently she bought her own flat on the outskirts of the city 'miles away from everyone' and this has meant she doesn't eat out as much.
Laura says; 'Then moving out of Leeds, I wasn't eating out as much. I was worried about being on my own... but I love it. I have spent the last year doing it up. My boyfriend bought us a power drill and I've been making bath panels, hanging mirrors, and so on. I've been in my element.'
Laura on This Morning during her weight loss
Don't feel guilty about treats
Although Laura knew she had to ditch her fizzy drink habit, she still indulges her sweet tooth and allows herself to eat some treats as a guilty pleasure.
Laura cannot resist Cadbury's Dairy Milk buttons, admitting; 'Giant chocolate buttons. If there's a bag of them in the fridge, I can never have just one.'
Scientific studies have shown that by allowing yourself cheat days and small indulgences you are more likely to stick to your healthy lifestyle long-term rather than falling off the wagon all together.
Laura with on-screen husband Liam Fox
Find your motivation
Laura has tragically lost three friends in the space of a couple of years, and she says the huge shock of this has inspired her to make the most of life and do all the things she wants to do.
Laura says; 'It was so sad and was a real shock, but I'm more determined than ever to live my life to the full.
'You're a long time dead, so I think you have to go out there and do all the things you dream of. Life is short.'