Lisa Riley's Honesty Diet: Everything you need to know about Lisa Riley's Honesty Diet cookbook
The TV star will be spilling the beans on how she did it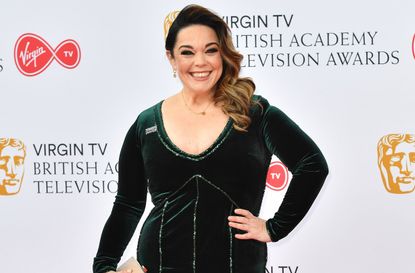 (Image credit: Samir Hussein)
Lisa Riley shares her weight loss journey, and reveals the secret diet tips that helped her lose 12 stone in her book, Lisa Riley's Honesty Diet.
The TV star, who's best known for playing Mandy Dingle in ITV's Emmerdale, announced her new venture on social media back in September 2017 after the star went through a couple of 'life-changing' years dropping from a dress size 28 to a size 12.
Lisa Riley's Honesty Diet: what's it all about?
The book includes strategies Lisa used to help her 'get honest with herself' and 'honest about every single thing you put in your mouth', as well as her 'advice for getting more active and staying on track when anxieties or cravings strike'.
Lisa reveals her journey from her teenage years struggling with her weight, to being branded as an 'Emmerwhale' by on Sunday newspaper.
In practical terms, Lisa Riley's Honesty Diet offers readers low carb recipes that are easy to make, healthy eating plans, everyday exercise ideas, an 'honest' diary for keeping track of your progress, and tips for staying healthy on-the-go and when eating out.
The book also promises 'with Lisa's help, you can put the fibs and excuses behind you, kick those bad habits and achieve the body and health you've always dreamed of'.
Lisa offers her readers some top tips to tackle losing weight.
She praises the techniques of mindfulness, yoga and reading to combat the feelings of stress and anxiety, rather than binge eating or snacking while bored.
Lisa suggests swapping out the booze as it contains empty calories, and she would always end up grabbing a burger or a kebab at the end of the night.
Lisa also advises not to skip meals, as your body will go into shock and store any food you do eat, rather than burning it off.
Another top tip is to figure out your food intolerances or allergies - perhaps your body doesn't like certain food groups, and if you cut these out, you'll soon start to shed the pounds.
Lisa also documents her two major operations she underwent to remove her excess skin since she lost weight.
Many of Lisa's 116k Twitter followers have shared their excitement for her book and their own weight loss experiences using her recipes.
'Picked up a copy of Lisa Riley's 'The Honesty Diet.' Really impressed by how much of the book is devoted to unpacking the baggage in our heads and supporting yourself through the weight loss journey,' one wrote.
Another added: '#honestydiet Just got back home after a 200 mile drive visiting relatives! My new book was waiting for me! Quite (hmm🤔) 'excited?!' to start! Watch this space!! 😉.'
Another said: 'I would love to try it. I am struggling to lose weight and cant seem to get any help. I so want to be healthy. Motivation desperately needed!'
Lisa Riley's Honesty Diet book is on sale for £16.99, and Lisa Riley's Lose Weight for Life can also be purchased for £16.99.
Lisa Riley's Honesty Diet recipes
Super simple kedgeree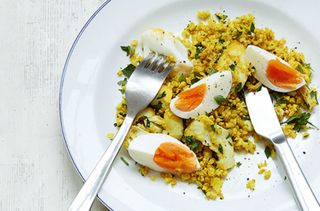 Lisa Riley's super simple kedgeree from her Honesty Diet book makes a delicious breakfast or brunch treat - but would also work well as a speedy lunch or light dinner. It's simple and cheap to cook, and can easily be thrown together if you're in a hurry.
Get the recipe: Super simple kedgeree
Skinny turkey burgers
These Lisa Riley skinny turkey burgers from her Honesty Diet are super lean and perfect for when you're looking for something that tastes like a treat, but won't ruin your healthy eating efforts. And, when the weather warms up, they'll be perfect to throw on the barbecue.
Get the recipe: Skinny turkey burgers
Garlic and chilli cod
This garlic and chilli cod from her Honesty Diet is a warm and spicy dinner treat. Serve it up with roasted spinach and cauliflower seasoned with smokey paprika, and a cool salsa on the side. It will soon become a family favourite.
Get the recipe: Garlic and chilli cod
Lisa's Riley's Lose Weight for Life recipes
Low-cal fish and chips with minty peas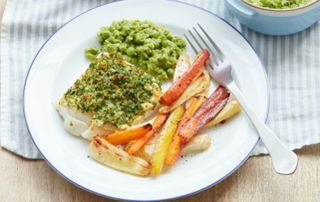 Lisa Riley's low-calorie fish and chips is served with fresh minty peas, and is the perfect alternative when you're craving the British classic meal but without the high-fat and high calorie intake. Serve it up for the whole family and it will sure go down a treat.
Get the recipe: Low-cal fish and chips with minty peas
Deconstructed burrito bowl
Lisa Riley's low-calorie Mexican-inspired burrito bowl consists of black beans, sweetcorn, shredded chicken, peppers and avocado. It's also topped with low-fat cheddar, so don't worry you won't miss out on the cheesy flavours. It's quick and easy to prepare, and will keep in the fridge for a couple of days so you could take it into work for a healthy packed lunch.
Get the recipe: Deconstructed burrito bowl
Have you tried any recipes from Lisa Riley's Honesty Diet cookbook? Which of the above tempts you most? Let us know in the comments!
Parenting advice, hot topics, best buys and family finance tips delivered straight to your inbox.
Trusted, informative, and empathetic – GoodTo is the ultimate online destination for mums. Established in 2007, our 15-year-strong archive of content includes more than 18,000 articles, 1,500 how-to videos, and 7,000 recipes.