Osteoporosis: 9 ways to ease symptoms and improve bone health
Osteoporosis can be a painful and debilitating condition. Here's how to improve it with some easy lifestyle tweaks.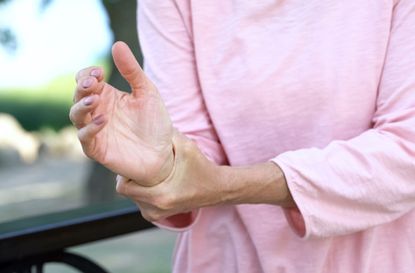 (Image credit: Getty)
Osteoporosis can be a painful and debilitating condition. Here's how to improve it with some easy lifestyle tweaks.
Osteoporosis is a condition that leads to weak bones and can make them very fragile and more likely to break. According to charity Age UK, it can sometimes be referred to as the 'silent disease' as, despite the fact that nearly three million people in the UK suffer from it, few actually know they have it until they break a bone.
Osteoporosis is more common in older people, as it is a progressive condition that causes your bones to become fragile as you age. This happens because as your body ages the body cells that build bone start working slower and can't keep up with the cells that remove old bone. This then leads to the body losing bone tissue, making bones weaker.
The condition is so widespread that it leads to up to 300,000 fractures every year across the country. Think you might be heading towards the condition? Here is what to look out for and how to do your best to prevent getting osteoporosis.
Osteoporosis symptoms
Unfortunately, those suffering from osteoporosis may not actually experience any obvious symptoms, as you can't really feel your bones getting weaker when you're losing bone tissue. Because of this, the condition tends to lie under the radar until you actually break a bone.
However, there are warning signals that you can be aware of that could suggest fragile bones. Make sure to discuss with a medical professional if you experience:
Severe back pain
Your spine has become curved
You have lost height
Osteoporosis causes
There aren't any particular causes of osteoporosis, as it is a more progressive condition that happens as you age.
However, there are risk factors that make you more likely to contract the condition. These include:
Being over 50 years old
Having the condition in your family history
If you are a woman, as they have smaller bones and lose oestrogen when going through menopause (opens in new tab)
Being over- or underweight and an unhealthy lifestyle. Try to keep your BMI in the healthy range (opens in new tab) for you – adopt healthy habits now and continue them.
Certain medical conditions, like rheumatoid arthritis and hyperthyroidism
Certain medications, like steroids or Crohn's disease treatments
'Bone mass increases quite rapidly during childhood and adolescence, and we normally obtain peak bone mass between our mid to late twenties,' says Craig Sale, Professor of Human Physiology at Nottingham Trent University, with regard to ageing being a risk factor.
'After this there is a period of bone-mass maintenance during middle age, before age-related decline.'
Research also suggests that smokers are more likely to develop fragile bones and suffer from fractures, and smoking also affects bone healing. If you need help, use the NHS Stop Smoking Service (call 0300 123 104 or visit nhs.uk/smokefree). It's never too late to quit.
Excessive alcohol consumption also raises your risk of osteoporosis, falls and fractures. Try to stay below the recommended limit of 14 units of alcohol a week – with no more than three units in one day and at least two completely alcohol-free days.
Find tips on cutting back at nhs.uk and drinkaware.co.uk or talk to your GP for advice.
Units are probably smaller than you think. A small glass of wine is 1.5 units.
Osteoporosis may be treated using prescription medications or supplements like calcium or vitamin D (opens in new tab). Lifestyle changes and gentle exercises are also advised. If you want to lower your risk of developing the condition, here are nine lifestyle factors to take into consideration.
9 ways to ease osteoporosis and improve bone health
1. Get some sun
Sunlight on unprotected skin is the best way to up levels of vitamin D, crucial in the building of strong bones.
'Vitamin D regulates calcium metabolism and is vital for healthy bones and teeth,' says Dr Melanie Wynne-Jones. 'Deficiency can lead to osteomalacia – painful, weakened muscles and bones – that can trigger falls, fractures and severe fatigue.'
2. Supplements for osteoporosis
Consider taking a vitamin D supplement if you think you may not be getting enough of this bone-strengthening vitamin.
Public Health England recommends a 10-microgram supplement a day if you have limited sun exposure (if you live in a care home, for example, or cover your skin when outside), especially during October to March.
3. Eat your greens
Green leafy veg (such as cabbage, spinach, kale and broccoli) are high in vitamin K and magnesium, both great bone boosters. Vitamin K helps your body absorb calcium and is also found in high amounts in fish, meat and eggs.
Magnesium is vital for the structural development of bone and ensuring the normal function of the parathyroid glands, which produce hormones important for bone health.
Other good sources include beans, brown rice, nuts and wholemeal bread.
4. Have a bone density scan
This is important if you're over 50 and have recently broken a bone after a minor bump or fall from standing height, a key first sign of osteoporosis – where bone density and quality is reduced and which affects over two million UK women.
'After menopause, when the protective effect of oestrogen on the bone is removed, there is often an accelerated rate of bone loss,' says Professor Sale.
If your GP suspects osteoporosis, they can refer you for a DEXA scan to measure bone-mineral density and prescribe bone- strengthening medication.
5. Eat salmon
It's a good source of bone-boosting vitamin D. Liver, egg yolks and fortified spreads/cereals are good, too. But by far the best source of vitamin D is the sun. Use it to boost the vitamin levels of mushrooms by sitting them outside in direct sunlight before you eat them.
Try our favourite salmon recipes (opens in new tab) to increase your oily fish intake.
6. Get walking
Walk downhill after lunch. It helps keep your bones strong, according to recent research from scientists at the University of Michigan. The US team asked post-menopausal women to walk downhill for 40 minutes after eating, and found the women had reduced collagen (a protein that helps bone to form) breakdown.
The researchers think that exercising after eating may help nutrients to be absorbed into the bloodstream. And any exercise which has an impact on the skeleton can help keep bones healthy.
'Bone is a living tissue, which grows stronger with the force of our muscles pulling against it,' says Professor Sale. 'Exercise can help delay the rate of age-related bone loss, but not all exercise can make a difference.'
Swimming and cycling, for example, don't particularly help bone health, because they're not weight bearing.
7. Up your calcium intake
All diary foods are rich in calcium, as are green leafy veg, soya beans, tofu, nuts and fish with edible bones, such as pilchards.
More than 99% of your body's calcium is stored in your bones and teeth to support their structure. If levels drop too low, your blood takes calcium from your bones to help with other functions, such as blood clotting and maintaining healthy heart, muscle and nerve function. Worried you may not be getting enough calcium? Ask your GP about supplements.
8. Test your strength
Weight-resisted exercise can help improve muscle strength and balance, and may prevent falls and possible fractures. Even if you are quite frail, there are exercises that can help.
Try gentle press-ups against a wall to strengthen wrists, or lift food tins or squeeze a tennis ball as you watch TV. To strengthen hips, stand on one leg for one minute, three times a day – hold onto something for balance, if necessary.
9. Get advice
If you're worried about your bones, see your GP. You can also find out more about bone health and avoiding or living with osteoporosis by calling the Royal Osteoporosis Society's free hotline on 0808 800 0035. Find out more about bone health by visiting its website at theros.org.uk.
Video of the Week
Tanya Pearey has been a writer and editor in the health, fitness and lifestyle field for the past 25 years. She has a wealth of experience and a bulging contacts book of experts in the wellness field. She writes regularly for women's lifestyle titles including Woman & Home, Woman's Weekly, Woman and Woman's Own. She has also written for newspapers including The Daily Mail and Daily Express, and women's magazines in Australia where she spent a year working. She also writes regular travel pieces. Tanya is an avid runner - lover of Parkruns and half marathons. She completed the London Marathon in under four hours – but that was 20 years ago and she hasn't been brave enough to run that far again since! She's a keen tennis player and walker – having climbed Kilimanjaro and the UK's three highest peaks - Snowdon, Ben Nevis and Scafell Pike.