David Schwimmer and wife Zoe Buckman announce they are 'taking time apart'
The Friends star has been married for 10 years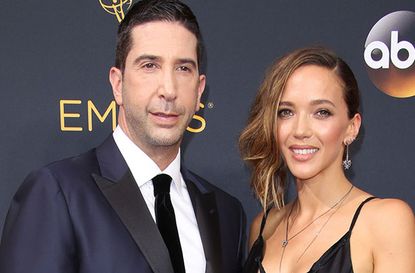 GoodTo newsletter
Sign up to the GoodTo Newsletter. You can unsubscribe at any time. For more information about how to do this, and how we hold your data, please see our privacy policy
Thank you for signing up to . You will receive a verification email shortly.
There was a problem. Please refresh the page and try again.
David Schwimmer and wife Zoe Buckman have announced in a statement that they are taking a break from their marriage, after 10 years together.
The Friends star and his wife Zoe confirmed the news to E! News in a statement, saying they are taking time apart to decide the future of their marriage.
'It is with great love, respect and friendship that we have decided to take some time apart while we determine the future of our relationship', the statement read.
'Our priority is, of course, our daughter's happiness and well being during this challenging time, and so we ask for your support and respect for our privacy as we continue to raise her together and navigate this new chapter for our family.'
David and Zoe, a British artist and producer, have been together for more than 10 years, after meeting on the set of film Run in 2007, in London.
Zoe moved to LA to be with her future husband a few years later, and the pair got married in June 2010.
More recently Friends fans have been asking 'Are Jennifer Aniston and David Schwimmer dating?' (opens in new tab)
David and Zoe have a child together, Cleo
The couple later welcomed their only child, five-year-old Cleo Buckman Schwimmer, in May 2011.
Although the couple like to keep their personal life very private, David shared a cute anecdote about Cleo while appearing on the talk show Late Night.
'Listen, I don't know how the other parents are out there, but my thought when I pour myself a glass of wine that my wife and I have over dinner and my daughter says, "Can I try that?" I thought, "Well, if you start saying no then they're just going to want it more." So, I thought "Yeah, all right. Go ahead, sweetie. Have a sip." And luckily she was like, "Blah! No!"', the 50-year-old said.
'It worked until I let her try beer and she loves it. I'll find her in the middle of the night just [guzzling it]. I'm serious! If I have a beer out, I have to watch it, because if I turn my back, she'll be chugging it.'