Mary Berry's husband reveals he had to propose to her THREE times before she said yes
An episode of Mary Berry Everyday provided a rare glimpse into her personal life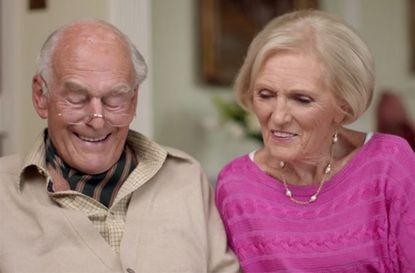 Mary Berry has given a rare insight into her marriage during a recent episode of Mary Berry Everyday (opens in new tab).
During the episode, which focused on the couple's wedding anniversary, Mary and husband Paul were seen looking through their old family albums, which the former Great British Bake Off judge confessed they hadn't seen 'for a wee while', and shared several intimate details about their relationship over the years.
'Paul and I met when I was working on magazines,' Mary explained. 'We married in 1966 in Charlcombe Church, just down the road from my parents.'
'You were very slim and elegant in those days,' Paul told her after looking at one particular snap, to which Mary replied: 'Was I? Cheeky!' - although she quickly got her own back by telling him he had a 'bit more hair in those days'.
'My dress was brought in the sale, £5,' she continued. 'It was good value, wasn't it?'
All images: BBC/Mary Berry Everyday
The pair also reminisced about their engagement, with Paul revealing that he had to ask Mary to marry him three times before she finally accepted.
'I do remember the first proposal, and I think you were drunk!' Mary laughed.
'I might have been,' Paul agreed. 'It's a big step, you don't go into something like that without a bit of fortification!'
'I think you had too much,' Mary continued. 'I can remember telling you that you were drunk and thinking I'm not having anything to do with this man, but you did come back.
'Yes, and then the second time you said something similar,' Paul replied. 'And then the third time, I think I said from memory, "I can't go on like this, I'm getting on in age, so either it's yes or no"'
'I can remember that too. I did say yes,' Mary smiled.
'I know it bucketed with rain after the reception, which was a blessing in disguise, because nobody came out to doctor the car,' Paul recalled. 'I think there was a potato up the exhaust pipe, but that's about all.'
All images: BBC/Mary Berry Everyday
Mary then mentioned that it had seemed 'a bit of a palaver' to her husband, asking him: 'Would you do it again?'
'I think I would yes. Knowing now what I possibly didn't know then, because you're taking a risk aren't you?' he answered, to which Mary said 'Well you thought you were obviously!'
'I wouldn't go back, I'm very happy, and it was for better for worse, for richer for poorer, and we've had some wonderful times.
'We'll look after each other in our old age' Paul concluded, whilst Mary agreed: 'We're lucky to have each other'.
Trusted, informative, and empathetic – GoodTo is the ultimate online destination for mums. Established in 2007, our 15-year-strong archive of content includes more than 18,000 articles, 1,500 how-to videos, and 7,000 recipes.