Mary Berry Everyday: All you need to know about Mary Berry's TV show
The baking queen is back!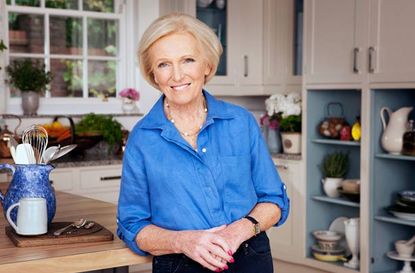 National baking treasure Mary Berry (opens in new tab) will finally be back on our screens with a new show, Mary Berry Everyday, showing us how to whip us some of her favourite classics.
The new cookery programme sees our beloved Mary celebrating some of her favourite recipes, which she's enjoyed cooking and baking over the last 60 years of her career.
Mary Berry Everyday marks the return of the culinary star to our screens, after it was announced that the Great British Bake Off (opens in new tab) would no longer be a BBC programme.
What food will Mary Berry be making on the show?
In her new show, Mary will be whipping up classic recipes that are easy enough for you to make at home for your friends and family, some with a little twist.
The series' six episodes will be divided according to different themes, like 'Feeding the family', where she'll show us how to cook delicious yet simple meals for big numbers while still enjoying quality time with your loved ones; and 'When you want to show off', where Mary will focus on dishes that will certainly make a splash at any gathering - like her incredible chocolate cake (opens in new tab).
Mary Berry Everyday recipes include a Bolognese (opens in new tab) ragù with a twist, Panang chicken stir-fry (opens in new tab), crisp bacon rosti (opens in new tab) with fried eggs and the classic Mary's sticky toffee pudding (opens in new tab).
We can expect to see some traditional baking from Mary, maybe even her classic Victoria sandwich (opens in new tab)?
As well as hosting the new cooking show, Mary has also released a new cookbook, which ties in with the TV series.
[facebook] https://www.facebook.com/maryberrythecook/photos/a.278688722157029.86666.163357673690135/1689108677781686/?type=3&theater [/facebook]
'I am thrilled to reveal the cover of my brand-new cookbook, Mary Berry Everyday', she announced on her Facebook page.
'With over 120 delicious recipes from the anticipated 2017 BBC series, Mary Berry Everyday will show you how to inject a little Mary magic into your everyday cooking. Out on 26 January 2017.'
The baking queen is also set to host a show later on in the year called Mary Berry's Secrets from Britain's Great Houses (opens in new tab).
Are you excited about Mary Berry's new TV show? Tell us what you love about the baking Queen in the comments below!