Shocking moment groom's mistress crashes his wedding dressed as a bride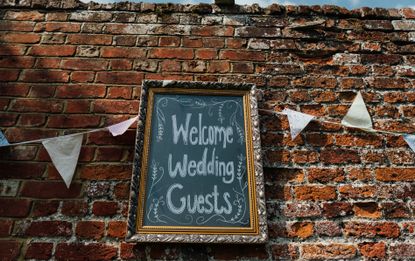 Chaos ensued when a groom's mistress showed up to his wedding dressed as a bride.
A video that highlights the moment a groom's mistress showed up to his wedding dressed as a bride has gone viral.
The clip, which was posted to Twitter, was taken inside the wedding ceremony which took place (or could have subsequently been cancelled) in South Africa.
The video was uploaded with the caption: 'Side chick rocked up at the wedding also wearing a wedding dress. Groom trying to calm the situation.'
It shows the woman, dressed in her own white dress and veil, approaching the couple who are about to get married.
A frantic looking man, suspected to be either the groom or a best man, tries desperately to diffuse the situation by attempting to calm the woman down and direct her towards the exit. This is all accompanied by a background noise of the congregation gasping and screaming in horror.
So yeah, not exactly the wedding of every girl's dreams.
Groom cancels wedding after Bridezilla has shocking reaction to sister's heartbreaking news (opens in new tab)
Having been viewed as many as 680,000 times, the video has received lots of reactions across the Twittersphere from those who have been keen to share their own feelings about the event.
One user used this comic book clip to offer their interpretation of the situation:
And a lot of people were of the opinion that the groom got exactly what he deserved, with one user commenting: 'I hope every man that cheats, gets a side chick like this. Lmaoooo'
Another user agreed with this sentiment by opting to post this clip, completed with the caption: 'Served him well'
They do say that what goes around, comes around. And this time it seems that it came around in a blind fury donning a white dress. Can't say we blame her, can you?
Do you think this groom had it coming to him? Head over to our Facebook page to share your thoughts with us!
Freelance Lifestyle Writer
Niamh McCollum is a freelance lifestyle writer who has written for Future titles GoodTo and Marie Claire UK, plus the Irish Independent. The Dublin-based journalist specialises in stories
affecting families - from health updates, to the freshest parenting debates and celebrity announcements.