Could a 'sleep divorce' improve your relationship?
Sleeping apart could make your relationship stronger, according to the growing number of couples who are doing it.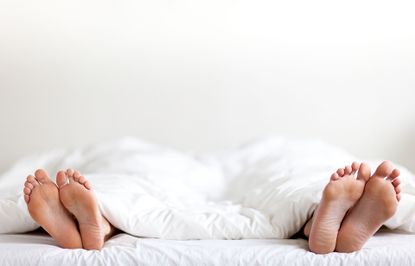 (Image credit: Voisin/Phanie/REX/Shutterstock)
Sleeping apart could make your relationship stronger, according to the growing number of couples who are doing it.
If someone else's snoring, tossing and turning has been keeping you up all night, you've probably been tempted to banish them to the spare room – or even the sofa – in the hopes of getting a better night's kip.
But while many of us worry that sleeping in separate beds – or even separate rooms – could signal 'the beginning of the end' for our relationships, a growing number of couples are opting to do just that.
A new Australian study has found that 200,000 couples are now choosing to sleep in separate beds. There's even a fancy new term for the arrangement – sleep divorce.
Earlier this year, bed brand Sealy UK found that more than one-third of cohabiting British couples regularly sleeps in separate beds.
For 10 per cent of us, it's a permanent arrangement, but one in five say they sleep in separate beds at least once a week.
Snoring (opens in new tab) seems to be the prime culprit in about 50 per cent of cases, followed by tossing and turning, which is an issue for more than a quarter of couples.
But according to experts like Jennifer Adams, who is the author of Sleeping Apart Not Falling Apart, a sleep divorce could actually bring you closer together.
'It's practical,' she told Daily Mail Australia. 'If you're being disturbed by your partner's snoring and you're not getting enough sleep, then you need to do something to restore yourself. The key message is this should be done for health.'
Lack of sleep (opens in new tab) can seriously affect your mental and physical health, and as most of us know, it's not that easy to recover from a bad night's sleep (opens in new tab), especially if it happens on a regular basis.
But if you and your partner are both well rested, you'll have more energy and are likely to feel more positive towards each other.
The key is not to sacrifice intimacy. Most experts agree that it's a good idea to try and sleep in the same bed as your partner at least some of the time.
'You might need sleep on some days because of work commitments or you just need a good night's sleep,' says Jennifer. She regularly sleeps apart from her own husband, saying, 'the separate rooms took away that tension of being tired.'
'Talk to your partner,' she advises. 'If you're doing it for the right reasons, then you don't have anything to worry about. It's not you, it's about sleep.'
Samantha is a freelance writer at Goodto who has been with team since 2019. Initially trained in psychology, she specialises in health and wellbeing and has additionally written for magazines such as Women's Health, Health & Wellbeing, Top Santé, Healthy, Refinery29, Cosmopolitan, Yahoo, CelebsNow, Good Housekeeping and Woman&Home.