What is psoriasis? Everything you need to know about the skin condition
A helpful guide to the common skin condition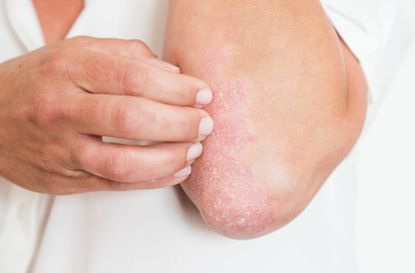 Psoriasis is a skin condition which causes red, scaly patches to appear on your skin, affecting around one in 50 people and it often runs in families.
We sought out advice from Dr Zainab Laftah, Consultant Dermatologist & British Skin Foundation (opens in new tab) spokesperson, on common psoriasis causes, symptoms and treatments?
Psoriasis causes
Psoriasis is caused when the body produces too many skin cells, although it's not clear exactly why this happens.
Dr Zainab Laftah said: 'It is associated with inappropriate activation of the immune system resulting in increased turnover of skin cells. In normal skin the outer skin layer is replaced every three to four weeks. In psoriasis this turnover can be as little as three to four days.
'This results in red, scaly patches of skin to develop, commonly on the back, scalp, elbows, and knees. Psoriasis may also affect the nails and the joints.'
Read more: Psoriasis sufferer praises 'incredible' Liz Earle body balm for clearing her skin in just four weeks
Both environmental factors and inherited factors can cause psoriasis. It's important to remember that this condition not only affects the skin but can also affect nails and joints.
In some cases, environmental factors can cause flare ups. These triggers include stress, anxiety (opens in new tab), depression, infections, drugs and medicine, smoking, alcohol and hormonal changes. Injuries to the skin (such as scratching or sunburn) can also trigger flares. Psoriasis can also be linked to diabetes, obesity, high cholesterol (opens in new tab) levels and high blood pressure.
It's not infectious so you don't have to worry about infecting other people or catching it from someone else.
Common psoriasis symptoms
Psoriasis commonly affects the knees, elbows, scalp, behind the ears and between the buttocks although other areas can also be involved. You will notice changes in your skin, it may become slightly raised with inflamed pink or red areas and silvery-white scales. These patches by become itchy and painful. In severe cases cracks may develop in the dry skin and can bleed.
What is psoriasis on the face?
Dr Zainab Laftah said: 'It is rare to have psoriasis occurring solely on the face. Common sites on the face include eyebrows, the skin between the nose and upper lip, upper forehead and hairline (opens in new tab). Facial psoriasis may be aggravated by ultraviolet light in patients with photosensitivity, smoking and the yeast Malassezia, which is often found in the skin flora. The latter is termed sebopsoriasis.'
It's important to bear in mind the the skin on the face is more sensitive compared to other areas of the body and therefore treatments should be used carefully.
For example, some steroids prescribed to help reduce inflammation may cause facial skin to become thin, shiny and could enlarge capillaries.
Psoriasis in children
The most common case of psoriasis in children is plaque psoriasis, which affects the elbows, knees and lower back.
The condition is rare in babies, especially if no one in the family has it. It could be difficult to recognise psoriasis when it may look like a normal nappy rash, but the skin condition will look red and shiny with little scaling, and you will be able to clearly tell where it ends and where the normal skin starts.
Read more: 11 things you didn't know you could do with Sudocrem
If your child suffers from the condition, it's important to apply moisturisers and emollients to their skin so that the active treatment creams and ointments work more effectively.
During a flare, cotton clothing, underwear and bedding may be more comfortable for your child. Another helpful tip is to keep a small pot of moisturiser in their school backpack in case they need to moisturise during the day if their skin gets itchy.
What are the common psoriasis treatments?
Dr Zainab Laftah said: 'There is no cure for psoriasis. However, effective treatments are available to treat psoriasis, and these are dependent on individual circumstances. Therapies range from topical treatment, ultraviolet light (phototherapy), oral and injection medication. Unfortunately despite treatment complete clearance of skin lesions may not always be possible.'
Here are some common psoriasis treatments
In mild cases, you may only need to use a topical treatment such as a moisturiser, ointment, gel or lotion, which will soften the skin and reduce the scaling and the itch.
In other cases, vitamin D creams work well as they affect the rate that the cells divide. But these cause irritation in some people, and sometimes aren't suitable for pregnant or breastfeeding women.
For those suffering with more extensive psoriasis an ultraviolet light treatment called phototherapy may be used. This usually takes about 8-10 weeks and will require two to three sessions a week.
Systemic (internal) treatments can also be used including tablets and injections. Tablet options include acitretin (related to vitamin A), and methotrexate which slows down the rate at which skin cells divide.
Some sufferers now turn to natural treatments like grape root oil, apple cider vinegar and aloe vera creams.
How to manage Psoriasis
Dr Zainab Laftah said: 'It is important to discuss with your GP or dermatologist how your psoriasis affects your activities of daily living and if it is having an impact on your mood. Your GP and dermatologist will also assess the extent of your psoriasis, if there is underlying joint involvement and your treatment goals.'
She continued: 'Adopting a healthy lifestyle by eating a balanced diet and exercising regularly reduces your risk of heart disease and stroke. Both risks are increased in patients with moderate to severe psoriasis. Other self-help methods include weight loss if you are overweight, stopping smoking if you smoke and reducing your intake of alcohol.'
We spoke to Jude Duncan who has been campaigning and actively raising awareness about psoriasis since 2015, 2 years after her diagnosis.
This is Jude's psoriasis story
I was first diagnosed in my early 20s. I had started my third year at university and noticed a small red mark above my left eyebrow. I've always had skin issues from adult acne to shingles, and lots of rashes and reactions. My doctor thought it was just another reaction and that it would die down soon with some cream. I went away and started using the cream to no affect.
After a few months, I decided to go back to the doctor as my patch was getting bigger and that is when I was told I had psoriasis. I was given another cream and told to try that. Again, this didn't work. In November 2014, almost a year after my initial diagnosis, I was finally referred to a dermatologist to receive oral treatment.
My psoriasis mostly affects my face, scalp and pubic area. I also have small patches on my arms and legs and a big patch in and around my belly button. At the end of 2018, I was also diagnosed with psoriatic arthritis.
At first I wasn't too fussed about my psoriasis, it didn't even bother me that it was on my face. After I few people made comments, I started to really struggle with it. I became depressed and ashamed of how I looked. I thought my skin was the most important thing about me, it took me years to realise how wrong I was.
You are not defined by your psoriasis. So many people with the condition believe that the condition is all people see and it can be so hard to change the mindset - I know, I've been there. Just remember, you are living with not defined by your psoriasis.
Read more: Relaxation techniques for stress: learn how to destress your whole body
I've tried so many different types of medication over the past 5 years, some haven't worked and some have but not long term! Currently, I am on a biologic for my Psoriatic Arthritis which has helped my skin greatly but I am not totally clear.
I find that having a good skincare routine really helps. At first, I was afraid to put products onto the skin in fear of making it worse, however I realised is that by having a good skin care routine really helps.
I also believe that having a holistic routine that you can stick to is very important alongside medication or other treatment. Making sure you're getting enough sleep, eating well, and exercising can go a long way to helping your psoriasis. You must remember that psoriasis is autoimmune disease and not just a skin condition.
If you're worried about psoriasis it's important to visit your GP or dermatologist and discuss the best treatments.
Sibelle Mehmet is a Junior Digital Writer at Goodto.com. She joined the team in April 2019 and was her first job since completing a MA in Magazine Journalism at City, the University of London in the summer of 2019. Sibelle previously interned at a number of national titles including OK!, Heat, Closer, Mother & Baby, and The Times Newspaper magazine. She's written extensively about the latest celebrity, showbiz, and royal news.