12 expert-approved sunburn remedies to treat inflammation at home
We've spoken to the experts to find out which are the best sunburn remedies to try at home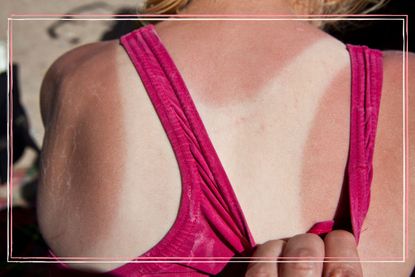 (Image credit: Getty Images)
Having a few sunburn remedies in your pocket is a summer essential, especially as the weather gets warmer and the summer holidays approach.
It's that time of year again when families pack up their travel strollers and get ready to go on their summer holidays. But as parents all over will know, getting your child to keep the sun protection topped up when they're running around on the beach or in and out of the pool can be tough - even with the best sunscreen for kids to hand. Plus, it's hard to know when sun cream is out of date and if it's still effective.
Luckily, sunburn is easy to treat using natural remedies - items you probably already have at home as well as affordable over-the-counter treatments - and we've spoken to medical experts and dermatologists to find the best options. That said, it's important to remember that the best cure for sunburn is to prevent it altogether, and Lloyds Pharmacy pharmacist Pareena Patel says. "As soon as you realise that your skin may be starting to burn, you should move into a cool, shaded area."
The best sunburn remedies to try at home
1. Drink lots of water to cure and prevent sunburn
Staying hydrated when you've been sunburnt is especially important because when you're dehydrated your body will struggle to heal. This is because sunburn brings liquid to the surface of the skin and away from the body, so for it to heal properly it needs to be constantly replenished with lost liquids and electrolytes - making treating sunburn just one of the benefits of drinking water.
This is also one of the ways to prevent sunburn in the future, as dehydration can make you more vulnerable to the sun's ultraviolet light. In terms of how much water you should drink a day, this depends on your surrounding environment and the amount of activity you're doing - but eight eight-ounce glasses (which is about 2 litres) is a good rule of thumb.
2. Apply moisturiser or after sun to soothe sunburn
"You should always apply a cooling moisturiser or after-sun," Pareena says. "Unscented products are best to use as they won't cause further irritation to the skin, and there are a number of key ingredients to look out for."
She explains that products containing aloe vera are a good option, as they're "rich in vitamins A, C and E and have been shown to have anti-inflammatory properties which can calm the burn."
It's important to remember that moisturising is a vital step in after-sun skincare whether or not you've been sunburnt. As Pareena says, "Using an after-sun or rich moisturiser will help reduce and prevent sun damage whilst rehydrating dry, damaged skin. You should use after-sun after any sun exposure, whether you have signs of damage or not."
3. Try pure Aloe Vera to heal sunburn
Aloe vera is a herbaceous plant that can help maintain skin moisture and promote faster wound healing, and is sometimes referred to as the 'burns plant', due to its anti-inflammatory properties.
Dr Saniyya Mahmood, Medical Director of Aesthetica Medical Clinic, told us: "It is best to use the pure form of aloe rather than it being mixed with other products that may contain alcohol, which can cause further irritation. Pure aloe from the extract can be found in various forms, such as gel, lotion or cream."
She added, "You can even use the inside of an aloe vera leaf over the burnt skin. Simply break off a leaf and you will see a gel emerging from the inside, which can be used directly on the skin."
She advised testing Aloe Vera on a small area of unburnt skin first to make sure you don't have a reaction, and keep it in the fridge to add a cooling effect.
Dr Saniyya Mahmood (MBChB) – GP specialising in Dermatology & Aesthetic Medicine with over 8 years experience. Graduated from University of Liverpool and currently working as a GP and in specialist dermatology clinics in the NHS. Also, founder and medical director of Aesthetica Medical Clinic based in Leeds specialising in Cosmetic Dermatology and Aesthetic Medicine.
4. Use Sudocrem to treat soreness from sunburn
One of the many uses of Sudocrem is treating the soreness that often accompanies sunburn. While it hasn't been proven to soothe sunburn specifically, it's helpful at reducing discomfort, and the ingredient lanolin has been shown to prevent the body from losing water through burns and rashes in a study in the Journal of Clinical Medicine & Research.
Sudocrem also includes zinc oxide, which helps to calm down the sunburn and help the burn to heal, and benzyl alcohol - which soothes the pain. The addition of lanolin helps to prevent skin peeling by holding in moisture.
5. Apply Bio Oil to prevent sun damage
If it's not dealt with properly, sunburnt skin can turn dry and lead to lines, so treating sunburn properly is a way to prevent wrinkles. This is especially true around the face, which is why experts recommend using facial suncream or an SPF moisturiser every day on the face and neck - even when it's not sunny.
"It's important to treat the sunburn with products that have ingredients like vitamin E, which helps the skin heal and neutralise free radicals," Dr. Dendy Engelman, dermatologist at Manhattan Dermatology & Cosmetic Surgery, says. "Bio-Oil Multiuse Skincare Oil is packed with vitamins A and E - which work with the skin to promote cell regeneration - and lavender oil, chamomile oil, calendula oil and rosemary oil, which invigorate and condition the skin."
Dr. Dendy Engelman is a board certified dermatologic surgeon at Shafer Clinic Fifth Avenue. She is Director of Dermatologic Surgery at New York Medical College, where she oversees the training of future Mohs surgeons and dermatologists. She is also a fellow of the American Academy of Dermatology, American Society of Dermatologic Surgery and American College of Mohs Surgery.
6. Soak in an oatmeal bath to reduce inflammation
Oatmeal is one of the oldest sunburn remedies out there and for good reason, Pareena explains. She says, "Moisturisers containing colloidal oats may also help reduce inflammation of the skin and soothe irritation."
A study in the Journal of Drugs in Dermatology showed that soaking in the oats or applying a colloidal oat mixture to the burnt area can dramatically reduce inflammation from sunburn and dampen the soreness.
To make use of this sunburn remedy, add a cup of oatmeal into a bath of cool water and soak your body for about 20 minutes. Alternatively, make a paste with half oats and half water and apply it to the burnt area.
Wash the oats off and gently pat dry with a towel - avoid rubbing the skin as this will only irritate the burn further.
7. Place tea bags over your eyes to cool the skin
There are multiple properties in green and black tea that can help heal sunburn, which has been supported by research in the Pharmacognosy Reviews journal. The research found that the tannic acid in the tea pulls the heat from the skin, meanwhile the antioxidant compounds in tea called catechins repair skin damage.
This way of healing sunburn at home is particularly useful for those who've been sunburnt around the face and eye areas. To utilise the teas properties, soak two tea bags in cool water and place them on the top of closed eyelids to help bring down the swelling and reduce the pain.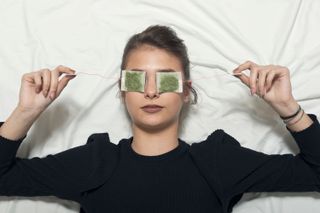 8. Wear lightweight fabrics while the burn is healing
While your skin is repairing, it's important to make sure not to irritate it any further by wearing tight or heavy fabrics as this can increase the chance of the skin peeling. It's also important not to peel the skin off yourself, because this increases the danger of infection - especially if tight clothes prevent the air from getting into contact with the skin.
Natural fibres, such as cotton or bamboo, make for the best post-sunburn coverings, so you might want to invest in some cotton pyjamas and even cotton bed sheets to help ease the soreness from sunburn. Plus, wearing cotton can help you sleep in the heat too.
9. Apply a cucumber mi