'Skinny' prosecco with just 67 calories per glass to launch in supermarkets
It also has 50% less sugar than similar drinks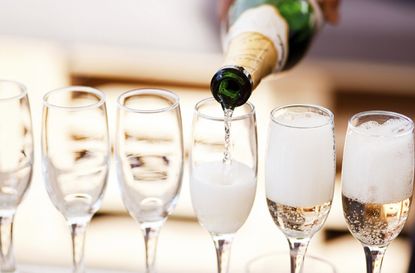 Trying to get healthy, but still want to enjoy a glass of your favourite tipple?
Well, we've got some good news for you - now you don't have to choose between the two, thanks to Thomson & Scott's 'Skinny' prosecco, which contains just 67 calories per glass.
The prosecco has been around for a while now, mostly sold in posh shops like Harvey Nichols and Selfridges, but now (brilliant!) news has reached our ears that not only is it being introduced to restaurants like Zizzi, it could soon be stocked in our local supermarkets - meaning we can get our hands on a bottle whenever we need one.
The drink hails from Soligo in Italy's Treviso province, and has less than 50% of the usual sugar content added in the production process, with 7g sugar per litre - not bad when you consider that the average bottle ranges from 12-17g, with some more indulgent brands containing up to 32g!
And as if that wasn't enough, we've done some maths for all of you Slimming World (opens in new tab) fans, and based on the online calculator, it's only around 3 and a half syns per serving.
If this isn't a reason to crack open a bottle to celebrate, we don't know what is...
Thomson & Scott CEO Amanda Scott explains that she created the drink after being raised on a sugar-free diet, but still developing a taste for bubbles.
'I was raised sugar free by a health-conscious mother who taught me that sugar was the devil. It turns out - she was right,' she says.
'When I grew up, I fell in love with champagne and was compelled to create a Skinny Wines portfolio for those who want to drink something beautifully crafted but with the benefit of no/low added sugar.'
A 750ml bottle of Skinny prosecco costs around £17.99, which might be a little more expensive than your usual brand. However, for the minimal syns, low cals and reduced sugar, we think it could just be a bottle that's worth forking out for...
Would you switch to Skinny prosecco to save calories and sugar, or will you be sticking with your usual brand? Let us know your thoughts in the comment box below!