'I felt a bit dirty' Stacey Solomon opens up about HPV struggle
Stacey Solomon has opened up about her battle with HPV – admitting she originally kept her diagnosis a secret because she 'felt dirty'.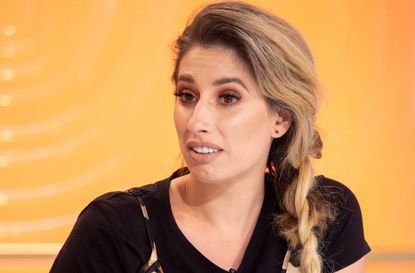 Stacey Solomon has opened up about her battle with HPV – admitting she originally kept her diagnosis a secret because she 'felt dirty'.
The 28-year-old, who previously admitted her ongoing battle with anxiety, made the revelation during an appearance on Loose Women on Monday, admitting she felt 'nervous' about discussing the virus.
As the panel debated whether the HPV vaccine – currently offered to all schoolgirls – should be offered to boys as well, Stacey revealed that she had contracted the virus from an ex-partner.
'I spoke about this on the show before, that I contracted HPV. The person who gave it to me decided to tell me after we'd had a relationship together,' she told co-panellists Ruth Langsford, Jane Moore and Coleen Nolan.
'A lot of people he'd had relationships with had gone back to him saying, "I've got this virus and I believe I've contracted it from you, as I didn't have it before".'
Stacey also confessed that it took her a long time to openly discuss her diagnosis because she was worried about other people's opinions of her.
'I did get nervous talking about it in the beginning. I almost felt a bit dirty,' she added.
'I thought, if I was to talk about something I contracted sexually, it makes me [look like] someone who sleeps around, or is irresponsible. But I was taking all the precautions.
'You can even get this virus when using protection, it's skin-on-skin, so you really have to be very careful.'
The mother-of-two first revealed her diagnosis during an appearance on Loose Women back in 2016.
She said at the time: 'I was really upset to find out they had a serious strain of HPV which causes cervical cancer.
'I always practised safe sex, so I used a condom, you know I did all the right things but you just can't prepare yourself, you need to know about your partner.
'It turned out the only reason I found out was because he decided to tell me. I felt very violated. Now I have to go six-monthly for smears.'
HPV, or Human papilloma virus, is the name for a group of viruses that can affect skin, as well as anus, mouth and throat, and cervix in women. In some cases, such as reality star Jade Goody who died from cervical cancer in 2009, it can lead to more serious conditions.
Genital HPV infections are common and highly contagious, as they spread not only during sexual intercourse but also with skin-to-skin contact of the genital areas, according to the NHS.
The virus can cause genital warts, and also abnormal tissue growth and cell change in a women's cervix, which can sometimes lead to cervical cancer.
A Freelance Writer and Content Editor, Jenni has been working on the women's lifestyle team at TI-Media on and off for over three years. She writes about your favourite celebrities and TV shows so you never miss an update. Jenni also writes beauty news and features - so for all of your skincare and make-up needs, drop her a line.