Why your sunscreen is giving you less protection than you think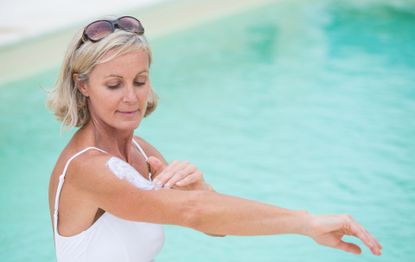 Whether you're a fan of a transparent spritzer or prefer traditional white cream lotions, few of us are applying a sufficient amount of sunscreen to protect ourselves, the latest research has revealed.
A new study from King's College London has shown that protection from the sun's UV radiation was only significant when sunscreen was applied at a thickness between 1.3 and 2.0 milligrams per centimetre squared.
According to previous studies, most people are only applying a layer of 0.75 milligrams per centimetre squared, which provides a mere 40% of the protection you should be getting from a particular SPF (sun protection factor).
Most skin cancers are caused by DNA damage from the sun's UV rays.
To test the effectiveness of sunscreen when it is applied in a way closely resembling most people's day-to-day use, researchers measured the amount of DNA damage in the skin of 16 volunteers who wore varying thicknesses of sunscreen when they were exposed to UV light.
The volunteers were split into two groups, with one receiving just a single dose of UV radiation to mimic sunlight exposure while wearing a typically thin layer of suncream, and the other receiving many doses over a 5-day period, which one might experience on holiday, while wearing the recommended amount of suncream.
Volunteers received the radiation within 15 minutes of applying sunscreen, and skin biopsies were taken immediately after UV exposure.
The results showed that volunteers who wore their sunscreen at the manufacturer-recommended level of thickness had the most significant protection from sun damage, even after being exposed to high doses of UV over a longer period of time, compared to those who wore a thin layer but received less UV.
Is it time to ditch the factor 15? The KCL scientists recommended people wear a higher SPF (at least SPF 30) to compensate for the usual thin application.
'Given that most people don't use sunscreens as tested by manufacturers, it's better for people to use a much higher SPF than they think is necessary,' said Antony Young, study leader and professor of experimental photobiology at King's College London.
SPF ratings are given from the manufacturer based on the assumption that the sunscreen is being applied at least 2.0 milligrams per centimetre squared.
'People are typically getting much less protection than they think,' he added.
'For example, if you get SPF20 and use at a lower thickness of 0.75 milligrams per centimetre squared, your level of protection could be as low as SPF4.'
Though sunscreen may be pricey, it's important not to skimp, so make sure you coat it on thick! It's also worth remembering that sun cream does go out of date, so make sure you check the expiry date and stock up when you need to.
Anna Bailey is the editor of GoodTo. She joined the team in June 2018 but has been a lifestyle writer and online editor for more than 14 years. Anna graduated from Bournemouth University in 2004 with a degree in Multimedia Journalism and went on to gain her NCTJ and NCE journalism qualifications. She began her career in local journalism, working as a reporter for the Basingstoke Gazette in Hampshire. As Lifestyle Editor for ITV.com she managed the websites for the broadcaster's best-loved shows including This Morning, Loose Women, Coronation Street, Emmerdale, Coleen's Real Women, and Britain's Best Dish. Before joining Goodto.com she was also a Features Editor at MSN UK and Digital Lifestyle Editor for the broadcaster UKTV. She's also contributed to The Mirror, The Sun, LoveFood, LoveExploring, and TBSeen.