The SlimFast Diet - is the plan right for you?
SlimFast is a popular diet plan that has helped thousands of women lose weight over the past three decades. But how does SlimFast work?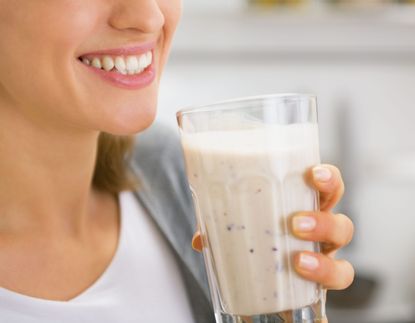 (Image credit: Alamy Stock Photo)
Goodto Newsletter
Parenting advice, hot topics, best buys and family finance tips delivered straight to your inbox.
Thank you for signing up to GoodTo. You will receive a verification email shortly.
There was a problem. Please refresh the page and try again.
You've probably heard of the SlimFast diet, but have you tried it? We've got all the information you need to decide if the Slim Fast diet is for you plus expert advice.
The SlimFast diet has to be one of the most well-known diets around - which isn't surprising when you consider that it's helped thousands of people lose weight over the past three decades.
The plan is known as one of the diets that work fast, while encouraging healthy and steady weight loss. In fact, in our SlimFast review, our tester Sarah explains how she lost an incredible five stone on the plan. But what is SlimFast, and how can you use it to get equally great results?
What is SlimFast?
The SlimFast Plan is built around a selection of meal replacement products, low calorie meals and a variety of snacks, like bars, pretzels and porridge.
Each SlimFast meal is nutritionally balanced so you don't have to take additional vitamin supplements, unlike many other diets. SlimFast is good for people who lead busy lives or who often eat on the run - because the meal replacements are pre-packed, there's no need for weighing portions or counting calories.
How does the SlimFast diet work?
The SlimFast plan is really easy to follow - it's said to be 'as simple 3. 2. 1', because each day, you can eat three snacks, two meal replacement shakes or bars, and one healthy 600 calorie meal per day (or 800 calories for men).
The SlimFast plan is designed to deliver between 1,200-1,400 calories per day for women and 1,600 calories a day for men. This creates a calorie deficit of around 600-800 calories a day, so you should experience a steady weight loss of around 1-2lbs per week.
In addition to eating up to six times a day, you're also encouraged to drink plenty of water, and take up regular exercise.
What are the drawbacks of SlimFast?
The plan is portion controlled, so if you're used to large portions you may struggle during the first few days.
If you're eating out in the evening or celebrating a special occasion, you'll also have to try and keep within the 600 calorie limit, or miss out a few snacks in the day to allow for the extra calories.
Nutritionist Rob Hobson explains that whilst SlimFast is a great option for some people to lose weight it's still essential to enforce healthy eating habits.
'My only problem is that it's not 'real food' so you need to learn to understand what it means to eat well in order to avoid yo yo dieting.'
Rob adds: 'The positive of a SlimFast diet is that it's calorie controlled and everything is given in the right portion size so it's all managed for you. The shakes are also fortified with vitamins and minerals however they are low in cals so you might find yourself feeling hungry!'
What do you do on the SlimFast diet?
A day on the SlimFast diet plan might consist of:
Breakfast: SlimFast Chunky Chocolate Shake Snack: SlimFast Golden Syrup Porridge Lunch: SlimFast Salted Caramel Meal Replacement Bar Snack: Small bunch of grapes Dinner: A 600-calorie, balanced meal of your choice Snack: SlimFast Cheddar Flavour bites
SlimFast products are sold online and in most major supermarkets, Boots and Superdrug stores, but keep your eyes peeled, as they often have deals on certain products.
The SlimFast Meal replacement shakes contain no added sugar, high in protein and fibre and contain with 23 vitamins and minerals in every serving.
SlimFast say that the SlimFast Advanced Vitality shakes (specifically) offer a holistic way to lose weight helping you to feel great on the inside and out. The unique SlimFast Advanced Vitality shake recipe is made with selected ingredients to support your metabolism and reduce tiredness and fatigue - essential when losing weight and keeping it off.
SlimFast Offers- Where's the best place to buy it?
It's best to shop around for SlimFast products as the same 450g tub of SlimFast Chunky Chocolate Shake mix can vary from £6.85 from Chemist Direct, £7.29 from Superdrug and £8.99 from Amazon.
Some stores will sell bundles which will help you save a few extra pounds. Amazon sell a pack of four shake mixes for £29 while SlimFast.co.uk sell a seven day starter pack for £24.99 which includes snacks, ready-to-drink shakes and meal replacement bars. Boots sell a four week bundle pack for £60 which if the same products are bought separately would cost you nearly £19 more.
'SlimFast kickstarted my weight loss!'
Alex Vanstone lost 2 stone following the SlimFast 3.2.1 Plan. Last year Alex took part in the Channel 5 TV show 'Lose a stone for Christmas' where she was asked to trial the SlimFast plan. Alex says: 'My main reason to go on the show was to give me a real push to kick start my weight loss plus I was sick of being the dumpy one in my group of friends! My clothes were too tight and I was constantly paranoid of how I looked. I'm not lacking in confidence but felt I was holding back a lot due to how I felt. I've always struggled with my weight and I've pretty much tried everything out there, however SlimFast wasn't one of them till the show. I had several misconceptions about the brand and once I'd looked into it I felt very confident and was eager to get stuck in.
The plan was simple and effective, I started seeing results quickly! The ready to drink chocolate shakes are my favourite, they keep me full and I love the fact that they have all the vitamins & minerals my body needs. SlimFast has been a game changer for me, its taught me about portion size and the importance of eating a good mix of healthy & filling foods.
In total I've lost a total of two 2 stone and couldn't be happier. I love that people notice and there's no better feeling than someone telling you that you look great! (If only we could bottle that!)
During lockdown I've definitely had more 'snack-cidents' than I would like to admit! With the kitchen fully stocked it's hard not to make a few extra trips to the 'treats' cupboard. SlimFast gives me the routine and structure I need to keep me on track when I need it. I certainly don't want to slip back to where I was before. I can just imagine how disappointed I'd feel to have undone all my hard work. Losing the weight gave me the confidence to embark on a new career – it's literally given me a new lease of life and I wouldn't give that up for anything! So now that lockdown is easing I'm starting to up the exercise and reduce my trips to the snack cupboard!'
Follow SlimFast diet meal plan below
How to follow:
Simply pick and mix from the breakfast, lunch and dinner options to hit a calorie count of 1,400 for women and 1,600 for men.
Busy day? Work it the SlimFast way. Use SlimFast products throughout the day and enjoy your main meal in the evening, or if you have a busy evening ahead, use your 600 calories for lunch (see below) and SlimFast products for when you're on the go. Lunches and dinners can be swapped to suit your day. Just do what works for you!
Breakfasts
Loaded eggs
Serves 2, 305cal per serving (V)
Method: Heat 1tbsp half-fat butter and add 100g peas, ¼ leek chopped, 4 closed cup mushrooms, ¼ courgette (sliced), ¼ chopped red pepper, ¼ chopped yellow pepper and 1 chopped garlic clove. Sauté for 5 mins. Add 4 whisked eggs and grill for 5 mins.
Mini caramel pancakes with berries
Serves 2, 100cal per serving (V/GF)
Method: Blend 20g rolled oats, pinch of salt, 1⁄2tsp baking powder and 1 scoop SF Advanced Vitality Salted Caramel powder. Add 40g ripe banana, 1tsp vanilla extract and 1 egg white with a little water to form a batter. On a medium heat and using a few sprays of cooking oil, create four dollops in a pan. When bubbles form, flip until golden. Serve with 20g mixed berries and 2tsp maple syrup.
Berry cranachan
Serves 2, 155cal per serving (V)
Method: Mix 100g 0% fat yoghurt with 10g flaked almonds, 25g oats and 110g raspberries. Drizzle with 2tsp honey.
SlimFast chocolate crunch meal replacement bar
15g of protein, 217cal and 23 vitamins and mineral per bar!
Lunches
Egg & avocado salsa open salad
Serves 1, 590kcal per serving (V/D)
Method: Toast 2 slides of sourdough (90g) and top with 10g spinach leaves. Mix 1⁄2 ripe avocado (approx. 80g). In a bowl mix 50g tomatoes, 1tsp lime juice, 1tsp olive oil and seasoning – spread on toast. Top with 2 large hard boiled eggs (sliced), 1⁄4 red chilli and 1tbsp pumpkin seeds.
Mediterranean pasta
Serves 2, 597kcal (V)
Method: Heat 1tbsp olive oil in a large, non-stick pan and add 1 crushed garlic clove, 1 chopped red onion, 1 chopped red/yellow pepper and 150g chopped courgettes. Cook for 5 mins until softened and then add 400g tinned tomatoes, 1 veg stock cube and 100ml boiling water. Simmer gently with the lid on for 20 mins. Cook 220g wholemeal pasta and drain. Serve with sauce and 40g grated cheddar cheese.
Smoked salmon & horseradish cream cheese sandwich
Serves 1, 594 per serving
Method: Toast 2 slices of sourdough bread (90g). Mix 70g light cream cheese and 1⁄4 tsp horseradish cream. Spread on toast, add 120g smoked salmon, 50g radish slices, 70g cooked, sliced beetroot and 70g sliced cucumber. Sprinkle with 1⁄2tsp mixed seeds.
Wholemeal quesadillas
Serves 2, 592kcal (V)
Method: Preheat oven to 200C/Gas 6. Add 1tbsp olive oil, 2 crushed garlic cloves, 120g chopped onion and 1tsp of ground cumin to a pan and heat gently. Put the lid on and sweat for 5-10 mins until the onions are soft.
Add 400g mixed beans and 200g chopped cherry tomatoes and cook for 10 mins until the tomatoes start to soften. Season with salt and pepper.
Lay 2 tortillas out flat on a baking sheet and place half the bean mixture on each half of the tortilla, followed by 50g grated cheese. Fold the tortillas over and press down gently. Place in the oven for 5-10 mins until golden.
To make the salad, mix 50g rocket leaves with 1⁄2 an avocado (chopped) and juice of half a lemon.
Slimfast vitality raspberry crush shake
260 calories per serving
Made with skimmed milk.
Dinners
Asian chicken ramen
Serves 2, 598kcal (DF)
Method: Heat 1tbsp sesame oil in a large pan and add 3cm ginger (chopped), 1 chopped garlic clove and 1⁄2 red chilli (optional). Cook gently for a few minutes, then add 100g mangetout, 100g baby sweetcorn and 100g sliced red pepper. Cook for a further 2-3 mins.
Toast 40g sliced cashews in a separate pan, leave to one side.
Add 1ltr chicken stock to the vegetables along with 230g shredded cooked chicken, 300g Udon/Ramen noodles and 1 tbsp soy sauce. Bring to boil and cook for 4-5 mins.
Now, stir through the spinach leaves and squeeze in some lime to taste. Serve in large bowls and sprinkle with the toasted cashew nuts.
Italian vegetable risotto
Serves 4, 544kcal (V)
Method: Melt 25g of half-fat butter in a large pan, add 1 finely chopped onion, 1 chopped garlic clove and cook for approx 5 mins, stirring occasionally, until soft but not brown. Add 350g Arborio rice and cook, stirring, for around 2 mins.
In a separate pan, make stock using 2 vegetable stock cubes and 600ml boiling water. Using a ladle, add approx 150ml stock and simmer the rice gently, stirring frequently, until liquid has been absorbed. Continue adding the stock in this way and cooking (for approx 10 mins) until the rice is tender.
Stir in mixed fresh vegetables and continue cooking gently, for approx 5 mins, until rice and vegetables are tender, virtually all the stock has been absorbed, and the mixture is creamy. Season to taste, add 40g Parmesan and 35g half-fat butter before serving.
Smoked haddock, asparagus & poached egg
Serves 2, 561kcal
Method: Boil 500g desiree potatoes (peeled and chopped) for 15-20 mins until cooked through. Remove the woody ends from 250g asparagus. Put another pan on and fill with boiling water. Add the asparagus and cook for 3-5 mins until tender.
Meanwhile, poach 2 eggs. Place smoked haddock fillets in a microwave-safe bowl, add 1tbsp water and cover with a loose-fitting lid. Microwave on full power for 3 mins.
Drain the potatoes, add 1tbsp olive oil and mash until smooth.
In a microwave-safe bowl, mix 80g half-fat creme fraiche, 1-2tsp Dijon mustard, a squeeze of lemon juice, salt and pepper. Microwave for 30 seconds, remove and stir before replacing for another 30 seconds.
Serve as stack – potatoes, fish, egg and dressing.
Red bean and pepper chilli
Serves 2, 607kcal (V)
Method: Heat 1tbsp oil in a non-stick saucepan and when hot, add 1 chopped onion, 1 crushed garlic clove and 1 chopped red pepper. Cover and cook over a medium heat for approx 5 mins.
Stir in 400g red kidney beans, 200g sweetcorn (no need to drain), 200g tinned tomatoes, 100ml vegetable stock, 1tsp chilli sauce, 1tbsp tomato puree and 1tsp sugar. Simmer for around 5 mins.
Top with 1⁄2 avocado (sliced), two spoonfuls of soured cream and red chilli to taste.
Snacks
Salted caramel chocolate balls
Makes 12, 99 kcal (V)
Method: Blend 75g ground almonds, 30 chia seeds, 150g dates, 25g raisins, 1 scoop SF Advanced Vitality Salted Caramel shake mix, 2tbsp unsweetened cocoa powder and 1⁄4tsp salt. Add 2tbsp water and whizz until combined. Divide into 12 balls and freeze for 20 mins before serving.
Banana berry burstice cream
Serves 2, 97kcal
Method: Freeze 200g chopped banana overnight. Place in blender with 1 scoop of SF Advanced Vitality Strawberry & Blueberry powder, 30g frozen raspberries and blend. Serve immediately.
Snack ideas
(All around 100 calories)
✱ Large boiled egg ✱ Gin/vodka & diet tonic ✱ 1 crumpet with Marmite ✱ 1 pot of low-calorie yogurt ✱ SlimFast Sour Cream & Chive Flavoured Pretzels ✱ SlimFast Chocolate Caramel Bar ✱ Banana ✱ 2 x satsumas ✱ 1 small bunch grapes
Have you tried it? Let us know about your results in the comment section below.
Parenting advice, hot topics, best buys and family finance tips delivered straight to your inbox.
Rose Goodman joined Future Publishing in 2020 and writes across Goodto.com, Woman & Home, Woman, Chat and Woman's Own magazines. Prior to pursuing her career as a writer, Rose obtained a degree in psychology and went on to work in adult mental health for five years at Addenbrooke's Hospital, Cambridge, specialising in eating disorders. She is fully trained in first aid, medical emergency response and motivational interviewing – a directive, patient-style counselling approach to address ambivalence in recovery. She graduated with a MA in creative writing from the University of Brighton in 2017. In her spare time she enjoys writing poetry and attending literary events, and offers weekly support to those living with homelessness. Rose has a passion for raising awareness around mental illness and the importance of prioritising our wellbeing.