Tina Malone reveals that she eats SEVEN meals a day to maintain 12 stone weight loss
'It's not what you eat, it's how much you eat'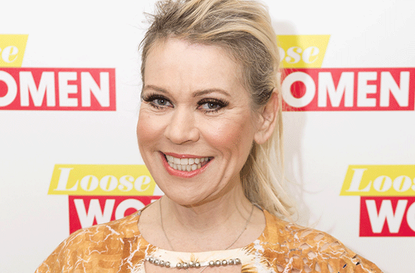 Tina Malone has revealed the secret to maintaining her 12 and a half stone weight loss.
Discussing her incredible transformation with OK! magazine, the actress, 54, said that she now stays a slim size six by eating seven meals a day.
'I haven't cut out anything,' the former Shameless star said. 'It's now what you eat, it's how much you eat - I have seven meals a day.'
'By meals, I mean what a child would eat. It's a slow energy release, so it lasts longer. There's loads of fallacies - people think by not eating after six o'clock they'll lose weight, which is a complete and utter fallacy.'
'I know, I've met enough nutritionists and doctors to know that if you don't eat after six o'clock and you're still awake at 10 or 11 o'clock, your body goes into shock and goes, 'Oh my god we're not getting supper'.'
'Whereas, if you keep it going, you're fooling your body, and you have supper at eight or nine, your body is still using the energy.'
Tina has slimmed from a size 28 to a size six in recent years
In 2010, 5ft 1in Tina underwent two gastric operations to help her to get her unhealthy eating habits under control.
'I know the difference between a piece of broccoli and a cream cake, but I couldn't help myself,' she told Closer magazine at the time. 'I got into the habit of overeating. I tried every diet going, but I couldn't control my weight. I'd lose a bit and then put it straight back on again.'
'I'd eat bags and bags of crisps and bars of chocolate all in one sitting.'
'I felt terrible about my life. It's such a myth that fat people are jolly and full of fun - just rubbish. They look terrible and they feel crap about themselves'.
She's since said that the surgery 'changed her life', telling OK! that her weight loss had also helped to rid her of her diabetes.
'I was diabetes type two, I was what I call a, 'fat diabetic', it wasnt diabetes type one, which a lot of people are automatically born with or develop,' she explained.
'I was on 38 tablets a day for blood pressure and diabetes, so it was sugar and obviously being incredibly unfit and unhealthy.'
However, she's also been honest about the downsides to losing such a large amount of weight, including being left with extreme excess skin, for which she has had removals in the past, and is reportedly planning further surgery to correct in the future.
After receiving cruel comments from online trolls about her skin earlier this year, mum-of-two Tina tweeted to her followers: 'I am horrified by the wrinkly skin on my legs,tummy,back,bum etc in the mirror,mail,men,echo today,,I actually have sobbed tonite.'
'But I'm only human, I don't deserve the batterin iv had from people,not the press just nasty comments,its not fair to my hubby,daughters etc'
'I take it all and that goes with the job,I'm not blind I know how much skin I need to have removed,I just feel for my family'.
Trusted, informative, and empathetic – GoodTo is the ultimate online destination for mums. Established in 2007, our 15-year-strong archive of content includes more than 18,000 articles, 1,500 how-to videos, and 7,000 recipes.