Ashley James' warning to fans after her cat almost drowns in the bath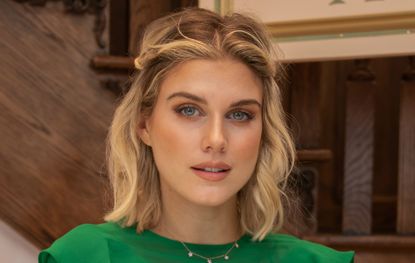 The former Made in Chelsea star revealed the terrifying moment her cat almost drowned in the bathtub.
Ashley James has issued a warning to fans to remember to drain the bath water after each use, as her cat was left 'traumatised' after almost drowning in the bath.
The TV star shocked followers on Instagram by revealing that she had 'forgot' to drain water after soaking in tub, and had no idea her cat, Lady, had jumped in.
Sharing details of the scary moment on her Instagram story, Ashley wrote: 'Guys, last night I heard splashing and presumed the kittens were playing around. So I followed the noise filming, as I always do, and Lady was drowning in my bath water.'
She continued: 'Little sausage was so traumatised by today she's dry and cuddled up to me. Lesson learned: don't forget to empty the bath, so grateful I heard her.'
The most popular pet names of the year have been revealed (opens in new tab)
Ashley, 31, is a massive animal lover and has other cats, as well as a dog who is called Snoop. She regularly posts pictures of her little family on her Instagram page, keeping followers up to date with their ventures.
When having a cat is JUST like having children (opens in new tab)
Since Lady's frightening ordeal, Ashley uploaded a video of her to her Instagram story to assure followers that she has well and truly recovered. The video showed Lady playfully rolling around on a table, whilst being loving scratched by the TV star.
The reality star is best known for her role in the fourth and fifth series of Made in Chelsea, in which she briefly dated Francis Boulle and was later romantically linked with Ollie Locke. She also appeared on Celebrity Big Brother last year.
Have you ever had a scary incident in the house with one of your pets? Head over to our Facebook page now to share your experience with other readers!
Freelance Lifestyle Writer
Niamh McCollum is a freelance lifestyle writer who has written for Future titles GoodTo and Marie Claire UK, plus the Irish Independent. The Dublin-based journalist specialises in stories
affecting families - from health updates, to the freshest parenting debates and celebrity announcements.