Bleeding eyes make-up tutorial
Make Halloween make-up less of a trick and more of a treat with this incredibly easy (and spooky!) bleeding eyes make-up tutorial.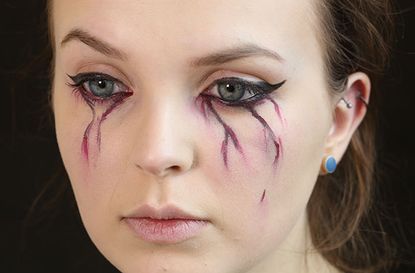 Want a spooky but still simple Halloween make-up look? These creepy bleeding eyes will do the trick!
Whether you're incorporating this sinister style into a zombie costume or letting them be the star of the scare on their own, all you need to do to recreate this bleeding eyes make-up is follow a few simple steps, using items you've probably already got in your make-up bag.
You will need...
Black gel eyeliner
Black kohl eyeliner
Black (or dark grey) eyeshadow
Dark red lip lacquer
Two small make-up brushes - one to draw lines, and one for blending
How to create bleeding eyes Halloween make-up
Start by applying your normal face of make-up, if you wish - we've applied a neutral base of foundation and concealer and some winged eyeliner
Use the black gel eyeliner and a firm-tipped brush to create small branch shapes, extending out from your waterline and down across your cheeks
Smudge the lines slightly as you draw
Add spots of the red lip lacquer to the black lines and rims of your eyes, again smudging slightly as you apply
Darken the inner rim of your eyes with the kohl eyeliner
Repeat the same process on your other eye. Don't worry if they're not symmetrical!
And you're ready to hit the Halloween party!
Tip: Apply red lip lacquer to your lips as well for a more dramatic, vampy look!
(Note: When choosing your make-up products for this look, it's important to select eye-safe products and take care when using the lip products around the eye area).
Have you recreated our bleeding eyes Halloween make-up tutorial? Leave us a picture of your work in the comments below!
Products used in this video: GOSH Extreme Liquid Gel Eyeliner, Coloup Pop Liquid Lipstick in Avenue, Revolution Iconic Pro 1 Eyeshadow Palette, Real Techniques Starter Set eye brushes