Acne sufferers rave about natural supplement that clears skin in just a few weeks
Botanycl's Skinclear Elixir has been getting five-star reviews from hormonal acne sufferers.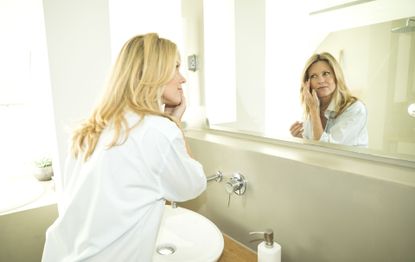 (Image credit: REX/Shutterstock)
GoodTo newsletter
Sign up to the GoodTo Newsletter. You can unsubscribe at any time. For more information about how to do this, and how we hold your data, please see our privacy policy
Thank you for signing up to . You will receive a verification email shortly.
There was a problem. Please refresh the page and try again.
A natural supplement is said to be curing people's acnes in just a few weeks according to shoppers' rave reviews.
Acne is never a fun problem to deal with, and becomes especially frustrating when it feels you've tried any and every solution in the market.
However, there's a new natural supplement that acne sufferers are raving about. The Botanycl's Skinclear Elixir has been getting five-star reviews from hormonal acne sufferers.
The all-natural plant-based supplement combines saw palmetto berry and acerola cherry extracts with natural carotenoids and sunflower and coconut oil powders, and comes in a vegan-friendly vegetable cellulose capsule. It is also free from gluten, sugar, artificial flavourings and preservatives, and genetically modified ingredients.
The botanical extracts used in the capsules naturally contain high levels of antioxidants and anti-inflammatory nutrients, including vitamins A and C and omega fatty acids. These are said to combat excess oil production by supporting androgen hormone balance. The ingredients were also chosen to help support healthy collagen formation and skin healing.
Users are advised to take two capsules a day, preferably with meals. A one-month supply costs £24.95.
Reviewers are calling the 'magic pills' their 'saving grace'. One woman said she bought the supplements after suffering from severe acne for 15 years.
She wrote in a review: 'I had tried EVERYTHING, and I mean everything. Every type of product, treatment, doctors' creams and antibiotics, contraceptives.
'I decided to buy the Skin Elixir as the reviews seemed to match exactly what I was suffering with. And I'm so glad I did!! My skin is a million times better, I no longer get big painful spots, and my skin's the best it's been in years.'
Another reviewer said she was in her forties and had suffered from acne since her teens. 'Amaaaaazing!!' she wrote. 'It works! For real. Best product I have ever tried. No acne and no side effects.'
While the product didn't work for 11 per cent of Amazon reviewers, 78 per cent gave it a five-star rating.
'I really can't fault this product,' one customer enthused. 'I've gone from years of suffering / putting up with cystic, painful acne to clear, smooth skin that I no longer need to be embarrassed about. I've even ditched my concealer which I usually wouldn't be seen without. I'm fully comfortable with leaving the house with no makeup on.'
Have you ever tried this product or are you now tempted? Head over to our Facebook page and let us know your thoughts!
Samantha is a freelance writer at Goodto who has been with team since 2019. Initially trained in psychology, she specialises in health and wellbeing and has additionally written for magazines such as Women's Health, Health & Wellbeing, Top Santé, Healthy, Refinery29, Cosmopolitan, Yahoo, CelebsNow, Good Housekeeping and Woman&Home.