Giovanna Fletcher shares inspirational post after running the Vitality London 10k in her underwear
Giovanna Fletcher ran 10km in her underwear to promote body positivity.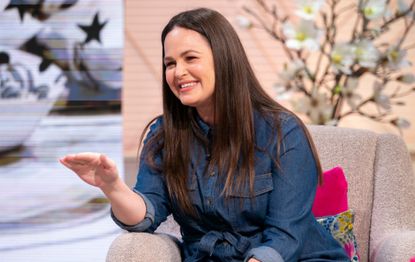 Giovanna Fletcher ran 10km in her underwear to promote body positivity.
The mum-of-three took to Instagram to share an image of herself and her teammates (including Loose Women panellist Andrea McClean) celebrating as they approached the finish line – and her social media followers were full of praise for the women, who bravely completed the 10km run in their underwear.
'I love this pic of us,' Giovanna wrote. 'Believe it or not we are actually running. The finish line was 200 metres ahead and we knew we'd done it! Seconds after this was taken we sprinted to the finish. GLORY!! I know my body has birthed my beautiful boys, but it's also had years of me doubting and hating it as I've compared it to every other body out there.
'Over the last six weeks it has really surprised me while taking on this challenge. Our relationship has been a turbulent one over the years, but time and time again it has shown me its strength and determination. Thank you, Body. From the way you wobble and dimple, to the way you fill my heart with love – THANK YOU!'
Giovanna's heartfelt comments struck a chord with many online fans. 'Love, love, love,' wrote one. 'You are such an amazing role model for all women. Congratulations on your fantastic achievement.'
Fellow mums were especially inspired by Giovanna's joyful celebration of her body. 'I found this photo really inspirational,' one commented. 'I've struggled with the way my body looks after the birth of my second daughter six months ago. I suppose you don't realise what it goes through.'
'Giovanna, you are an amazing woman!' another mum exclaimed. 'As a mother of eight, who loathes my body now, but is at the same time in awe of it, and grateful to it for making my dreams come true, I completely share your thoughts! Thank you for being so balanced and reminding us what's really important.'
Giovanna welcomed her third son, Maxwell Mario Fletcher (opens in new tab), with husband Tom Fletcher last August.
We think he'll grow up to be very proud of his mummy.
Samantha is a freelance writer at Goodto who has been with team since 2019. Initially trained in psychology, she specialises in health and wellbeing and has additionally written for magazines such as Women's Health, Health & Wellbeing, Top Santé, Healthy, Refinery29, Cosmopolitan, Yahoo, CelebsNow, Good Housekeeping and Woman&Home.