Mrs Hinch's book is the second fastest-selling non-fiction book of all time
The Instagram star's first book has beaten autobiographies by Alex Ferguson and Michelle Obama.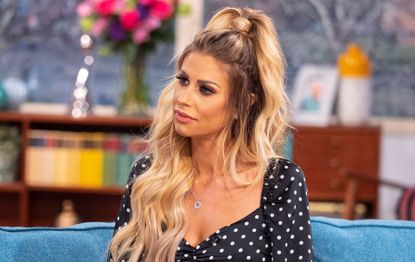 (Image credit: Ken McKay/ITV/REX/Shutterstock)
The Instagram star's first book has beaten autobiographies by Alex Ferguson and Michelle Obama.
Cleaning influencer Sophie Hinchcliffe has been credited with making millennials the cleanest generation of them all. And it looks like they've turned away from their screens and turned out in their droves to make her first book an overnight sensation. Quite literally – it hit the top of the Amazon bestseller list just one day after it was released.
The book, which is called Hinch Yourself Happy, was released a week ago. And today, The Bookseller confirmed that it was 'the second fastest-selling non-fiction title ever, beating fellow autobiographies Alex Ferguson's My Autobiography (Hodder) and Michelle Obama's Becoming (Viking) for single-week sales.'
Incredibly, the book sold 160,302 copies in its first week on sale.
Sophie expressed her astonishment at her achievement on her Instagram stories, writing: 'Can't believe it! Hinchers this is all because of you. Thank you!'
The book combines Mrs Hinch's cleaning tips and tricks (opens in new tab) with her tale of 'becoming Mrs Hinch'. Inside, the former Essex hairdresser gives her readers a much-anticipated insight into her life with hubby Mr Hinch and their dog Henry, and shares her experiences of how cleaning helped her with stress and anxiety.
Sophie recently teased some of the revelations from Hinch Yourself Happy, confessing that she had had a £6,000 gastric band op (opens in new tab), which left her in agony.
The book has already had more than 2,000 five-star reviews on Amazon.
'I adore this!' one reader exclaimed. 'It has everything from cleaning tips we already know to playlists of music, stuff about Mrs Hinch that really surprised me, and when you hold it it just feels like happiness and love. Mrs Hinch really deserves this! Wonderful woman.'
Another member of the Hinch army pointed out how handy it was to have all Mrs Hinch's greatest tips gathered together in one place, saying: 'I love following Sophie for many reasons, but a big reason is because of the fact that I find the plethora of cleaning products on offer particularly overwhelming. Here she tells us what actually works! Tried and tested. And this book has all of her loves in one handy place to refer back to with all of her favourite how-to cleans alongside them.'
Another reviewer explained that 'she gets me motivated, and that's why I love her so much,' adding that she thought Mrs Hinch was handling public life 'like an absolute boss!'
We couldn't agree more.
Samantha is a freelance writer at Goodto who has been with team since 2019. Initially trained in psychology, she specialises in health and wellbeing and has additionally written for magazines such as Women's Health, Health & Wellbeing, Top Santé, Healthy, Refinery29, Cosmopolitan, Yahoo, CelebsNow, Good Housekeeping and Woman&Home.