The nation's cleanest generation has been revealed and it might surprise you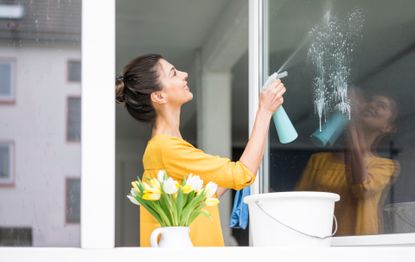 (Image credit: REX/Shutterstock)
The nation's cleanest generation has been revealed according to a study - are you included?
According to a new survey of more than 1,000 UK adults, the rise of cleaning 'influencers' like 29-year-old Sophie Hinchcliffe, better known as Mrs Hinch (opens in new tab), has made millennials (born between 1981 and 1996) the UK's cleanest generation.
Millennials spend an average of 3.65 hours a week cleaning their homes. That's almost double the amount of quality time Gen X-ers (born between 1965 and 1980) get with their mop and duster.
Generation X spend just 2.15 hours a week cleaning their home. They're also the most likely to hire a cleaner.
Baby Boomers on the other hand (born between 1946 and 1964) tend to see cleaning as more of a chore, devoting just under 3 hours a week to keeping things spick and span.
Mrs Hinch recently celebrated hitting two million followers on Instagram, and her audience continues to grow. More than two thirds of millennials have heard of her, and almost half have used one of her cleaning hacks. Millennials are also four times as likely as Gen X-ers to follow Mrs Hinch on social media.
Sophie, aka Mrs Hinch, married her husband Jamie in 2018. They have a Cocker Spaniel called Henry Hinch and recently announced that they are expecting their first child (opens in new tab) together.
'Yes I'm only 29 but I would prefer to clean, attempt to cook, sew and buy baskets than go clubbing,' Sophie recently declared on Instagram Stories. 'That's Mrs Hinch for ya, and I'm proud of it.'
'It's quite unbelievable to see the impact that Mrs Hinch is having on the nation with her cleaning hacks and entertaining videos on social media,' commented Mark Kelly, the marketing manager at AppliancesDirect.co.uk, who carried out the survey.
'Mrs Hinch's content makes cleaning look easy and enjoyable, and with so many young people engaged with her it is inspiring a house-proud generation.
'It's also astonishing to see how the younger generations are spending almost four hours cleaning each week in their homes,' he continued, 'suggesting they are keeping on top of the housework each day in a bid to avoid it building up overtime.'
Samantha is a freelance writer at Goodto who has been with team since 2019. Initially trained in psychology, she specialises in health and wellbeing and has additionally written for magazines such as Women's Health, Health & Wellbeing, Top Santé, Healthy, Refinery29, Cosmopolitan, Yahoo, CelebsNow, Good Housekeeping and Woman&Home.