NHS are giving out FREE Fitbits to people at risk of type 2 diabetes
Free Fitbits being given to those at risk of type 2 diabetes in a new NHS scheme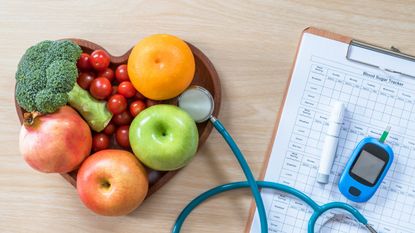 A steep rise in the number of people being diagnosed with type-2 diabetes has lead to the NHS rolling out a new scheme, giving patients free Fitbits, cookery sessions and even exercise classes.
A staggering 4.7 million people in the UK are living with diabetes, 90 percent of these being type 2, according to charity, Diabetes UK. And, with the overall number set to reach 5.5million by 2030, it's critical that we try to make a change.
Up to 8000 people seen to be at-risk of developing type 2 diabetes will be given fitness trackers – from brands such as Fitbit, Samsung and Garmin – as part of the new NHS England initiative, encouraging people to move more and remain active.
Dr Jennifer Smith, diabetes program director at Public Health England says: 'Many of us use on-the-go digital technology every day and this is a fabulous next step in diabetes prevention.'
The eligible partakers will also be offered 24-hour digital coaching, education and support on an app to allow users to set goals.
Although type 2 is becoming more common in younger people, you're more likely to develop it if you're over 40, or if you're South Asian, over 25. However, both type 1 and type 2 are as serious as each other, and both mean you have too much glucose (a type of sugar) in your blood.
READ MORE: 15 minute workouts to improve your strength, fitness and balance (opens in new tab)
Despite type 2 diabetes being on a significant rise, there are steps we can take to reduce and prevent our risk. Whilst type 1 diabetes isn't affected by lifestyle or weight, type 2 can often be prevented by eating healthily, being active and maintaining a healthy weight.
Dr Sarah Brewer is on the Medical Advisory board for CuraLin, the type 2 diabetes supplement. She says that 'sitting for long periods of time during the day is linked with an increased risk of developing type 2 diabetes, heart disease, cancer, obesity, and premature death'.
'Stand and walk around at least every 20 to 30 minutes and build regular exercise into every day.'
She continues: 'As well as this, avoid temptation of cakes and biscuits by enjoying healthy snacks – fruit, hummus and carrots, for example. It is important to drink plenty of water throughout the day to maintain hydration.
'Weight gain around the abdomen is an indication that your blood sugar levels could be high. Consider following a healthy more plant-based diet (low fibre, low-glycaemic index with only healthy carbs such as wholegrains, pulses, fruit and vegetables),' adds Sarah,
Keeping alcohol within health limits is also beneficial, as is monitoring stress levels.
'Whether or not stress can cause type 2 diabetes remains controversial, but if you already have type 2 diabetes, you are likely to notice that both emotional stress and physical stress can worsen your glucose control,' explains Sarah.
Speaking about the NHS program, Nikki Joule, policy manager at Diabetes UK, explains: 'With millions of people in the UK at increased risk of developing Type 2 diabetes, it's vital that the NHS England Diabetes Prevention Programme is able to reach as many people as possible.
'This could be vital in reaching more of the millions of people at risk of Type 2 diabetes, and in helping to reduce the increasing prevalence of the condition.
Freelance writer Lucy Gornall is the former health and fitness editor for various women's magazines including Woman&Home Feel Good You. She has previously written for titles including Now, Look and Cosmopolitan, Woman, Woman's Own, Woman's Weekly and Chat. She lives and breathes all things fitness.