Are No7's new Protect & Perfect range the best anti-wrinkle products EVER?
New No7 Protect & Perfect ADVANCED skincare range has hit the shelves, but what's the secret behind their new wrinkle-busting products?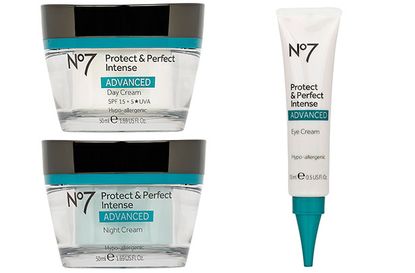 Those clever people at No7 have been at it again.
Nearly a decade after their original Protect & Perfect serums caused mass hysteria in Boots stores across the nation come more wrinkle-busting wonder products set to dominate our bathroom shelves. And not only do these promise to give better anti-ageing results than ever before, but the benefits are actually proven to increase with time and consistent use.
The new No7 Protect & Perfect Intense ADVANCED Skincare range, targeted at 35-45 year olds, is the latest addition to the cult product family and will replace the No7 Protect & Perfect Intense Skincare range previously available.
As well as the Protect & Perfect Advanced Serum for 25-35 year olds and the Protect & Perfect Intense ADVANCED Serum for 35-45 year olds, you can now purchase a day cream, a night cream and an eye cream all containing Boots' unique age-defying formula.
Boots have added the 'magic' ingredient from their serums into their day cream, night cream and eye cream - hoorah!
But what's the difference and why has the old range been replaced?
Completely replacing the existing Protect & Perfect Intense Skincare range, they're the outcome of extensive research into the ageing process from top skincare scientists at Boots which sees them adding the proven anti-wrinkle and protection technology from the serums into a day and night cream (£24.95 each) and an eye cream (£17) - meaning it not only helps to make skin appear younger, but helps to protect against future wrinkles too. Result!
Dr Mike Bell, Skincare Scientific Advisor at Boots, hints at this being the ultimate combination for better-looking skin. 'So many outside influences have an effect on your skin, accelerating the ageing process. That's why we've added our most powerful anti-wrinkle technology, consisting of the powerful next generation Matrixyl 3000 Plus, and our best daily protection technology across the entire No7 Protect & Perfect Intense Skincare range. Helping to both prevent and protect against the signs of ageing.'
It's thanks to this Matrixyl 3000 Plus technology that the products target deep lines and wrinkles. Along with a clever Double Defence technology, which aims to neautralise damage from free radicals that can stress the skin, you'll be looking and feeling your best yet!
May 2014: Boots launch Protect & Perfect Intense ADVANCED Serums
Last year the new serums were released, and we still think these are the best anti-wrinkle serums we've come across! Not convinced? The results from Boots' findings really do still speak for themselves...
'Even after four weeks more than 85% or more of the users saying that they see their fine lines are reduced, and that their skin looks younger. Normally, it would take at least eight weeks to see this sort of result', said Dr Bell.
So the stats sound great, but where's the evidence? In the TV ad, real women were asked to test the serum for four weeks without being able to look in any mirrors whatsoever! See what happened when they were finally able to see their reflections:
http://www.youtube.com/watch?v=elLn3RERIz0
So does it work?
Over 2,600 women tested the product. In the group of women who didn't normally use a serum as part of their beauty regime, 79% that tested No7 Protect & Perfect Intense Advanced Serum would add it in to their regime without hesitation, and 81% of those trialing No7 Protect & Perfect Advanced Serum would do the same.
How exactly is this serum different to the old ones?
Scientists have increased the amount of their 'star ingredient' Matrixyl 3000, a peptide which has a powerful effect on repairing damage in aged skin, in both formulas. They've added a new highly concentrated peptide called 'acetyl-di-peptide' which complements Matrixyl 3000 to make the serum even more powerful.
Head hurt? So does ours! But despite the confusing science, the results really speak for themselves...
Before and after: the results on a 27 year old using No7 Protect & Perfect ADVANCED Serum after 3 months
Before and after: the results on a 45 year old using No7 Protect & Perfect Intense ADVANCED Serum for 3 months
Do I really need a serum?
So you moisturise daily (at least you try to!) but do you really need to bother with a serum as well? A serum is the part of your skincare routine that treats specific skin concerns that you might have. 'Serums are designed to deliver the key ingredients into the skin more effectively,' says Dr Mike Bell. 'They are targeted at very specific concerns such as lines and wrinkles in the case of the No7 Protect & Perfect ADVANCED Serums.' So if you're worried about ageing skin then a serum could be worth a try.
Which one is best for me?
The serums are available in two formulations for two different age groups, making it really easy for you to choose the best one for your skin: Protect & Perfect Advanced Serum for 25-35, £23.95, to tackle those first signs of ageing and fine lines, and Protect & Perfect Intense Advanced Serum for 35+, £24.95, for the deeper lines and wrinkles that are starting to appear (sigh).
How do I apply it?
Apply your serum to a dry face after you've cleansed, morning and evening. Moisturiser acts as a layer to seal in the products you've used and protect your skin from the outside world, so always apply your choice of moisturiser last.