Best eye creams for dark circles - tried-and-tested by our Beauty Editor
Waken up your under-eye area with one of these recommendations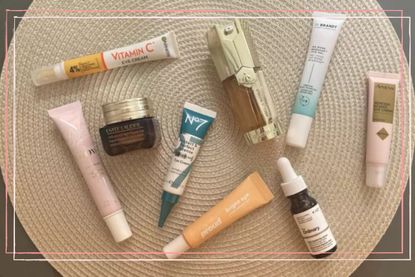 (Image credit: Stephanie Maylor)
The best eye creams for dark circles provide a solution to shadowy, tired-looking under-eyes.
According to a recent study*, over a third of women in the UK first notice signs of ageing around the eyes, and that includes dark circles. One of the most effective ways to get rid of dark circles under your eyes, besides drinking more water, cutting alcohol consumption and eating a vitamin-rich, alkaline diet, is to apply topical creams containing active ingredients that target under-eye rings. Yet only 23% of women in the UK use a specialized eye cream*. "For anyone concerned about signs of ageing, I recommend trying topical treatments before other methods, as it's often preventative," explains Dr Zoya Diwan, Expert in Clinical and Aesthetic Dermatology. There are specific ingredients that work specifically on improving the skin tone under the eye, according to Dr Angela Tewari, Consultant Dermatologist at The Lister Hospital (part of HCA Healthcare UK). "Using an eye cream with ingredients with vitamin C, and retinol can help brighten the under-eye area and reduce the appearance of dark circles."
The thing about the eye area is it's much more fragile than the skin across the rest of the face. This means it's not only likely to suffer from dehydration and show signs of ageing much more easily, but also makes it more sensitive. Your best moisturiser and facial oils are likely to be much too heavy for the eye area, and can actually make puffiness and dark circles worse. This is why you need a dedicated eye cream gentle and light enough for this puff-prone area. From high street favourites to luxurious formulas with anti-ageing benefits, our selection of the best eye creams for dark circles will help pare down bags, restore hydration and brighten up tired under-eyes.
*Data taken from a study of 1091 women aged 16+ in the UK. Study commissioned by Avon, conducted by Censuswide.
What to consider when looking for the best eye cream for dark circles
Star rating: Our in-house star-rating system is based on peer reviews. They've tried and tested the eye creams and awarded stars based on factors such as product quality, ease of use, customer feedback, awards and value for money. Products that have received a 5 star status are rare and considered exceptional, going above and beyond our reviewer's expectations.
Active ingredients: The best eye creams for dark circles contain potent active ingredients, such as antioxidants, caffeine, peptides, retinol and brightening ingredients like vitamin C. Some eye creams on this list contain optical brighteners that provide an immediate improvement.
Cruelty-free: More and more beauty brands have realised that testing on animals is not a humane or sustainable practice. We're keen to select products from brands that follow this ethos.
Packaging: Eye creams come in many forms - whether that's a snazzy pump dispenser or squeezy tube. Both forms help to keep the active ingredients fresh to maintain their potency, as well as being a more hygienic option than a jar that you have to scoop from. And of course, sustainability is a serious concern - anything that is non-recyclable is a no-no for us.
Best eye creams for dark circles
1. Avon Anew Renewal Power Eye Cream
Best eye cream overall
Specifications
RRP: £14
Active ingredients: Protinol™
Packaging: Squeezy tube
Reasons to buy
+
Great price
+
Results in 7 days
+
Impressive in-clinic trial results
+
Instant brightening effect
If you're already a fan of Avon's Renewal Protinol™ Power Serum, you'll love this new eye version, powered by the same award-winning Protinol™ technology, and designed to restore younger-looking eyes. Here comes the science bit. One of the major reasons we start to see dark, sunken under-eyes is due to a loss of volume that comes with age. As this pillowy-plumpness shrinks, it creates shadowing. Couple this with dwindling collagen and elastin levels, which give skin its structure, strength and resilience, and the skin becomes thinner, revealing the blood vessels under the eye that makes the whole area appear darker.
Using patented Protinol™ technology (a faster and gentler alternative to Retinol), this eye cream boosts the two types of collagen present in baby skin to improve wrinkles and restore firmness, crucial to minimising the appearance of dark circles and puffiness. If you don't like waiting around for visible improvement, you're in luck. Because of the light diffusion technology, this eye cream delivers an immediate blurring effect so the eye looks brighter and more awake within seconds. Something the testers seemed to agree with, as Fiona G, commented, "My dark circles seemed to disappear immediately. Skin round my eyes also seemed brighter and smoother too."
Avon is working with Dr Zoya Diwan to put the new Renewal Eye Cream to work on her own in-clinic patients. "I firmly believe in evidence-based treatments and creams, so I was really excited to learn about Protinol™ technology, which has 20 years of research behind it," explains Diwan. "I was amazed to see the new Avon Power Eye Cream restoring years of collagen loss when I trialled it in my clinic – with one patient seeing an enormous 52% reduction in their fine lines and wrinkles. I really enjoyed using it too as it left my skin feeling soft, smooth, and hydrated – and at such an affordable price point!"
2. Murad Retinol Youth Renewal Eye Serum
Best eye cream with retinol
Specifications
RRP: £82
Active ingredients: Retinol, Retinyl Propionate, Cotton Wool Grass Extract, Marine Kelp Complex
Packaging: Bottle with pump dispenser
Reasons to buy
+
Firms skin
+
Evens skin tone
+
Hygienic pump dispenser
"Retinol is considered the gold standard for anti-ageing products, and for good reason," explains Dr Howard Murad, board certified dermatologist and founder of Murad skincare. "It dramatically improves all key signs of ageing, minimising the look of wrinkles and crow's feet while lifting and firming skin. But the benefits go beyond anti-ageing: it visibly brightens dark circles, reduces dullness and even helps to fight acne." With all its potency comes a few side effects, such as dryness, redness and sensitivity, which can be particularly noticeable around the delicate eye area.
The beauty of Murad's Retinol Tri Active Technology (which includes a fast-acting retinoid, time-released retinol, and retinol booster) is it is able to increase its efficacy whilst minimising the chance of irritation. It's ophthalmologist-tested and you can even apply it to the eyelid. A word of warning - like any retinol-based product, this eye cream can increase sun sensitivity so should only be applied in the evening.
"This is the eye cream I always come back to," admits Beauty Editor, Stephanie Maylor. "If I have a break from it, I do feel a little bit of tingling the first few days of using it but my skin soon gets used to it and my eye area starts to look fresher and less puffy. Yes it's pricey, but trust me, a little of the gel-like serum goes a long way so one bottle will last for weeks, if not months."
3. Boots Glow Eye Cream
Best budget eye cream
Specifications
RRP: £5
Active ingredients: Glycerin, Shea Butter, Hyaluronic Acid
Packaging: Squeezy tube
Reasons to buy
+
Great price
+
Deeply hydrating
+
Refreshing
Reasons to avoid
-
Visible results may take longer
If you've had a bad night's sleep, chances are your eyes don't just look tired, but feel dry and tight too. This light, silky cream is so refreshing that the eyes feel revived and soothed within a few seconds. It's brimming with hydrating ingredients like glycerin and shea butter to refresh and rehydrate the delicate skin around the eye.
"I've got a real thing about eye creams that pill under makeup," explains Maylor, "but I'm happy to report that this one melted in effortlessly and made a fantastic base for my foundation. It lacks the potent actives of some of the other eye creams on this list so don't expect it to swipe away dark circles overnight but I'd definitely recommend it as a solid eye cream for the morning when you want to refresh dry, tired eyes."
4. No7 Protect & Perfect Intense Advanced Eye Cream
Best drugstore eye cream
Specifications
RRP: £17.95
Active ingredients: Matrixyl 3000+™, Glycerin, Shea Butter, Ginseng Extract, Hyaluronic Acid
Packaging: Squeezy tube
Reasons to buy
+
Suitable for sensitive skin
+
Tackles wrinkles
+
Reduces dark circles in 2 weeks
Reasons to avoid
-
Can pill if over-applied
Protect & Perfect is one of those product names that everybody knows. And for good reason. Using Collagen Peptide-based technology - namely an ingredient called Matrixyl 3000+™ - this eye cream helps support the skin's collagen production to target wrinkles, reduce dark circles and generally make the eye area look more youthful. Other ingredients worth mentioning include Ginseng extract, which helps to energise cells so skin appears more radiant, while a cavalcade of moisturisers, including Hyaluronic Acid and Shea butter, restore hydration and smooth skin.
"It's a lovely formula," says Maylor. "It has a peachy tint to it that seems to make those dark circles a little less obvious within seconds. I have A LOT of beauty products, so I really appreciate the fact that this can be used in the morning and the evening, rather than needing a separate product for each time of day. After a few weeks of using this religiously, I'd definitely agree my eyes look fresher and more rested - almost as if I've had a fortnight abroad."
5. The Ordinary Multi-Peptide Eye Serum
Best eye serum
Specifications
RRP: £19.90
Active ingredients: Peptides, Niacinamide, Caffeine
Packaging: Glass bottle with pipette dispenser
Reasons to buy
+
A little goes a long way
+
Addresses wrinkles, crow's feet, puffiness and dark circles
+
Water-based formula feels light
Reasons to avoid
-
Takes a little longer to absorb
"Peptides are great at targeting a variety of skin concerns, and are most commonly used to target signs of ageing like fine lines and wrinkles," explains Prudvi Kaka, Chief Scientific Officer, DECIEM. Think of these molecules as messengers that 'talk' to skin cells and instruct them to go into repair mode. In this eye serum, these peptides help to target multiple issues such as crow's feet, puffiness and dark circles in four weeks.
Alongside peptide technology, you have caffeine, which helps to dispel puffiness, and niacinamide to balance out tone under the eyes. The formula is so hydrating, it's going to offer an immediate smoothing effect to the skin but brightening results may take a little longer so persevere.
6. Garnier SkinActive Vitamin C Brightening Eye Cream
Best eye cream for tired eyes
Specifications
RRP: £10.99
Active ingredients: 4% Vitamin C, Niacinamide, Caffeine, Banana Powder
Packaging: Squeezy tube
Reasons to buy
+
Great price
+
Results in 1 week
+
Reduces 8 signs of fatigue
Reasons to avoid
-
Can gather in lines if over-applied
Vitamin C is a potent antioxidant, which helps your skin to regenerate and repair damaged cells. Even better, because of its acidic nature, vitamin C stimulates the production of collagen and elastin to reinstate some of the skin's pillowy cushioning. It also happens to be a highly efficient brightening ingredient. So it probably comes as no surprise that vitamin C is the star ingredient in Garnier's Brightening Eye Cream, alongside other darkness defeaters like niacinamide, caffeine and banana powder, which improves skin tone. This impressive list makes this one of the best eye creams for dark circles for any budget.
It's said to address 8 signs of fatigue - dark circles, dullness, fine lines, crow's feet, lack of firmness, smoothness, softness and overall skin appearance. Garnier claims you'll see brighter, well-rested eyes in 1 week. "Vitamin C serum is a part of my daily regime," admits Maylor. "I'm a big believer in its skin-brightening benefits so I was instantly sold on an eye cream formulated with 4% vitamin C - a pretty good dosage considering this is designed for the delicate skin around the eyes.
"I dot this around my eyes using the targeted applicator then massage the blobs in with my fingertip. A little goes a long way, as I learned after one particularly generous application resulted in some pilling. The sunshine-tinted cream might be having a psychosomatic effect on me but I do think this has made some improvement to my skin tone and my eyes don't look as cripplingly tired. This is an eye cream that punches well above its weight."
7. Dr Brandt No More Baggage Eye Cream
Best eye cream for puffy eyes
Specifications
RRP: £41
Active ingredients: Caffeine, Glycerin, Tetrapeptides, Filmatrix Technology
Packaging: Squeezy tube
Reasons to buy
+
Instant tightening effect
+
Short- and long-term improvements to under-eye health
+
Mimics in-clinic procedures
Reasons to avoid
-
One of the pricier options
Often, dark circles and puffiness go hand in hand. Under the brand's 'needles no more' umbrella, this is an eye cream that offers a tangible improvement, claiming to minimise dark circles in 15 days. Like Spanx for swollen under-eyes, the Filmatrix technology creates a second-skin film-effect that smooths the eye contour and pares down puffiness. If you've ever used an instant tightening formula, you might have experienced some pilling and tackiness but Dr Brandt's formula has recently been reformulated with extra hydration to improve the texture and minimise residue.
"No cream is going to completely banish dark circles and under-eye bags, but this is as close as it gets," says Maylor. "Within 30 minutes, my under-eyes definitely looked smoother, brighter and more well-rested. It's worth following a less-is-more approach to avoid any residue building under makeup but this eye cream actually gave me the confidence to forego concealer, which is really saying something."
8. Guerlain Abeille Royale Double R Renew & Repair Eye Serum
Best luxury eye cream
Specifications
RRP: £102
Active ingredients: Tensing Polyfermented Honeys, White Honey, Hyaluronic Acid
Packaging: Dual chamber pump bottle
Reasons to buy
+
95% naturally-derived ingredients
+
Tackles wrinkles, puffiness and dark circles
+
Improves lash health
Powered by the anti-ageing benefits of honey, this serum addresses a multitude of bugbears around the eye. It boosts radiance, lifts and re-sculpts the eye contour, as well as strengthening eyelashes so that they appear fuller at the root. Like Dr Brandt's eye cream, this has a tightening action on wrinkles using tensing polyfermented honey. The effect is more subtle, but there is a flattering radiance to this serum that seems to blur under-eye imperfections and revive tired eyes on contact.
"This is another cream that can be applied across the entire eye contour - from the under-eye to the lid and even eyelashes," explains Maylor. "I like the idea of slathering it everywhere, and knowing I don't have to use a separate lash serum. The dual chamber keeps the active ingredients super fresh and the serums only mix once they are dispensed on to your finger. Overall, this is a gorgeous eye serum that looks and feels as luxurious as the price tag suggests."
9. Estée Lauder Advanced Night Repair Supercharged Gel Eye Cream
Best day and night eye cream
Specifications
RRP: £52
Active ingredients: Tripeptide-32, Hyaluronic Acid
Packaging: Jar
Reasons to buy
+
Luxurious, refreshing texture
+
72-hour hydration
+
Targets dark circles and puffiness, as well as wrinkles
Reasons to avoid
-
In a jar so less hygienic
-
One of the pricier options
Estée Lauder Advanced Night Repair serum is a behemoth of the beauty industry, a bottle of nectar beloved by Beauty Editors for its youth-enhancing capabilities. This eye cream is formulated with the same Tripeptide-32, which recalibrates the skin's circadian rhythm, supporting its protective state during the day and enhancing the repair process overnight.
We have prioritised tubes, bottles and pumps on our list of the best eye creams for dark circles but we have chosen to overlook the arguably less hygienic jar format here because of the powerhouse formulation.
"Hyaluronic acid delivers 72-hours worth of hydration that dry skin will slurp right up, and the featherlight gel texture is dreamy to apply - silky and refreshing, never pilling under makeup," says Maylor. "It is a godsend when I have a run of bad nights, making my eyes look brighter and skin quenched."
10. Skin Proud Bright Eye Pomegranate Eye Gel Cream
Best energising eye cream
Specifications
RRP: £14.95
Active ingredients: Shea Butter, 2% Niacinamide, Vitamin C
Packaging: Squeezy tube
Reasons to buy
+
Good price
+
Vegan-friendly
+
Refreshing gel-cream formula
Reasons to avoid
-
Thicker formula might put some people off
When tired eyes need an instant pick-me up, like a shot of espresso straight in the veins, this cream is the one. Although ironically, it doesn't actually contain caffeine. Instead, it's powered by an energising complex of 2% niacinamide and hydrating shea butter. Pomegranate is the superfood superstar, rich in vitamin C and antioxidants to help reduce the appearance of dark rings under the eye.
One fan, called it a "miracle in a tube", rating it 10/10 on the brand's website. He started to see a visible difference after about four days. "Now after about 2 weeks of use, my skin tone is almost matched and it looks like it reduced some puffiness too," he said. Praise indeed!
How long does eye cream take to work for dark circles?
"I would say to stick with an eye cream for at least 3 months," says Dr Tewari. "Remember that everyone's skin is different, so it may take some trial and error to find the right eye cream for you. It's important to follow the instructions on the product and be patient, as it can take time to see results."
According to Prudvi Kaka, "The amount of time it would take to see results varies greatly depending on the ingredients included in the formulation, how consistent you are with the use of the product and the initial condition of the skin."
Supplementing a great skincare regime with a healthy, vitamin-loaded diet will help brighten the under eyes and speed up visible results. "Internally, focus on hydration by sticking to a water-rich diet that contains foods high in vitamin C, vitamin E and vitamin K," advises Dr Murad. "Infused sources of vitamin C can be found in oranges and berries, rich vitamin E can be found in nuts and whole grains, and leafy vegetables are a great source for vitamin K."
Lifestyle changes will help make an impact on dark circles too. "Make sure you are getting a full and restful night's sleep," says Murad. "During the sleep cycle your skin rebuilds and repairs itself, so it is imperative to allow your body and your mind enough time to rest and rejuvenate. Follow these simple tips daily and see how small changes can add up to big results!"
What is the best time to apply under eye cream?
Eye cream should be applied twice a day, morning and evening. Always apply eye cream on clean skin, after face serum and before moisturiser. Dot a grain of rice-sized amount around each eye, tapping with your ring finger using light pressure.
If applying in the morning, you may want to choose a lighter formulation that will play nicely with makeup. In the evening, you can afford to use a richer cream with ingredients restricted to nighttime use, such as retinol.
*Data taken from a study of 1091 women aged 16+ in the UK. Study commissioned by Avon, conducted by Censuswide.
We spoke to the following skin-care experts:
Dr Zoya Diwan is an expert in Clinical and Aesthetic Dermatology. Together with her partner, Dr Sanjay Trikha, Dr Zoya runs an award-winning medical aesthetics clinic in Mayfair London, Trikwan Aesthetics. Here she treats patients with a variety of skin concerns including ageing. Through her treatments, Dr Zoya aims to educate and empower her patients to feel confident in their skin.
Angela is a GMC registered and UK trained Consultant Dermatologist, practicing dermatology for over a decade. Angela holds her NHS Consultant Dermatologist post at the prestigious King's College Hospital in London and has extensive experience in all aspects of adult and paediatric general dermatology. Angela has a PhD so she understands the effects of sunshine on your skin and the appropriate treatment measures.
Howard Murad, M.D., FAAD, is recognised around the world as a leading visionary for his unmatched scientific innovations. A board-certified dermatologist and trained pharmacist, Dr. Murad has personally treated over 50,000 patients. For more than 30 years, Murad has been committed to developing clinically proven, cruelty-free products that meet the meticulous standards for safety, efficacy and care you'd expect from a doctor.
Prudvi Kaka began his career in pharmaceutical and cosmetics sciences over ten years ago. Prudvi joined DECIEM in 2014 as a Compounding Supervisor in a hybrid role created to bridge the gap between lab and compounding. Now, as Chief Scientific Officer, Prudvi spearheads over 100 employees spanning Formulation Development, Clinical Research, Microbiology, Analytical Chemistry, Regulatory Affairs, and Quality Management.
Video of the Week
Stephanie is a Beauty Editor across five national women's magazine titles, with more than fifteen years' experience working within the beauty industry. She has been shortlisted for multiple awards at the J&J Beauty Journalism Awards, and was the runner-up at the Wella Hair Journalism Awards in 2009. She has written for many brands, including Grazia, Now, More!, Fabulous, Woman & Home, NW, Woman, Woman's Own, Woman's Weekly, Essentials, Best, Chat, Pick Me Up and OK! Online. In 2010 she launched her own beauty blog, which was also shortlisted for Best Beauty Blog in the 2011 and 2012 J&J Beauty Journalism Awards.